POLITICS
India's Rail Budget: Driven by Coalition Dharma


The presentation of this year's Union Railway Budget was packed with dozes of drama that was never before witnessed in India's history. It was the pitfall of running a country with a coalition government where one cannot please all parties and as a result the country does not move forward at a steady pace, writes Priyanka Bhardwaj.

---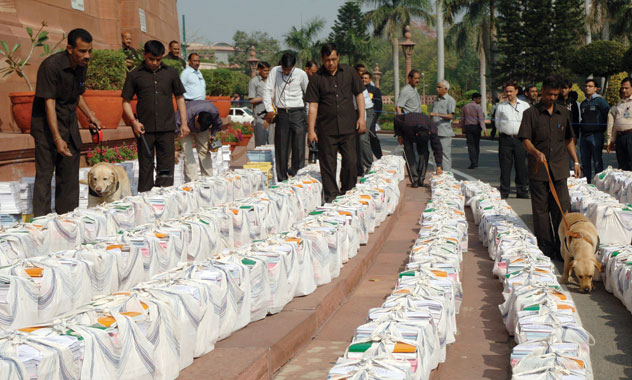 (Above): Documents of the Rail Budget 2012-13 brought in the Parliament House premises under security, in New Delhi, Mar. 14. [Press Information Bureau photo]
---
No sooner had the hike for railway fares been proposed that the demand for its rollback and replacement of Railway Minister Dinesh Trivedi with a supposedly subservient Mukul Roy was raised by his very own party leader Mamata Banerjee.

The volatile Mamata, popularly called "didi" (elder sister), leads the All India Trinamool Congress that is an indispensable constituent of the central coalition government led by United Provincial Alliance. She is also Chief Minister of the eastern state of Paschim Banga (West Bengal).

As one who obtained a berth in Cabinet only due to generosity of his party supremo, Mamata Banerjee, Dinesh Trivedi should have known how sacrifices can be made at the altar of democratic-dictatorship if one commits the cardinal sin of proposing a policy decision against the principles of the party (which in this case was "Maa, maati, manush" or "mother, soil, people").

In this instance his non-consultation with party high command on a significant populist subject was nothing short of blasphemy.

Trivedi thus earned the infamous distinction of being the country's first Railway Minister to have lost his post within a week of presentation of Railway Budget.

---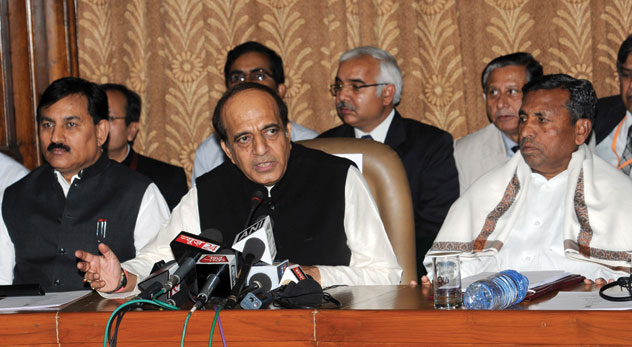 (Above): Former Union Minister for Railways Dinesh Trivedi interacting with media after presentation of Railway Budget 2012-13 in New Delhi, Mar. 14. The ministers of State for Railways, Bharatsinh Solanki (l) and K.H. Muniyappa (r) and other board members are also seen. [Press Information Bureau photo]
---
As prevailing democratic politics in the subcontinent centers around responding to exigencies of coalition set-ups, constitutional mandates do get compromised along the way.

Even if mandates are reforms or progressive executive responsibilities, accommodation of disparate political interests and individualist whims become paramount.

Exigencies herein entail keeping such multifarious fissiparous factions combined within the loose coalition structure at huge costs.

With a more compliant Roy at the helm of railway affairs, higher fares on all classes of passengers except those traveling in first and second class air-conditioned coaches have been scrapped.

The latest estimate for plugging infrastructure and safety deficit of railways was pegged at around Rs. 40 billion by experts and the rollback negates any chance of additional revenues for the cash starved railways.

---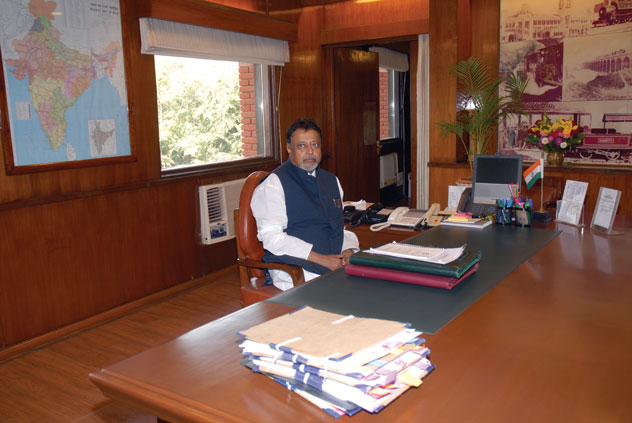 (Above): New Railway Minister Mukul Roy in his office at Rail Bhawan, New Delhi, Mar. 21. [Press Information Bureau photo]
---
This politicization of hike also has not gone down well with federations and associations of Railways who have collectively submitted a memorandum to the Prime Minster against any rollback.

With no new revenues their salaries and facilities could be in threat.

Series of budgets have expounded on various elements of change fundamental to transform Indian Railways into a profitable and dependable entity in a globally competitive environment.

Trivedi's reformist zeal has found endorsement from Sam Pitroda who steers the latest expert panel on railways.

Pitroda cautions, "Indian Railways might go the Air India way if there is not urgent intervention by government. There is no doubt that the railways need lot of investment for modernization and need to focus on safety. When we looked at the overall situation with railways, collectively we came to conclusion that it is about time to be more visionary, bold and clear about the role railway would play in the 21st century, especially in the next decade, for growth and prosperity."

---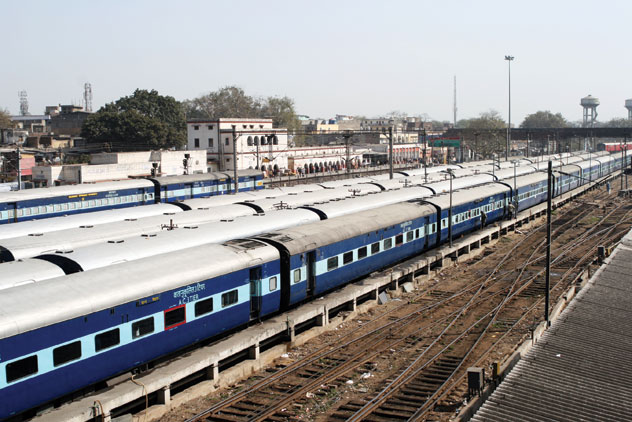 (Above): The air-conditioned sleeper coaches of the Indian Railways.
---
Going by latest recommendations of this group, reforms are essential in 15 core areas such as signaling, tracks, bridges and rolling stock.

The committee suggested other changes like hikes in passenger and freight services, and overhaul of entire railroad business, though anti-populist, in terms of capacity handling expansion, conversion of meter gauge, development of separate freight corridors, last-mile connectivity, building sound human resource practices, lowering operational cost from 95 percent to 84.9 percent, entrusting local governments with mass transit systems in cities and corporate with segregated network, etc.

A complete blueprint for modernization that should take at least five years and incur a cost of Rs. 8,000 billion was laid down by the group.

The source of funds could be developed in periodic hikes in cargo rates and infusion of public-private partnership, which should also introduce modern management skills and technology, experts pointed.

It is not as if the railways have not been active on the change front.

---

(Above): A train engine of the Indian Railways. Railways is the largest carrier of passenger and goods in India. It's modernization is long overdue thanks to politics that is playing in the Center.
---
The Railways have been promulgating discussions with French and South African firms for installation of fire simulation software for coaches and tubular tracks.

Also the decision to install GPS devices in each train for real-time train tracking via Google maps has been passed.

But piece-meal advances would not lead to attainment of long term goals.

There is near unanimity among members of Railway Board for formulation of a national policy to upgrade, modernize railways and expedite processes to achieve an all-round development.

Before the start of budget season the Planning Commission had communicated to Trivedi about the central government's wish to restructure railway management along the lines of running a business-like profitable center.

---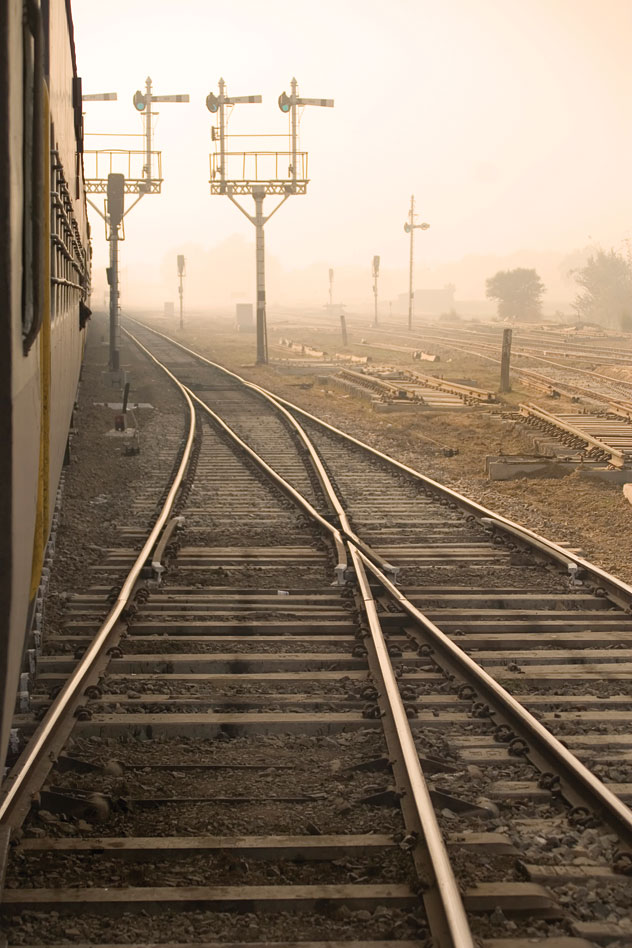 (Above): View of railway tracks from an Indian Railways train. Serious modernization is needed to keep the railways functioning in a safe manner.
---
But then flip-flops occurred as a result of adjustment of wishes and wants of various central power-shareholders.

Singh, famous for doctoring the opening up of Indian markets in 1990s could not stick to his business-like outlook this time at the face of Didi's fury.

Though Ray has declared, "safety, security, punctuality and commissioning of pending projects will be my key priorities," it is unbelievable that he can enable railways regain its glorious days without a commitment on lowering operating ratio (it has remained above 90% for past few decades).

There is no iota of doubt that successive railway ministers have only pushed the railways to ruin.

A latent asset, the railways have the capacity to support the country's evolutionary growth into a real economic power. And solutions lie in a bold political step rather than cross-subsidization of passenger fares, hikes in cargo-rates, pricing of seasonal-freight, or seeking funds from depleted central coffers.