TRAVEL
Steadfast and Classy: Exploring Britain


It was a journey through time, tradition and the history of English language as our travel editor Al Auger explored the art, culture and glories of centuries old and modern day Britain.

---

(Above): The Royal Shakespeare Company theatre in Stratford-Upon-Avon, England.

---
There are so many wonderful places to travel on the continent. For Americans one of the most engaging, and comfortable, is the island of Britain. I say comfortable because we share the same language. Well, there may be some trouble in Wales or deep corners of Scotland, but there's no reason to ask if the natives speak English; just don't as about American. The United Kingdom is the ideal venue to leave the altar of the traveler and become a tourist.

England also shares with us one of the exciting contemporary cities in the world today. Yet, there are so many sites from the country's long and romantic history. But, as you travel around the island it's always London you will return to and forever remember. We will return to this storied metropolis later.

---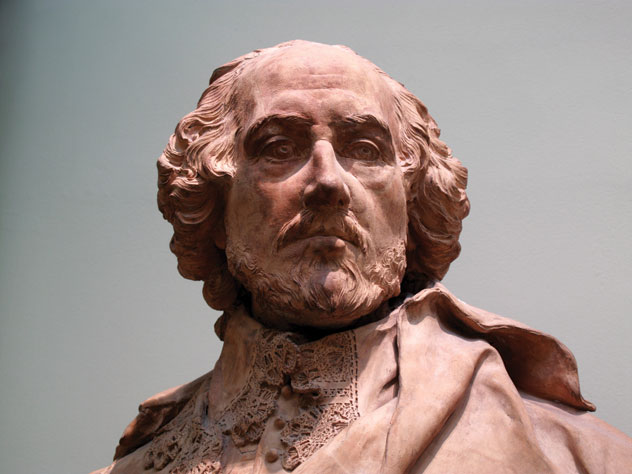 (Above): A statue of William Shakespeare in Stratford-Upon-Avon, England.

---
Who so colorfully represents this country worldwide but William Shakespeare? Entering the Bard's home turf, Stratford-on-Avon, it's much like being in a time machine, heading back to the l7th century. And it was where we showed our naivety. Stratford is one of the largest tourism-drawing venue in England and not a destination one should visit without prior planning. Well, we did and paid dearly for our ignorance.

The height of the season is between April and October when five plays are presented by the prestigious 137 years-old Royal Shakespeare Company. The RSC tickets for these shows are reserved, sometimes, years ahead. Needless to say, we were devastated and could only look at the vibrant posters as we sipped our Guinness at the infamous Dirty Duck (also known as the Black Swan). We did assuage our feelings by taking in a couple of Monty Python movies. Not Shakespeare, but close.

---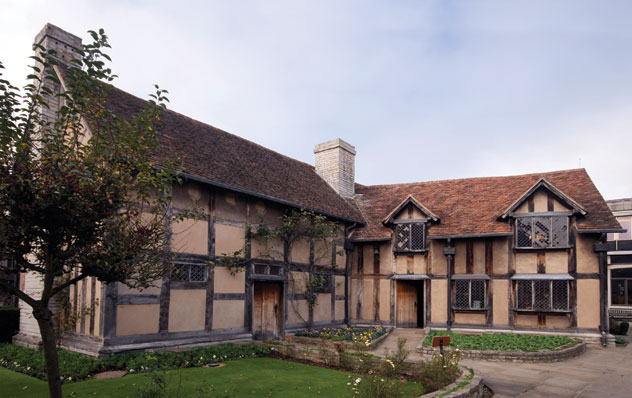 (Above): William Shakespeare's home in Stratford-At-Avon, England.

---
Lodgings are a simple matter no matter where you may be throughout the island. Normally visitors can find a tourist office in even small hamlets where can be found listings for Bed & Breakfast guesthouses, B&B's in private homes, hotels and a numerous other choices. Our tourist office representative found us a wonderful lodging in the private traditional cottage of Arnold and Mattie. Arnold, a pudgy 66-year-old retired supervisor, and his homemaker wife turned their master bedroom, complete with a full bath and the ubiquitous hand-shower into a B&B lodging.

Each morning we would be regaled with a table filled with the traditional English breakfast of eggs, cold cuts, fruit, juice and so much more. Later we would sit on their patio with coffee and share memories of our different home and life. Even though we missed out on the many plays, visiting the homes of Shakespeare and his wife, Anne Hathaway was a momentary return to where it all began. To know more about this iconic man, visit the extraordinary attached Shakespeare Centre.

---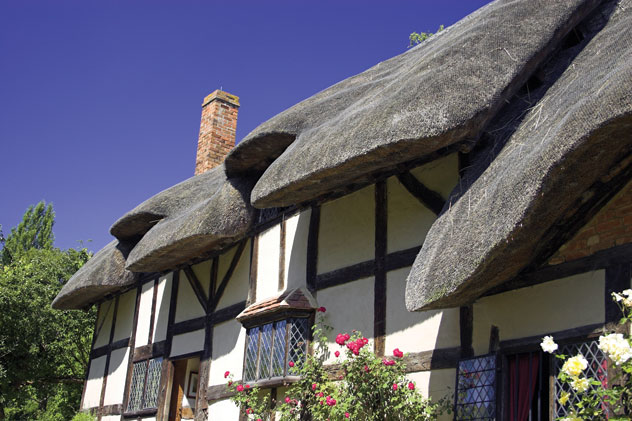 (Above): Anne Hathaway's home in Stratford, England.

---
In a village pub on the edge of the North Sea we shared a long table with fishermen who had just returned with the day's catch. Featured were the expected fish dishes, but we opted for a Shepherds Pie. While we listened with fascination to the conversation of our colorful companions the tasty pie validated our choice. We had to validate ourselves as they asked many knowledgeable questions about the fishing off the North California coast, in particular the salmon and crab seasons.

Arriving in London, we found lodgings in a B&B in St. James' Square and began plans to re-incarnate our lives as tourists. First came food and London, being a cosmopolitan city, offers a palette of culinary arts. This is best defined in its many restaurants featuring the food of its former colonies. We discovered the best example of this once flourishing empire with a spice-laden Indian feast. Later, we strolled through Piccadilly Circus soaking up the nightlife in what appears to be transplant of New York's Times Square.

Located in London's famed West End city of Westminster, the name "Circus" is used in context with the Latin word for "circle." It is bright with vividly colored neon signs and video displays. Traffic also duplicates Times Square, bumper to bumper, horns blaring surrounded by overflowing sidewalks. The numerous bars and restaurants serve as popular meeting places for those on their way to the many theaters on Piccadilly's perimeter.

Splurge-time is a memory and the shrinking wallet is a dire warning sign, yet we managed to compromise beyond the arches, the chicken basket and the forgettable Wimpy's. No need to worry about negotiating between health and price. Located around London are a series of bright and affable sandwich and salad shops called Pret a Manger (French for Ready to Eat), simply called Prets by the locals. The variety is wide and it's difficult, if not impossible, to spend more than 5 pounds (approx. $8.00) per person.

Okay, one final plunge out of the depths of the budget and a return to a memorable visit and adventure on our first visit to London. It was in the mid-1980s and, at the suggestion of a friend and former Brit, we headed for the famous and historic Ye Olde Cheshire Cheese. One of the oldest pub sites in England, there has been one here since 1538. The original Cheshire Cheese was rebuilt after the Great Fire of 1666. This not only turned out to be a meal to be savored for years, but a wild adventure to a practicing journalist unleashed.

The entrance at the end of Fleet Street is hidden in a dark alleyway. Nearby is the home of James Boswell, the famed 18th century lawyer, diarist and author. Boswell, famous for his vast literary productivity, is best known for his biography of Samuel Johnson. The Cheshire Cheese has been a favorite of literary luminaries from around the world including Mark Twain, Charles Dickens, Sir Arthur Conan Doyle and Alfred Tennyson, among many others.

Having made earlier reservations, upon entering we were led downstairs to their extensive wine cellar where our table was centered. Our waiter was outfitted in the liveried fashion of the 18th century complete with puffy shirt (thank you, Seinfeld), knickers and buckled shoes. The vaulted cellar is said to be originally a part of a 13th century Carmelite Monastery.

After our savory meal of mutton and fine wines from the collection that surrounded our table, we adjourned upstairs to the main bar for a salutary brandy. It turned out to be a great surprise and a truly festive ending to our year-long journey. At the time of our first visit to Fleet Street, in addition to its notoriety as a neighborhood of historical pubs and Boswell, it was also the newspaper publishing center of London. Home to the great newspapers and wire services of the United Kingdom. The last of the reigning publications left this historic and iconic street. It seemed only natural the Cheshire Cheese was also a haven for tired, hard-drinking journalists having just put to bed the next day's issues.

---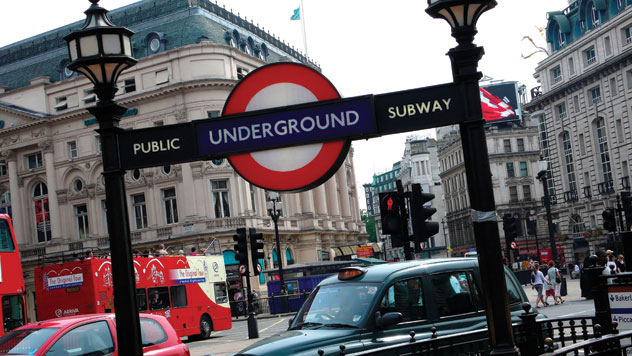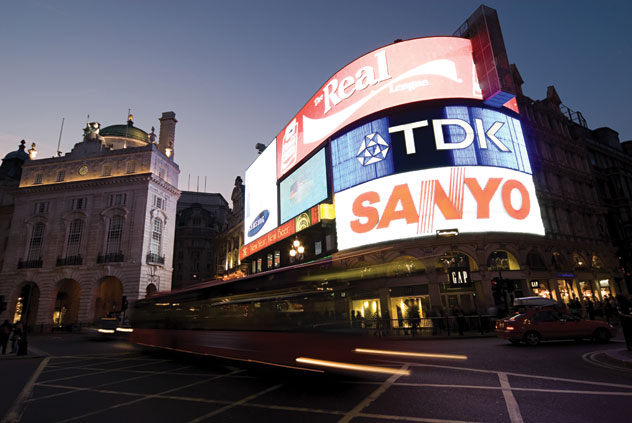 (Above, top): A busy street scene at the modern day Piccadilly Circus in London; and (Bottom): Piccadilly Circus at night.

---
Once recognized as a foreign peer from the San Francisco, the most revered American city in Europe, we were cordially treated as an old friend. Time seemed to disappear as we shared grandiose tales - some true - of journalistic histrionics on our personal turfs. Closing the Cheshire Cheese, our new companions sent us off in a London taxi cheers of "Bon voyage!"

The Cheshire Cheese is still the most intriguing and enduring stop to be overwhelmed with the history this nation and ghosts of some of the world's most illustrious literary and artistic figures. As well as to be surfeited with gourmet cuisine and vintage wines. Our return visit was both a sad and wistful meal as we remembered that engaging and indulgent evening.

---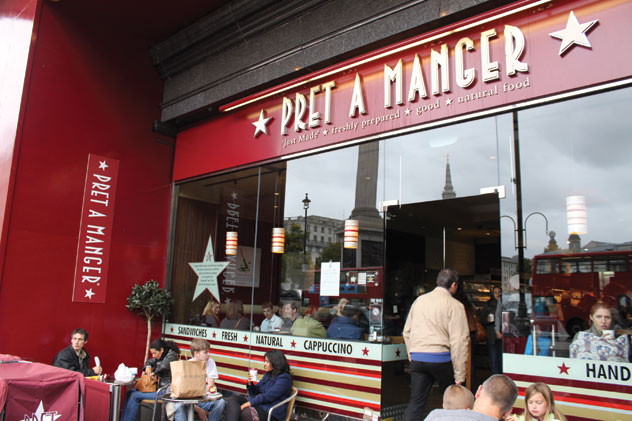 (Above): The Pret A Manger snack shop in London.

---
TO VISIT:
www.stratforduponavon.co.uk
www.visitlondon.com