BOLLYWOOD | Film Review
Intense Spy Caper: Agent Vinod


Directed by: Sriram Raghavan
Producers: Saif Ali Khan and Dinesh Vijan
Music: Pritam Chakraborty
Starring: Saif Ali Khan, Kareena Kapoor, Prem Chopra, Ram Kapoor, Shahbaz Khan and Gulshan Grover.

Reviewed by: Joginder Tuteja
Rating: ***1/2 (Good)

---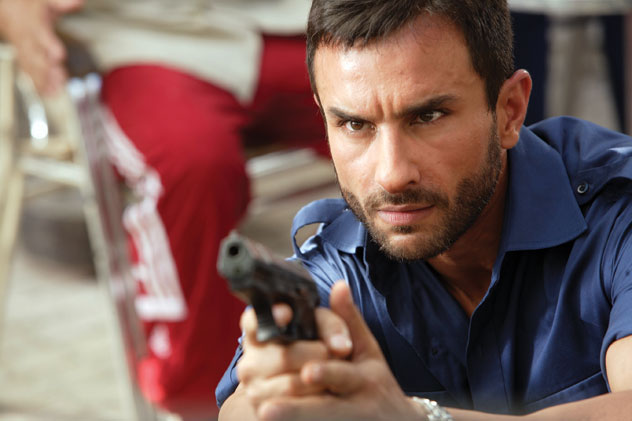 (Above): Saif Ali Khan in and as "Agent Vinod."

---
Despite being promoted and marketed as a spy thriller, Agent Vinod isn't really set entirely in an escapist world. Yes, there are moments of suspense, a mujra, a quintessential item number, guns, choppers, explosions and some intriguing elements as well. Still, director Sriram Raghavan and lead actor (and co-producer) Saif Ali Khan have ensured that the film doesn't turn out to be a frivolous affair. They establish the film as a cerebral affair for a good duration and though it does come with it's own pros and cons, at least one can't accuse them of making a film where one is required to leave brains at home.

Let's begin with the cerebral elements first. One has to be very attentive while watching Agent Vinod, especially its first half. Countries change every 10 minutes and new characters are introduced at a rapid pace. It is in fact difficult to keep track of which character is doing what, where and in which time zone. Now while a section of audience is expected to grasp such a challenge with open arms, those used to getting entertained in an effortless manner are bound to feel a little restless.

---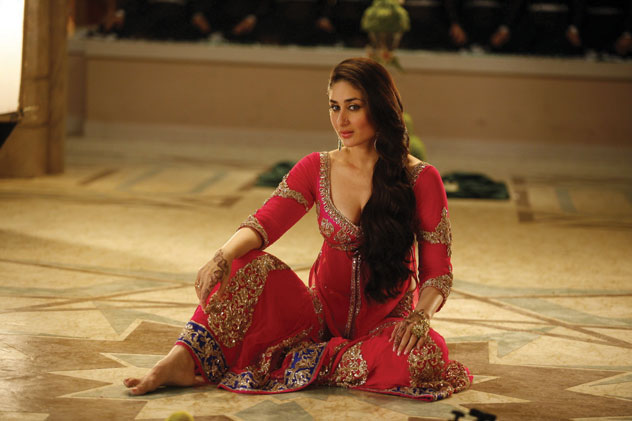 (Above): Kareena Kapoor in "Agent Vinod."

---
This means that while the prologue is set in Afghanistan (which, to be honest, isn't really overwhelming, what with the action sequence being hardly engaging), the film jumps from Russia to Morocco and a couple of other countries at an alarming pace. It is hard work for a viewer to keep track of all the proceedings and with 'Agent Vinod' (Saif Ali Khan) crossing path with a mysterious woman (Kareena Kapoor), an ISI official (Shahbaaz Khan), an underworld kingpin (Ram Kapoor), a business tycoon (Dhritiman Saha), a Colonel (Adil Hussain) and not to forget, a ganglord (Prem Chopra), there is too much happening too soon.

In the middle of it all, there are quite a few intriguing elements thrown in which means the guessing game continues to be on. The real motive is disclosed in the middle of the first half and with the plot firmly established; you look forward to the chapters unfolding at a feverish pace. However you are made to wait for a while before the real fun happens in the second half. Not that the first half is devoid of it's own moments. Saif's character is established quite early in the film and he comes across rather believable as an agent. Also, there is subtle humor thrown in as well which, despite its limited appeal, plays well.

---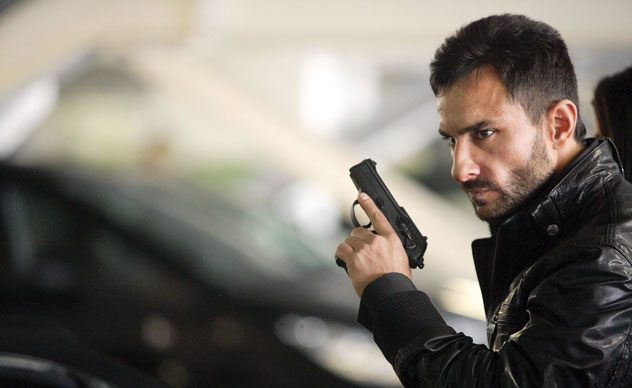 (Above): Saif Ali Khan in "Agent Vinod."

---
The second half is quite fast paced with the focus more on joining the dots instead of introducing newer ones, Sriram gets it just right for the audience to be thoroughly entertained. Whether it is Saif reaching the bottom of the mystery or his journey with Kareena to Pakistan or the mujra that follows or the climax which is set in Delhi, there is no moment for the audience to either think or try to follow the director. This time around you are with the scenes and with enough crowd friendly sequences being set in this part of the film, there is a sense of contentment that comes in.

From a story-telling perspective, there are quite a few things that you take home. One such instance is a shootout sequence set in a hotel that is canned entirely in a single shot with Raabta playing in the background, hence bearing a clear Quentin Tarantino influence. There are subtle touches of Hitchcock thrown in as well in a couple of shots while the most cherished part are a few thrilling moments that remind one of films like The Great Gambler and Teesri Manzil. With Sriram's love for retro background music in play all over again, there are some genuine moments of appreciation that set in.

---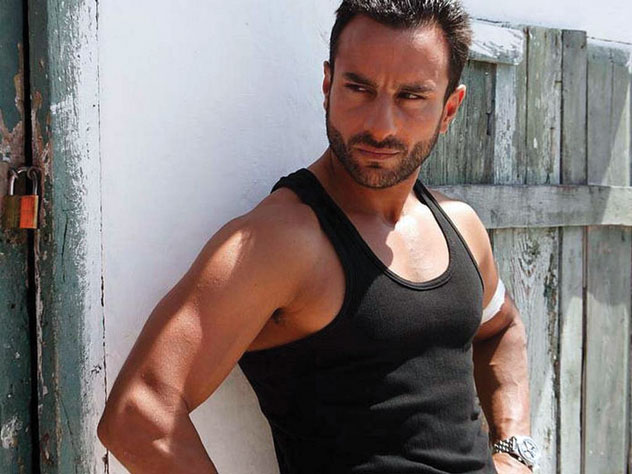 (Above): Saif Ali Khan in "Agent Vinod."

---
It is primarily due to the second half of the film, especially with an epilogue that strikes just when one thought that the film had ended (on a surprisingly low note), that one gets a sense of paisa vasool affair. One does wish though that the visual effects were a lot better in this part of the film. It seems like a rushed job and that is all the more glaring because otherwise the film has a very rich look right through its two and a half hours duration. In fact one has to commend the cinematographer to have tried different color palettes for various countries, hence bringing in a sense of authenticity.

As Agent Vinod, Saif does quite well and literally lives and breathes the character right through the film's duration. He is just apt for the role and never once does he go overboard. Kareena's role doesn't demand any histrionics from her and she fits the bill. Ravi Kissen, Rajat Kapoor and Gulshan Grover are hardly there to register any presence whatsoever. Other supporting actors play their part well though Prem Chopra and Adil Hussain leave the best impression.
---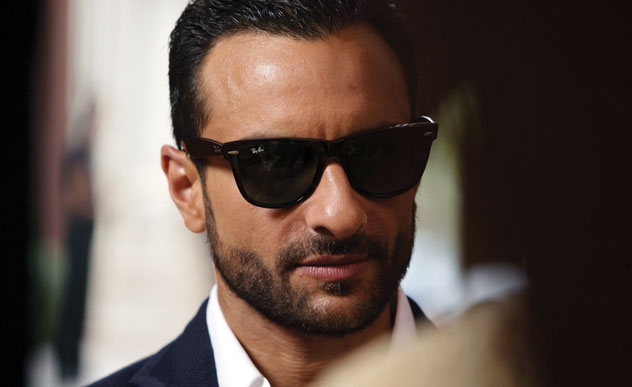 (Above): Saif Ali Khan in "Agent Vinod."

---
While of late, style has seen a manifold increase in Bollywood, filmmakers are also pushing the boundary when it comes to challenging the audience. Yes, there are escapist films being made (and loved as well). However there are filmmakers who are aspiring to merge hardcore commercial cinema with elements that require one to think hard and grasp the context of a scene rather than being spoon-fed. Agent Vinod is an example of one such cinema. Though there is always a risk element associated with such endeavors, Saif Ali Khan and Sriram Raghavan seem to have taken a conscious call in this direction.