COMMUNITY:
Improved Service: SF Indian Consulate's New Web Site


The Indian Consulate in San Francisco recently revamped its site to improve its online services.
A Siliconeer report.

---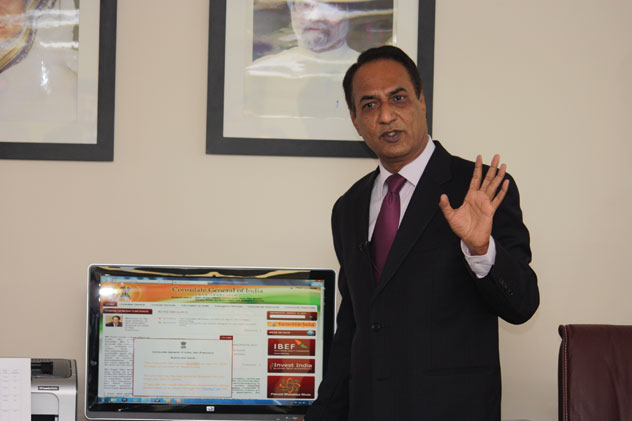 (Above): Consul General of India N. Parthasarathi briefs members of the press on the features of the new Web site and other improvements at his office at San Francisco's Indian Consulate, Mar. 14. [Siliconeer photo]

---
The Consulate General of India in San Francisco launched a newly designed user-friendly Web site last month to facilitate a large number of persons accessing the Consulate's Web site everyday seeking visa, passport, OCI, PIO and other consular services. The site was launched by Ariel Quintos, the longest serving employee of the Consulate.

During the past few months, the Consulate had taken various measures to improve the delivery of services provided at the Consulate and through the TRAVISA Outsourcing Agency.  The Consulate had also undertaken proactive outreach activities wherein the Consul General and other senior officers of the Consulate interacted with a large number of community associations, participated at various functions, and provided clarifications on various issues of interest to the community, pointed out Consul General N. Parthasarathi.

Within the Consulate itself, not only delivery of services have improved, the Consulate now  serves all applicants with a smile, he said as he presented the revamped site to members of the press, Mar. 14.

The new Web site has a structured look and easy navigation, providing information needed by the applicants in a much better and organized fashion. All the information required for a specific service is provided at one particular place, which is easier to access. The Web site also provides helpful tips and easy guidance to help those seeking various services.

Specific email contacts are now provided for specific service needs and all emails are answered promptly by the Consulate, claimed Consul General Parthasarathi.

More importantly, apart from providing a response, the Consulate already takes action to provide the services sought by the applicants. In addition, during specific timings on working days, an official from the Consulate would be available in person to answer the queries over telephone. The Consulate would nonetheless encourage people to use email as a mode of communication so that they can get timely responses and have a record of all conversation.

The Consul General said that the Consulate is a changed place with a stronger focus on quick and friendly service that one expects to receive, especially when there is an urgent need for such services.

Interested readers can visit the Consulate Web site at www.cgisf.org.