CONCERT:
Moments: Pankaj Udhas Live in LA


Among the sea of singers in India and more so in Bollywood, only a few have captured a special place in the hearts of millions. Pankaj Udhas, a noted ghazal singer, has managed to do this with a legacy of fans for well over two decades. His latest live concert in Los Angeles was a sold out event, writes Surendra Prakash.

---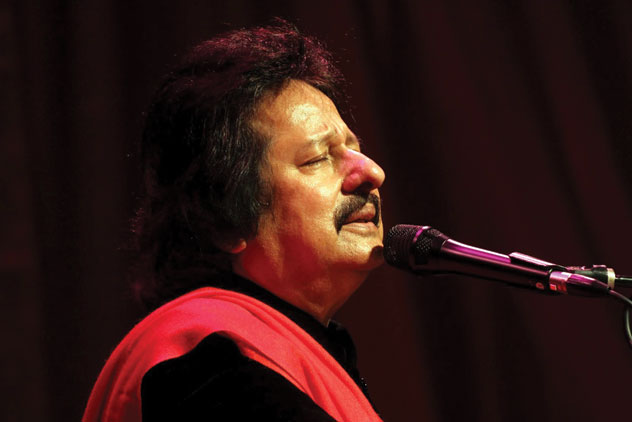 (Above): Noted ghazal singer Pankaj Udhas in performance at a concert in Garden Grove, Calif., May 11. [All Photos: Surendra Prakash | PhotomagicRoom.net]
---
Noted ghazal singer Pankaj Udhas has been captivating the hearts of millions of fans worldwide with his enchanting voice for well over three decades. His most recent concert Moments with Pankaj Udhas at Donald Walsh Auditorium in Garden Grove, Calif., May 11, was well received by Southern California fans.

The audience was taken through a musical journey of his popular ghazals that spanned the 80s and 90s to the current decade. One song in particular that strikes a chord with millions of Indians living overseas even today was "Chitthi Aayi Hai," from the movie Naam.

The loyal fans could not help but ask for more as he sang requests that captivated the hearts of everyone present in the auditorium.

---


(Above): Seen at the LA concert are (l-r): Pallav Pandya (keyboards), Nirmal Pawar (dholak), Pankaj Udhas, Rashid Mustafa (tabla), Nasir Qureshi (mandolin), Rajendra Singh Sodha (violin), and Ninad Mulaokar (flute).
---
He is one of very few singers who has managed to do well both in albums and movies. Among many, "Na Kajre Ki Dhar," from the movie Mohra was a huge hit. Then there were classics like "Thodi Thodi Piya Karo," from the album Aafreen and "Chaandi Jaisa Rang Hai Tera," among the offerings he had for this enchanted crowd. The concert ended with "Ghunghroo Toot Gaye."

Presented by Shah Foundation the concert was attended by many popular figures in the desi community from Southern California. Pankaj Udhas was honored with a proclamation from Congresswoman Linda Sanchez at the concert.

He was also awarded the Padma Shri in 2006.