EDITORIAL: A Date with Music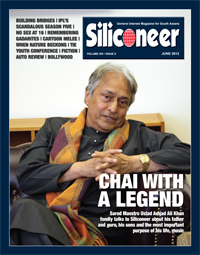 It was an afternoon of reminiscing his childhood, his youth and his present, as Sarod Maestro Ustad Amjad Ali Khan, who was at the Indian Consulate in San Francisco, May 17, in a passionate interview fondly talked about his father and guru, his sons and the most important purpose of his life, music.

According to him, music is an art, a form of communication that knows no language, has no borders and is not a subject that one could learn from books. To understand and appreciate music, it has to come from within, an awakening of the soul.

Our cover story this month explores his vast knowledge and his life as Ustad Amjad Ali Khan talks with Siliconeer.

While both art and sports are for the gifted and only people who are dedicated to the cause truly get to know it. The Indian Premier League is associated more with high profile viewers and owners watching the cricket series from a closed box and for all the ostentation that eyes can behold rather than the game of cricket. Lately, IPL, now in its fifth season, has been hit by a spate of scandals, as Priyanka Bhardwaj writes.

Whether it is 'King' Khan or some unscrupulous cricketers, the antics that today's rich and famous perform and their arrogance, is overshadowing their love for cricket. It is nothing short of a blow to this supposedly gentleman's game.

Consensual sex is permitted in India but under the new paradigm, proposed by the Indian Cabinet, two teenagers having sex under age 18 can be charged for rape, even if they choose to hit the sack voluntarily. The government's intentions have their basis, writes Siddharth Srivastava.

Many Indian Americans may not know the historical background of Memorial Day. However, like most Americans, they too hold parties and barbecues with family and friends. Most of the Indians in America may also not know their own day of reverence.

Between 1913 and 1915, six thousand overseas Indians went back to India to fight and free their motherland from British slavery. Some paid the price with their lives, while hundreds were jailed. It is a pity, there is no memorial day for them, opines Inder Singh.

Leaving the students deeply inspired with the invaluable life lessons and enlightening lectures, the speakers at this conference were truly motivating, writes Aaroshi Sahgal as she presents a young student's perspective to this year's TiE conference.

The notion that camping trips may not be a popular activity among kids these days, possibly because it means living a life close to nature and away from the shackles of today's electronic gadgets is not entirely true, as sixth-grader Vansh A. Gupta, a first time camper, explains.

Aamir Khan, known to span commercial and meaningful cinema with equal élan and money-making ability, has scored yet again with a TV show that is a refreshing change from what was out there. A sincere effort, writes Siddharth Srivastava.

A very happy father's day to all dads!