POLITICS
Building Bridges: Why Hillary Shook Hands with Mamata


The U.S. has realized what the Indian government at the Center has been looking over. Regional political parties and politicians are key to shaping the policies at the Center. A recent example is Hillary Clinton meeting Mamata Banerjee, writes Siddharth Srivastava.

---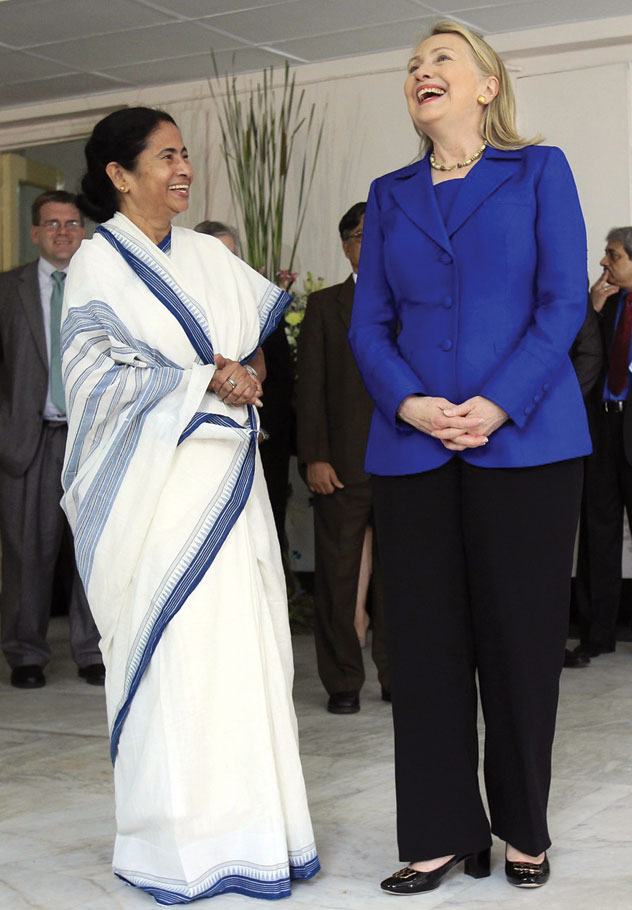 (Above): U.S. Secretary of State Hillary Clinton meets with Chief Minister of West Bengal Mamata Banerjee (l) in Kolkata, May 7. [Photo: Reuters].
---
U.S. Secretary of State Hillary Clinton recently visited India. Given the growing strategic and business depth in the relations between the two countries, the visit was not a surprise.

Hillary's visit could have passed off as another by an important American dignitary doing the rounds of the seemingly all-powerful Delhi durbar. The usual statements would have probably revolved around the importance of stifling Iran's energy sector, future and ongoing defense and nuclear power deals, taking on terrorism and checking Islamic fundamentalism.

What has raised eyebrows is Hillary's stopover in Kolkata for a meeting with West Bengal Chief Minister Mamata Banerjee, whose Trinamool Congress party is the all important coalition partner at the Center on whose support Prime Minister Manmohan Singh's government survives.

Hillary's meeting with Mamata is a well thought out plan. It reflects the changing political landscape in India, where regional political leaders have a big say in the way national policies move. As things stand, Mamata's influence, power and say spans beyond her state. There is reason why Time magazine has named her as an influential global leader.

The all-powerful Congress Party supreme leader Sonia Gandhi has for long, exercised the real power with her writ running large on the Manmohan government. Today, there is another lady who pulls the strings on the duo.

The Congress-led federal government has been in a state of policy freeze due to Mamata, who has opposed economic reforms such as opening multi-brand retail to foreign investors, ensured rollback of rail fares and stymied efforts to build bridges with neighboring state Bangladesh, including sharing of waters. There seem to be no particular rationality to the mercurial Mamata's opposition, except buttressing her image as a messiah of the poor.

Years of being an opposition leader has perhaps honed Mamata's skills of defiance and protest. She has to realize that as Chief Minister she needs to be decisive about changes that uplift the people of her state. But, that is easier said than done due to tendency of warped vote bank politics in India.

Raising the cost of rail travel was to ensure funds for safety upgrades, an essential investment given India's accident-prone trains. Mamata, herself, is a former rail minister and knows about the significance of such a move. There is near unanimity that overseas retail investors are crucial to lift the farm sector by offering better prices for produce and advanced cold storage facilities to prevent wastage.

---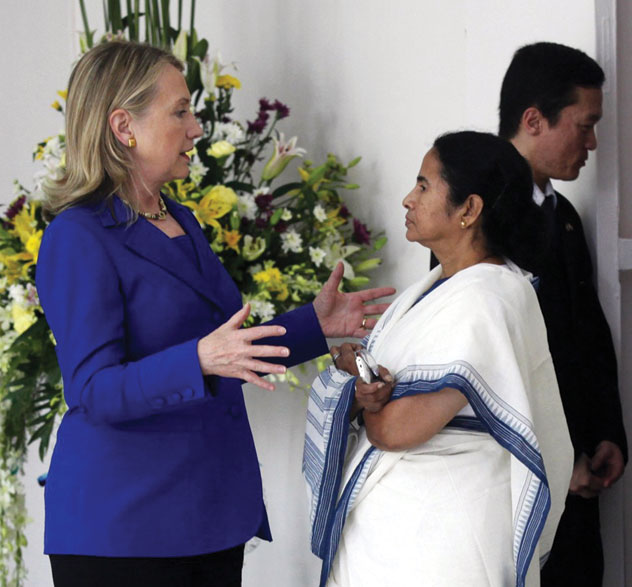 (Above): U.S. Secretary of State Hillary Clinton meets with West Bengal Chief Minister Mamata Banerjee (r) in Kolkata, May 7. [Photo: Reuters].
---
However, it is also true that the Congress has not handled her well. The communication lines that Washington seems to be keen to establish, have not been ironed out. If New Delhi needs Mamata to push through important policy reforms that require Parliament approval, it better keep her happy. America seems to have realized the same. Predictably, last month the U.S. embassy said that Clinton "discussed the issues on increasing U.S. investment in West Bengal, including in the retail sector with Banerjee," that obviously interests American business.

Policy mandarins sitting in Washington have clearly understood India's evolving political paradigm where no political party can have its absolute way. Building bridges with regional leaderships will add the much needed depth to dealing with India, today and in future.

Walmart cannot set up base in India unless Mamata says so; GE cannot hope to sign deals to set up nuclear power plants unless state governments of Maharashtra or Tamil Nadu give atomic energy the go ahead as a safe source of electricity.

Washington may have denied Gujarat chief minister Narender Modi a visa due to the 2002 anti-Muslim riots. But, American investors have hailed him for creating a business environment that could turn Gujarat into the first developed state of India.

India's political landscape has changed. Neither national party, the Congress nor the Bharatiya Janata Party, enjoy majority numbers in Parliament. They are unlikely to form governments on their own steam in the foreseeable future. National policies will be framed by the national parties along with alliance parties or the regional outfits forming a Third Front that excludes both the Congress and the BJP.

Reforms and change will need to be acceptable to at least a few political entities with separate or conflicting regional bases -- Samajwadi Party (UP), AIADMK (Tamil Nadu), Left Parties (West Bengal and Kerala), Samata Party (Bihar), NCP (Maharashtra), Trinamool Congress (West Bengal), DMK (Tamil Nadu), Bahujan Samaj Party (UP), Biju Janata Dal (Orissa), TDP (Andhra Pradesh) among others.

A clutch of regional satraps ranging from Mamata Banerjee, Jayalalitaa, Sharad Pawar, Nitish Kumar, Naveen Patnaik, Mayawati, Mulayam Singh Yadav among others will surely have some say in direction that Indian policy making takes.

There is clear purpose behind Hillary stopover in Kolkata. It has understood the emerging regional dynamics in Indian politics. The lame duck Manmohan government needs to take a leaf out of Washington's handling and understanding of the Indian polity. New Delhi needs to work on its coalition partners who unmistakably have the upper hand. That's the reality.