RECIPE:
Desi Grill: Lasooni Kebab


With the onset of summer, grilled meat is a hot favorite for many palates. Chef Sanjay Patel shows you how to be a star at the grill with this delectable recipe.
---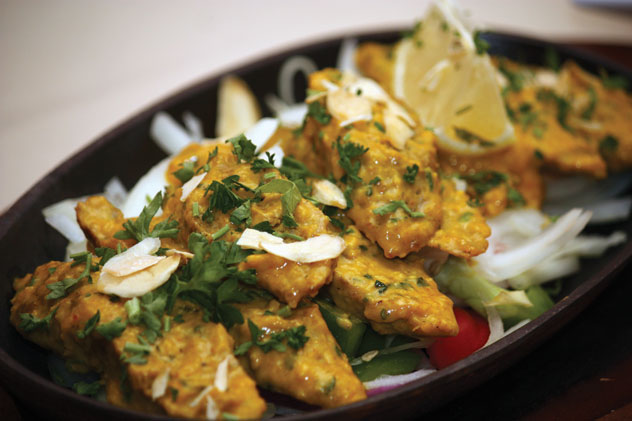 (Above): Lasooni Kebab [Photo: SILICONEER]

---
Ingredients:

2 lbs. lean ground lamb

2 onions, finely chopped

½ cup fresh mint leaves, finely chopped

½ cup cilantro, finely chopped

1 tbsp ginger paste

1 tbsp green chili paste

2 tsp ground cumin

2 tsp ground coriander

2 tsp paprika

½ cup double cream

2 tsp garlic

1 tsp Parmesan cheese

2 tsp parsley

1 tsp cayenne pepper

2 tsp salt

¼ cup vegetable oil

1 lemon cut in wedge

6 to 8 skewers

Method:

Iake In a large bowl, mix ground lamb, onions, mint, cilantro, ginger paste, and chili paste. Season it with cumin, coriander, paprika, cayenne, and salt. Cover and refrigerate for about two hours.

Mold handfuls of the lamb mixture, (about one cup) to form sausages around skewers. Make sure the meat is spread to an even thickness. Refrigerate until you are ready to grill.

Preheat grill for high heat.

Brush grate liberally with oil, and arrange kebabs on the grill. Cook for 10 minutes, or until well done, turning as needed to brown evenly.

Once the kebabs are cooked place 1 tsp oil in a pan and sauté the garlic and kebabs together and add ½ cup cream, Parmesan cheese and parsley.

Once cream thickens, take off heat, garnish with lemon wedges and serve.