TRAVEL
When Nature Beckons: My First Camping Trip


The notion that camping trips may not be a popular activity among kids these days, possibly because it means living a life close to nature and away from the shackles of today's electronic gadgets is not entirely true, as sixth-grader Vansh A. Gupta, a first time camper, explains.

---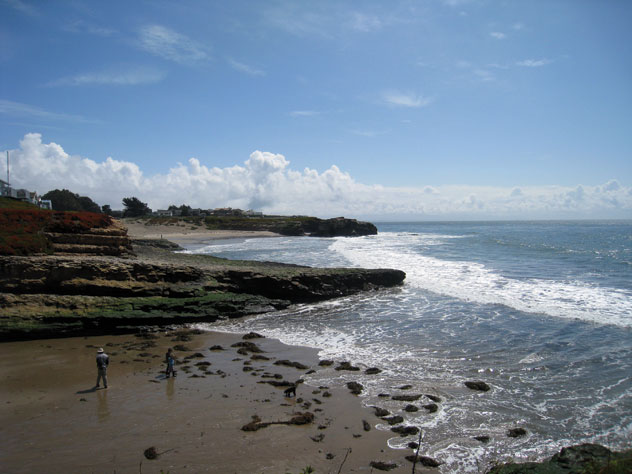 (Above): Natural Bridges State Beach in Santa Cruz, Calif. [Photo: Vansh A. Gupta]

---
You might think my spring break would be spent with family and family-friends encountering tourist attractions, right?

Well, this time around, I went with teachers and schoolmates to a Science Camp. Let me walk you through the trip; consider it a lesson for those parents and students who think going on a camping trip from school could be boring.

It all started on the first day of Spring Break this year, April 9, we gathered at our school, Chadbourne Elementary in Fremont, Calif., and loaded up in the buses to begin what would be a winding journey through the Santa Cruz mountains to our destination, the Monte Toyon Camp in Aptos, Calif., or Science Camp for short.

It was a lone place where all one sees is trees, trails, log cabins (big ones) and instructors. What's missing? Cell phones, iPods, Internet, videogames, and the likes.

---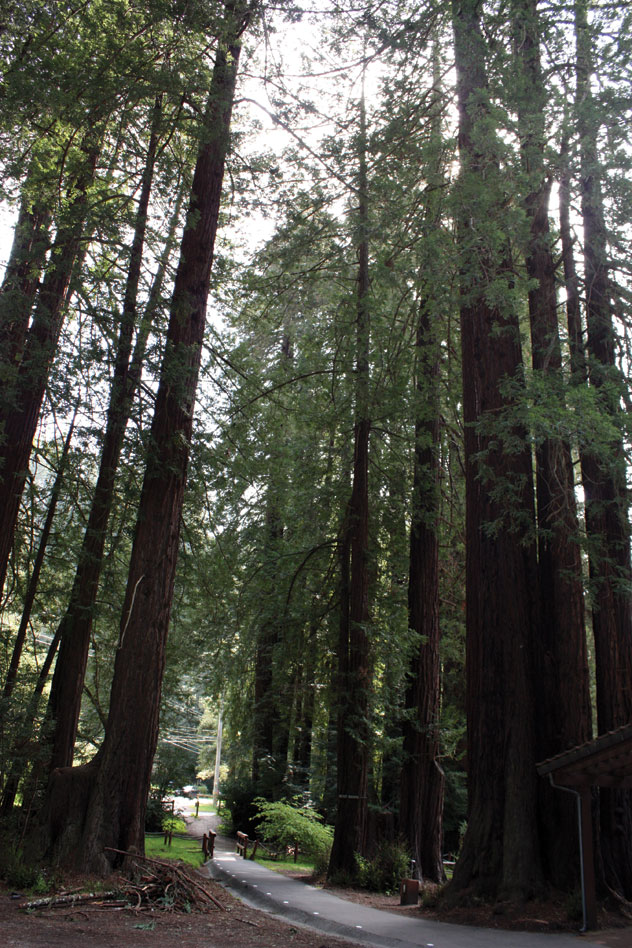 (Above): Walkway to cabins at Monte Toyon Camp. [Photo: Vansh A. Gupta]

---
Being a first time camper, I was skeptical about the fun part without my usual soul mates – Internet, iPod, videogames etc. But as I soon discovered, Mother Nature has her own attractions.
So here I was, all out and about with my camping gear and a gut feeling that this might not be a good experience at all, and boy was I wrong.

We met our counselors, managing director of the camp (Typhoon), and our naturalists (Jellyfish/Grassy; Brother Nature; Moose; Old School Scott; Guinneapig; and Raccoon). In case you're wondering, these were temporary nicknames, just to add flavor to the camp. I was in Jellyfish's group and our group was called "Flying Fish." My counselor was Yicheng (God) and my cabin mates were Brian (Duck), Gabriel (Newton), Elvin (No Apparent Reason), Shamel (Julio), Dylan (Stairs), Yash (Mark), Ryan (Mr. Glasses), and I was to be called BLT.

---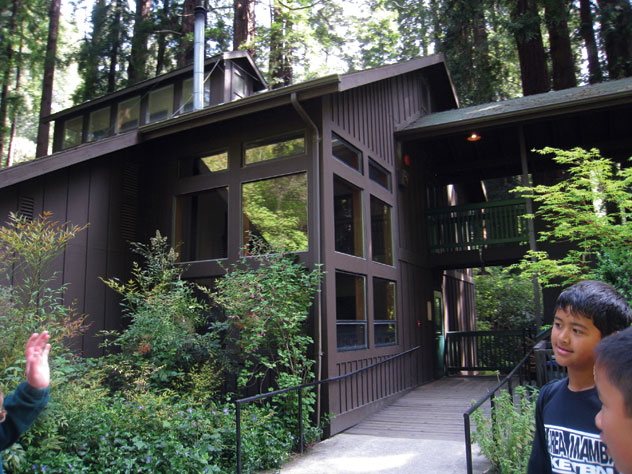 (Above): Cary Lodge girls' cabin at Monte Toyon Camp. [Photo: Vansh A. Gupta]

---
Day 1: Getting the Hang

The first day was not very eventful or happening. We were going through general stuff: rules, familiarization, and settling down and sleeping.

We were welcomed and introduced to Science Camp when we arrived. After settling down in our cabins, we went on a short hike and saw Freaky Fred.

It is a naturally carved or hollowed out tree branch that has a freaky face. My first tryst with nature, alone!

---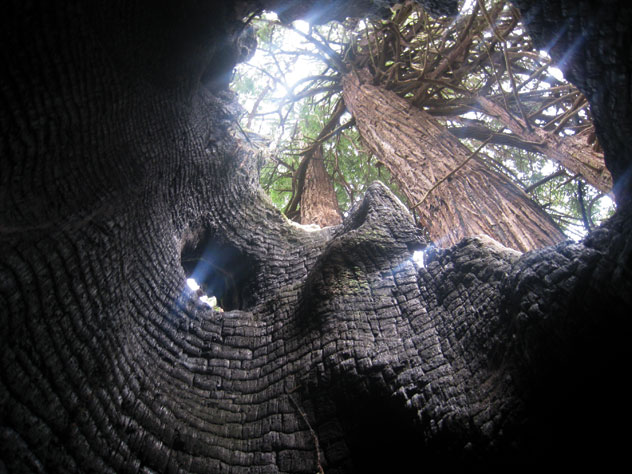 (Above): 'Freaky Fred' interior and exterior at the camp trail. [Photo: Vansh A. Gupta]

---
We played some games and hung out in the cabins for what seemed like an eternity. Then came my personal favorite – dinner. We were treated to a delicious spaghetti and brownies meal for dinner.

Revitalized, we sat around a nice, cozy campfire, singing songs like the Banana Slug and In the Web of Life and The FBI, doing drama, and telling stories. Before long, it was time for bed. We were exhausted and it was lights out as soon as I hit the sack.

---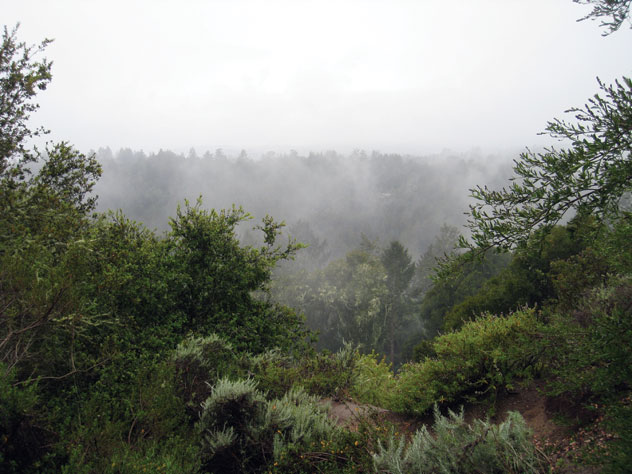 (Above): Santa Cruz forest view from ridge top on camp trail. [Photo: Vansh A. Gupta]

---
Day 2: The Real Deal

We started the day with scrumptious pancakes (best in the world). Then the "Flying Fishes" started the hike of doom! Just kidding. We went (huffed and puffed) on a two-mile hike to the ridge-top that had views of nature that made the walk worth every bit.

During our hike we learned a lot about nature, the Redwoods, the Salamanders, the Rhododendrons, the Forget-Me-Nots, Bats, Banana Slugs, Poison Oak or P.O., and other species. It was a steep walk with a lot of botany to absorb so the distance didn't really seem that much.

---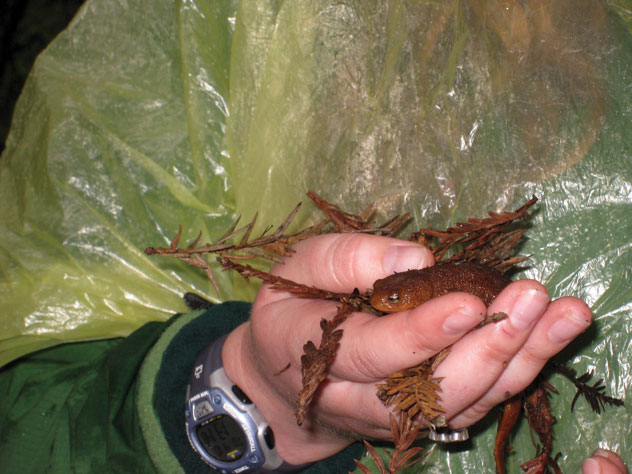 (Above): A Newt in the hands of one of the camp instructors. [Photo: Vansh A. Gupta]

---
Exhausted from the day's exercise, we were hungry by the time we returned. Burritos for dinner with ice cream for dessert was a perfect treat to sweeten up the day. You would expect sunshine and starry nights in spring in California, but I guess Mother Nature was playing her tricks relentlessly as it was cold and raining … in Spring!

That evening again we didn't have much choice with all the rain and we cuddled up next to a fire indoors as it was raining cats and dogs outside. It was much warmer compared to the cold outdoors. We played some board games, talked and sadly did not sing those exciting songs that night.

---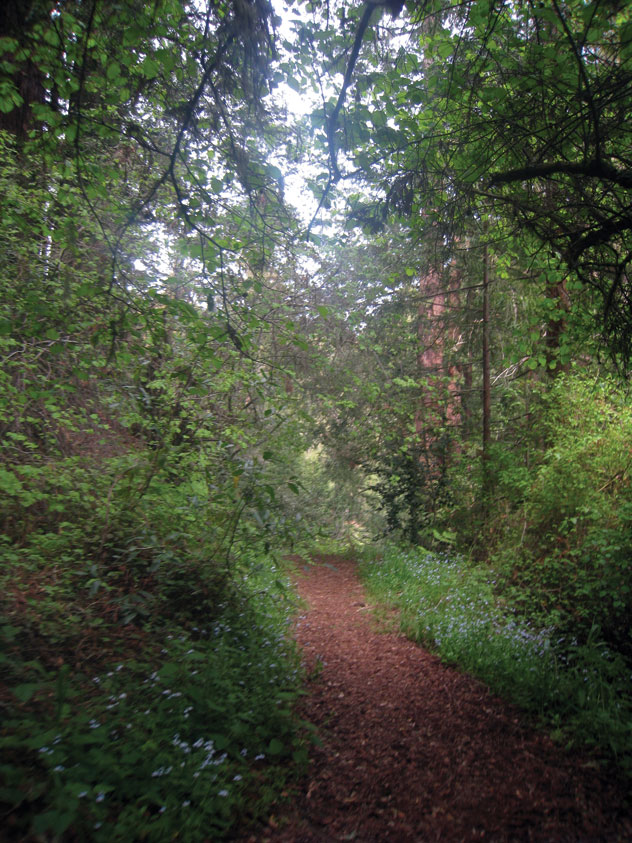 (Above): The trail at the camp. [Photo: Vansh A. Gupta]

---
Day 3: We are Pros

We started this morning with yet another hearty breakfast. Delightful eggs and potatoes (best in the world). Then instead of going on a hike, we went to the tidepools in the Natural Bridges State Park and Beach. After the plants, it was time to explore some marine life.

In the tidepools, we discovered marine species like jellyfish, plankton, sea stars, crabs, and sea anemones. The tidepools were teeming with life and beauty.

---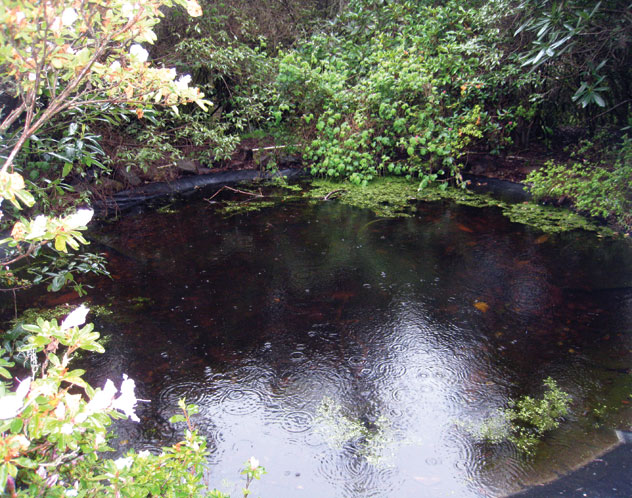 (Above): A Salamander pond hidden among dense foliage was one of many fascinating sights. [Photo: Vansh A. Gupta]

---
When we came back from the awesome beach, we had pizza for dinner - the best dinner yet - and granola bars for dessert.

Mother Nature was being kind again! We went on a special night hike eating mints and then it was campfire again. It was the last night before we were to head home the following day. Farewell and goodbye mood was in the air and the campfire singing was mostly touching songs like A Shooting Star, and telling stories.

---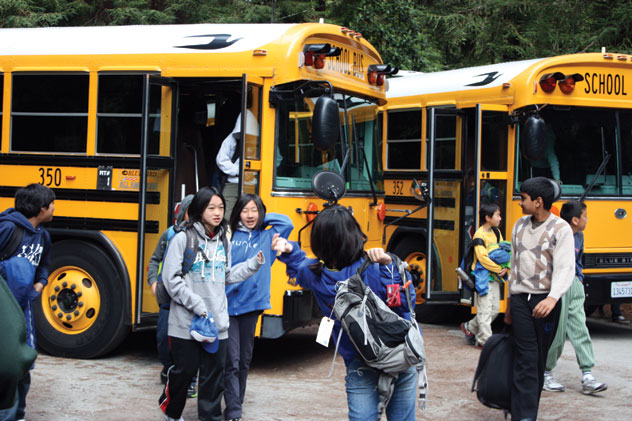 (Above): The two school buses, our mode of transportation to and from the camp. [Photo: Vansh A. Gupta]

---
Day 4: It came as a Surprise!

We started this last morning at the camp with a goodbye song and scrumptious French toast (again, the best in the world). Then we played games and wrote letters to ourselves to remember the Science Camp's awesome experience.

Finally, at noon, with our hearts crying for more, we boarded our buses for home, leaving all the fun behind. No one wanted to leave.

---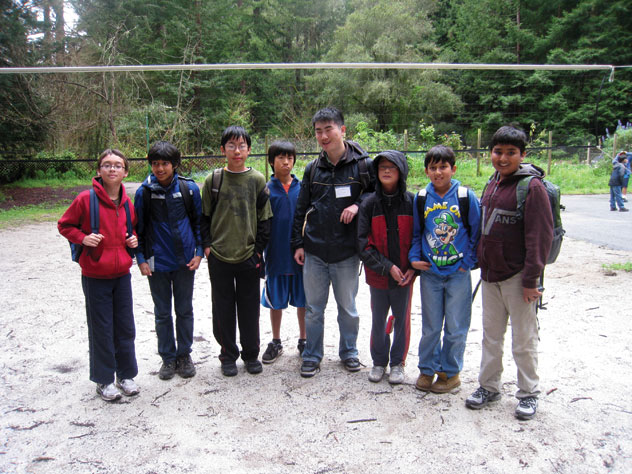 (Above): Cabin mates pose for a picture on the last day of the camp with their group head Yicheng (4th from l) and Vansh (r). [Photo: Amar D. Gupta | Siliconeer]

---
Science Camp was great. We did many activities and amazing hikes. We also got a chance to study nature first hand. Then there was the fun parts, playing games, having campfires, entertainment, and going to the beach.

It all ended too soon and now I can't wait to go to a camp again.

I had a great experience at Science Camp. With scrumptious breakfasts and delightful dinners and so many fun activities like the campfire, singing, the hike and the beach, to name a few, Wolfe Monte Toyon Camp, gets a double thumbs up!