SUBCONTINENT:
Cartoon Melee: Nothing to Laugh About


The cartoons do not defile a stalwart's legacy but its removal defiles a country's democratic values and principles on which the very idea of India stands, writes Priyanka Bhardwaj, appalled by the Indian government's decision to ban cartoons that were part of learning in Indian school textbooks.

---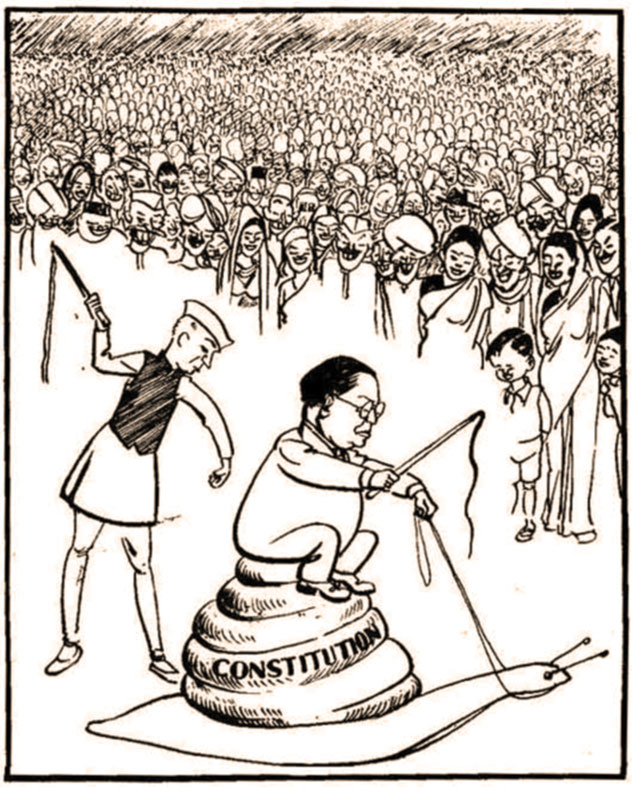 (Above): The Nehru, Ambedkar cartoon that has politicians in India crying foul.
---
India's capacity to laugh at itself stands affected. It is not a matter of simple dilemma that India's parliamentarians cutting across ideological hues and affiliations, as if in a state of apoplexy, demanded removal of decades old cartoon of B.R. Ambedkar and Pandit Jawahar Lal Nehru, chief framers of India's Constitution, from Standard XI political science textbooks.

The slow arduous making of the constitution of Independent India had inspired late, eminent artist Keshav Shankar Pillai to sketch a cartoon that had Ambedkar sitting on a snail while Nehru waving a whip prodded the creature to pick up speed.

The lawmakers' charge was: The "derogatory cartoon carries potential to poison impressionable minds of youngsters against the political class."

Rather than taking on the incensed political lot the cornered Union Minister of Human Resource Development, Kapil Sibal conceded to the unreasonable demand and called for erasure of not just the cartoon in question but also assured the Upper House or Rajya Sabha of a total ban of other cartoons from NCERT (National Council for Education and Research Training) school books.

There are many points that lend importance to cartoons in learning texts — besides acting as visual aids these are creative pedagogic innovations which broad base perspectives.

But none of these positives managed to draw appreciation of the learned minister.

In an age of digital content making inroads into classrooms, cartoons have contributed in lightening regular drudgery of high school learning and stand out as excellent illustrations in subject-books as diverse as literature, grammar, humanities, geography and science for classes IV, V and VI ever since they were introduced in 2006.

The government-initiated ban came as a shock to the community of educationists, academia and media.

In a national television channel, acclaimed cartoonist Sudhir Tailang vehemently argued that as children possess all faculties to grasp finer nuances of a satirical art, to ban cartoons would be akin to Taliban-like censorship.

He pondered over the effectiveness of the ban as children would always retain access to them in newspapers.

Objecting to the ban, even Ambedkar's grandson Prakash Ambedkar opines that in all likelihood Ambedkar himself would not have opposed the depiction of the cartoon in the textbook.

---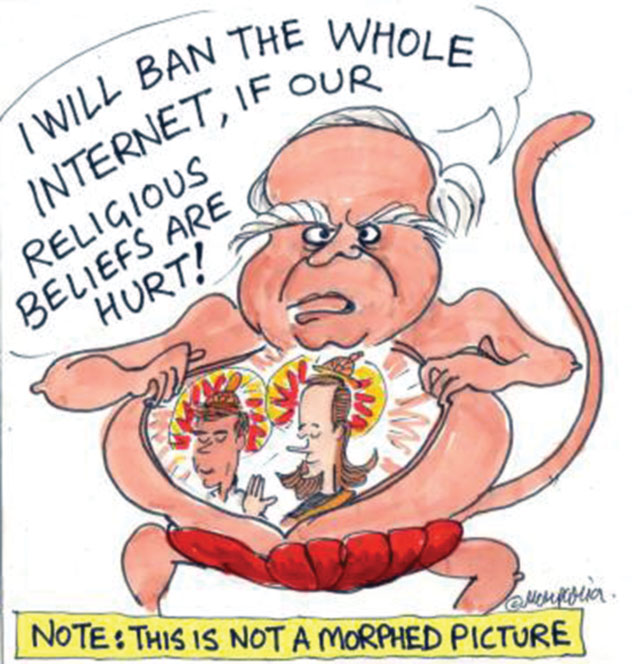 (Above): A cartoon of India's Human Resource Development Minister Kapil Sibal making rounds on the Internet. [Pic: FOONTO.com]
---
"The Congress and BJP are both dumb and paralytic so they need to be spoon-fed by these vultures (opposed to the use of cartoons in textbooks). We don't have a leader who can stand up and say that we are not going to tolerate such nonsense. Today's politicians lack humor and knowledge," was his take.

Sociologist Dipankar Gupta draws attention to anomalies in government's behavior that overlooked instituting a screening committee to analyze and recommend solutions to the issue before resorting to a blanket ban.

That development of texts in 2005-07 had entailed diligent reviews, non-consideration of this humongous comprehensive effort quite naturally left advisors Yogendra Yadav and Professor Suhas Palishkar feeling insulted and they declared their resignations.

While supporters of the ban did not settle at government's acquiescence to their illegitimate demands and went on to ransack Palishkar's office, the Minister of Education joined them in welcoming Yadav and Palishkar's resignations and ordered an enquiry to identify formulators of the book for prosecution.

Such alarming instances of intolerance by fringe elements or groups with enormous say on the conduct of the country's democracy are gaining strength in the past couple of years.

The fundamentalist attitude has rubbed off on the government of the land as they too respond with as equal betrayal of utter disregard and ignorance of Article 19(1) (a) of constitution that guarantees right to free speech.

The immediate precursor to the cartoon debate was the order for arrest of Jadavpur University lecturer by the livid Chief Minister of Paschim Banga Mamata Banerjee, for his satirical visual art lampooned her and the minister of railways.

At a later interactive TV session she angrily barged out of the sets calling the audience 'Maoists cadres' (extremists) when some members tried to question her about the arrest.

"It is not a cartoon. We love the cartoon. Cartoon is a different thing. He is a CPI-M (Communist Party of India-Marxist) man. He misused the e-mail of his society people without their consent. He forwarded it to 60 people... The message in the cartoon that contained the word 'vanish' is a murder conspiracy and a plot supported by CPM. What he has done is a cyber crime. It is not a cartoon but, it is a political conspiracy to murder me," she thundered rather vacuously.

The central government too has left much for wanting as in 2011 it fired the first salvo to regulate social networking sites.

Google Transparency Report 2011 affirms maximum complaints emanating from Government of India.

When a handful of Muslim elements called offence at Salman Rushdie's (author of controversial Satanic Verses) public speaking at a popular literary festival the government sought to appease the displeased fundamentalists.

Similarly the creative genius, M.F. Hussain was hounded out of the country to live in exile till he passed away last year.

Way back in 1997, journalist Arun Shourie's critique of Ambedkar ("Worshipping False Gods") had led to his assault by a group of dalit (untouchables) activists in Mumbai.

With the economy in doldrums, rupee falling to dismal depths of value and inflation at such high levels it is astonishing how legislators find time, energy and unanimity to disrupt discharge normal legislative duty and dwell on issues of satire based on crass literalism.

Prevention of alternative views and critique definitely threatens an eventual build up of a future fascist, non-liberal regime.

And in the cartoon case the government's ban is for sure laced with appeasement and vote bank based considerations as dalits are increasingly recognized for the large population figures they have attained.

One may want to draw attention to late Prime Minister Indira Gandhi's foreword to a collection of cartoons by K. Shankar Pillai whose title Don't Spare Me Shankar (published in 1983 and reprinted in 2009) was borrowed from Nehru's affectionate remark to Shankar himself.

It read: "...Turning over (the book's) pages, we relive the controversies of yesterday — the vanities of some, and the intrinsic strength of the man who stood above them in large-heartedness, ability and vision."

The country has to bear in mind that there are pitfalls for those classes who put their faith and belief in a leader who they revere as a hero.

Ambedkar had cautioned that, "Bhakti or hero worship in religion may be a road to the salvation of the soul. But in politics, Bhakti or hero worship is a sure road to degradation and to eventual dictatorship."

The cartoons do not defile a stalwart's legacy but its removal defiles a country's democratic values and principles on which the very idea of India stands.