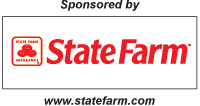 AUTO REVIEW:
Smart and Frugal: 2012 Ford Focus Titanium


Gas prices giving you the creeps? Try the new Ford Focus. It is smart, savvy and goes real easy on gas, writes our automotive editor Sally Miller Wyatt.

---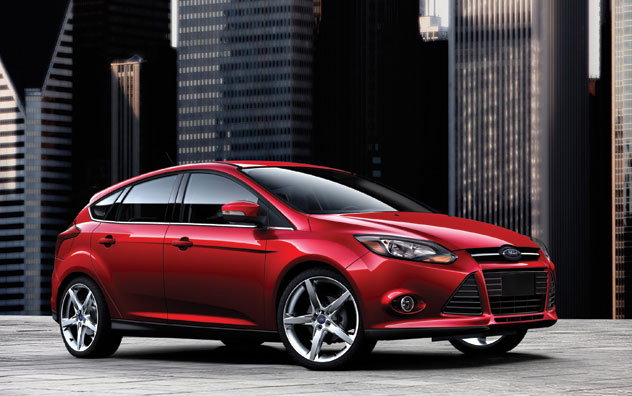 (Above): Exterior view of the 2012 Ford Focus.

---
Whatever you may have thought a Ford Focus was, it is something altogether "more" now, with the total redesign for 2012.

If you may have thought it was just a small, everyday generic vehicle, think again. These new Focus' are packed with smart technology, new occupant safety features, overall functionality and terrific fuel economy. That fuel rating is an impressive 40 mpg for highway driving.

The 2012 Ford Focus comes in several trims – the S, SE, SEL and Titanium – and either as a sedan or a hatchback. Our test car was the five-door Titanium hatchback, fully loaded with all the bells and whistles. We've spent time in the Focus before, and the 2012 version is quite stylish. It didn't hurt that it had an exterior color of Kona Blue Metallic, paired with black leather interior, which is an eye-catching combination.

So, what do you get with an all-new Ford Focus?

Every part of the car has been re-examined, from the interior and exterior design, to the addition of technologies perhaps only found previously on more expensive cars, to the inclusion of the latest in safety features. It even has "green" attributes, such as a new engine that is more efficient yet offers 20 percent more horsepower than previous versions, and an exterior design shape that cuts down on wind drag to help boost that already good gas mileage. The windshield has a special acoustic layer to reduce wind and road noise, too.

---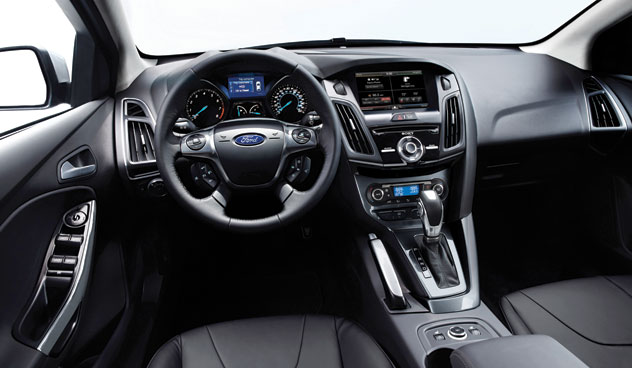 (Above): Interior view of the 2012 Ford Focus.

---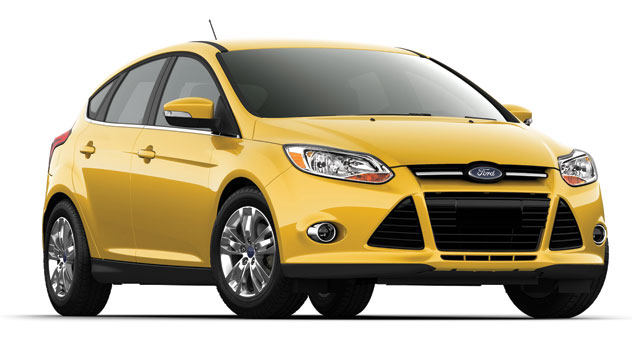 On the interior, you will find a driver's cockpit-like setting and a stylish center console. It has contemporary graphics, a soft-touch instrument panel and SYNC with MyFord Touch. This replaces many of the traditional dashboard buttons, knobs, gauges and the likes with clearly marked screens and five-way buttons. These screens can be personalized to display the kind of information that matters to you most, so that you're either using a one-button click, voice command or a tap of the touch screen. This helps keep your eyes on the road, and not hunting and pecking all over the dashboard.

The redesign also adds more head, shoulder and hip room for all passengers.

Ford's designers intended to create a Focus that exceeds global safety standards for both occupant and pedestrian protection. That's because the Focus is sold worldwide, but is being built with regional preferences as part of Ford's 'One Ford' global business strategy.

Among the safety features is a new design for the driver's air bag. It has a curve-shaped tether system that, according to Ford's press materials, pulls in the lower section to create a kind of a pocket that should help lessen the impact of an air bag on the driver's chest and ribs during a frontal crash. Side air bags now have shoulder vents that will stay open and reduce pressure on your smaller passengers. The car's shell is made of an ultra-high strength steel, which helps the car meet crash regulations around the world.

Behind the wheel, your eye is immediately drawn to the colorful graphics and neatly laid-out dashboard. The seats are sporty and bolstered, and visibility is good. The car handles very well and has a tight turning radius. Acceleration is smooth and peppy, thanks to the 2.0-liter GDI engine. Our test car was equipped with a six-speed automatic transmission.

---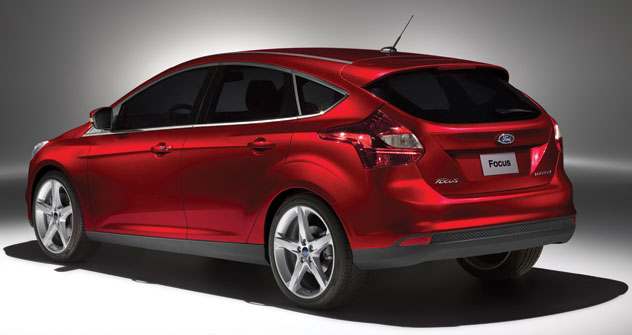 (Above): Exterior view of the 2012 Ford Focus.

---
The rear hatchback lifts up to reveal a trunk that is easily accessed and protected from prying eyes by a cargo cover.

As I mentioned, our test car was loaded with lots of extras – such as a premium package that included a rear parking aid sensor, a parking technology package with rear view camera, a sport suspension and Sirius Satellite radio. All the extras boosted the total sticker price to $26,870. The base price was $22,765, although I'm sure the base S models start out much lower.

Overall, it's hard to beat the good looks and great gas mileage, topped with a fun driving experience. Some may find the top-of-the-line 2012 Ford Focus Titanium to be a little pricey, but even the base models have lots built in from the ground up, making this a fun, safe and economical car for small families or empty nesters.