BOLLYWOOD | Film Review
Intense Drama: Chakravyuh


Produced and Directed by: Prakash Jha
Starring: Abhay Deol, Arjun Rampal, Manoj Bajpayee, Esha Gupta, Anjali Patil and Om Puri.
Music by: Salim - Sulaiman

Reviewed by: Joginder Tuteja
Rating: *** (Good)

---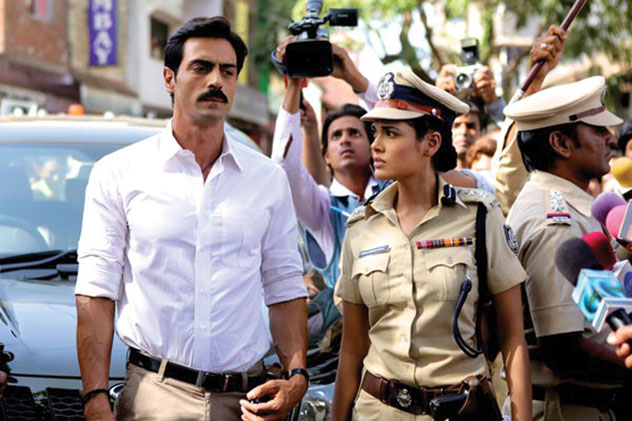 (Above): Arjun Rampal and Esha Gupta in "Chakravyuh."

---
Prakash Jha has a distinct way of storytelling where one thing which is definitely expected is heavy duty drama. There are tense moments that you do look forward to in the narrative of his films where characters indulge in some verbal battles with dialogs taking center stage. Well, this does happen in Chakravyuh as well but for a change, Jha brings in a lot of action into the affairs as well. So while there are blazing guns galore with explosions taking place every ten minutes, you do feel that a little more drama with all the more insight into the core issue would have taken Chakravyuh to an entirely different level.

While the core plot of Chakravyuh is straight forward, a cop (Arjun Rampal) on hunt for a Naxal leader (Manoj Bajpayee) who is trying to help tribals win rights of their land. On the other hand there are industrialists, politicians and local mafia joining hands to earn hundreds of crores. In the middle of this all there is a "chakravyuh" where Government and especially cops find themselves trapped as even those who are honest don't really find an amicable solution to this system. A commoner (Abhay Deol) tries to help Arjun in bridging this gap, only to find himself trapped as well.

The core storyline doesn't really have many surprises in store and the conflict, though well presented, had in it to be further drilled down into finer details. One actually does wonder whether Manoj Bajpayee, Om Puri (who is shown as the crusader of this movement) or the ones at the high command of the Naxals tried to actually sit across the table and talk it out with the Government. Though one does assume at certain places that it would have indeed happened at one point in time, a much more rooted insight into this would have brought an edge to Chakravyuh.

---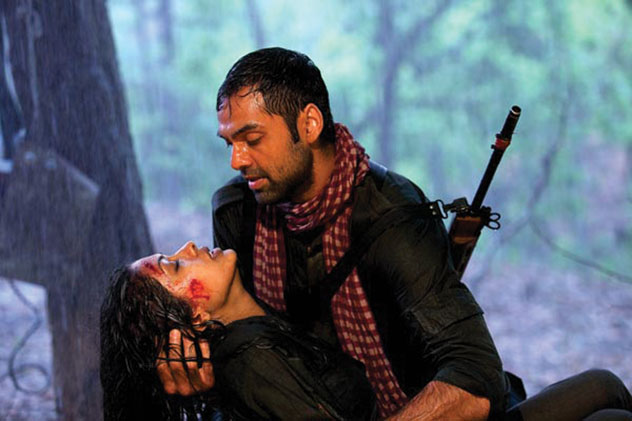 (Above): Bobby Deol and Anjali Patil in "Chakravyuh."

---
This is made visible in the opening sequence of the film where Arjun Rampal and Om Puri come face to face. Later with other characters being established in a jiffy, be it a female cop (Esha Gupta), an industrialist (Kabir Bedi), a female Naxal leader (Anjali Patil), a corrupt Naxal commander (Murli Sharma) or the politician (Kiran Karmarkar), it is ensured that Chakravyuh never strays away in taking too much time before coming to the point.

The sequences that follow keep you glued to the proceedings and though songs, whether it is 'Mehengai' (with Abhay) or 'Kunda Khol' (Sameera Reddy) were completely unwarranted, you still want to know how the story would unfold. This is what makes the first half of the film quite interesting since the entire episode around Abhay infiltrating Naxals is well established. Also, the conflict that develops between him and Arjun isn't done in a jiffy and there are at least 4-5 important sequences placed into the narrative that make the change of heart totally convincing.

The sequences involving Manoj Bajpayee bring further depth to the story. Without him getting preachy, he conveys certain important points well and though his character gets sidelined in the second half (due to an important twist in the story), one feels his presence in the proceedings.

Meanwhile, every sequence featuring Om Puri is well done. In fact it is good to see the veteran actor getting to play a part so real and unlike some of the hardcore commercial characters he has done in the recent times that don't quite go with his stature as an actor.

---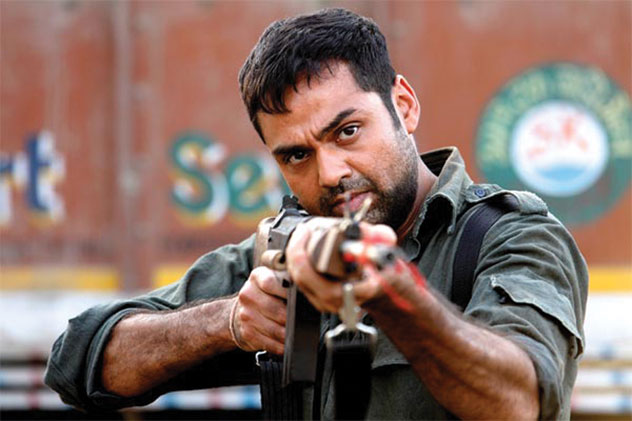 (Above): Bobby Deol in "Chakravyuh."

---
(Spoilers ahead) However, just when the drama starts picking up towards the later reels in the second half, especially after Anjali Patil is arrested and then Abhay counter attacks with his killings, the film starts moving towards a predictable climax.

Yes, the action does hold good but you somehow feel that the drama has become more of a conflict between two friends than the larger issue. This continues right till the last scene which leaves you with a sense of emptiness as there was something far more volatile expected from Jha than two friends fighting it out in the field.

Though one has to agree that a subject like this couldn't have found a true culmination for itself due to the complexities involved, one does feel that at least from the film perspective, Chakravyuh, which had such a good build up in those two odd hours, deserved a better finale. Also, it could have been a little more layered, something that was the strength of another film on the same subject, Ananth Mahadevan's Red Alert - The War Within, which had almost similar characters.

Still, as mentioned earlier, the film does hold it's audience and credit has to be given to the film's fast pace, a highly effective background score, real settings and of course the performances. Arjun Rampal is fantastic in his portrayal of a cop who likes his action to speak louder than words. His dialog delivery and body language is firm and effective while most importantly, he looks the part. He proves once again that over a decade long career, he has come a long way. On the other hand Abhay, in a very meaty role, is someone who one can relate to. He doesn't look awkward at all while holding a gun.

---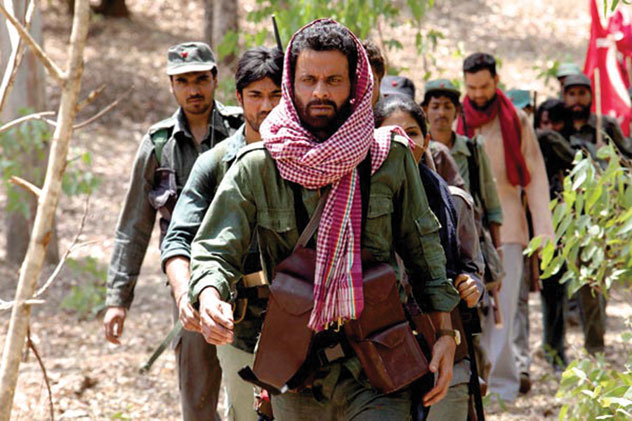 (Above): Manoj Bajpayee in "Chakravyuh."

---
Manoj Bajpayee can just not be expected to act badly and that holds true for Chakravyuh as well. Though one would have liked to see more of him and also get into some heavy duty dialog-baazi, he makes sure that his presence counts. On the other hand Anjali Patil makes a fine debut and is utmost convincing. Esha Gupta is hardly there and her glamour comes in the way of playing a no-nonsense cop. Other supporting actors play their part well though the youngster playing Kabir Bedi's son is unintentionally funny.

One has to acknowledge that when compared to his last film Aarakshan, Jha does more than just scratch the surface. Also, his conviction in telling this tale is more than apparent. This is established in the way he spins around the tale, picking up from newspaper headlines and other research material and keeping the narrative intact for most part of this 150 minutes long film. Yes, there was scope to go further down and bring out deeper facts but for the material he had in hand, he made sure that the point was well conveyed to the audience.