CURRENT AFFAIRS:
Tainted with Corruption: Vadra's Shady Land Deals


There have been a disconcerting number of corruption scandals that have rocked the Congress-led government headed by Prime Minister Manmohan Singh. The latest allegations are miniscule, at least till now, when compared to the scale of the earlier purported embezzlements related to the coal, telecom spectrum or the commonwealth games scams.
However, the spotlight is due to the supposed perpetrator of the illegality, Robert Vadra, connected to the first family of Indian politics, the Gandhi clan. Insinuation of corruption against the establishment can get no closer or bigger than this, writes Siddharth Srivastava.

---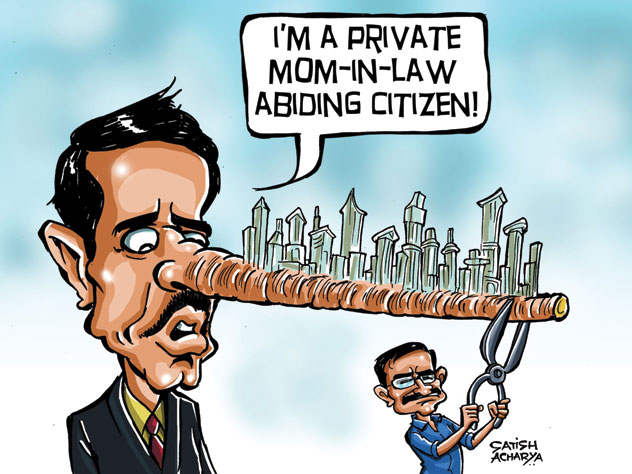 Illustration by Satish Acharya

---
Robert Vadra is the son-in-law of Sonia Gandhi, the all-powerful Congress party chief. He is Priyanka Gandhi's husband and the brother-in-law of Rahul Gandhi who is widely seen as the Congress party's future Prime Ministerial candidate. Rahul's forays into the grind of Indian politics though, especially the loss in Uttar Pradesh assembly elections in March, have so far not been very exciting.

The allegations against Vadra have been made by Arvind Kejriwal, a social activist who has been leading a high-profile campaign against corruption over the recent months. In his latest avatar, Kejriwal has decided to enter politics, launching an independent party to contest in the upcoming elections.

He marked the occasion by accusing Vadra of corruption. According to Kejriwal, Vadra has been involved in real estate deals that smack of favoritism and crony capitalism. India's real estate market is shady in most cases, with heavy involvement of black money and speculation.

The quick and massive returns due to India's rapid urbanization have spawned multiple overnight millionaires across the country. Land prices in prime areas such as Delhi, Gurgaon and Mumbai are among the most expensive in the world.

Predictably, like handling of other of India's natural resources, governments, politicians and bureaucrats are known to tinker with land use and conversion laws for personal gain or benefit their cohorts. Kejriwal has accused real estate entity DLF, developer of many properties in India, of orchestrating transfer of prime properties in areas such as Gurgaon to Vadra, at throwaway prices.

In the process Vadra is alleged to have amassed Rs 3 billion wealth (valued Rs 5 billion or more now) within a short period, without possessing seed capital for such investments. What is worse, Kejriwal has accused DLF of granting Vadra an unsecured loan of Rs 650 million to plough back into the underpriced properties.

Kejriwal claims that DLF's freebies to Vadra have been in exchange for extensive land banks that the real estate entity has been extended in connivance with governments of Haryana and Delhi that are ruled by the Congress party.

Nothing is proven against Vadra in the courts at the moment. So far Kejriwal has refused to take recourse to legal actions saying that the process will be cumbersome and investigations will be biased as they will be handled by government agencies.

---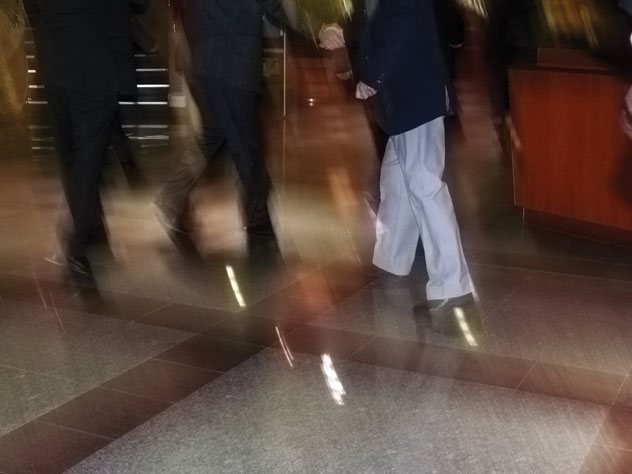 ---
He has called for the setting up of an independent special investigation team, instead. A public interest litigation or PIL, however, was filed on the issue last month at the Allahabad High Court that has served notice to New Delhi.

While DLF has dismissed the allegations as a "bunch of lies," Vadra in a statement has said, "I am a private law-abiding citizen who has been engaged in business over the last 21 years. The allegations leveled against me are utterly false, entirely baseless and defamatory."

Vadra has also chosen social networking Web sites to retort to the accusations. In one such assertion, he immaturely refers to Kejriwal as "mango people in a banana republic," a testimonial that has not exactly endeared him to sections of the hyperactive young Internet-savvy population of India.

Indeed, by most accounts, there is enough to suggest that the allegations need to be probed further impartially. Those who know Vadra, who also runs a jewelry business, say that he does boast a lifestyle without perhaps having to work too hard for it. He plays golf in the weekends and has been spotted several times at the swanky DLF golf course in Gurgaon that Kejriwal has claimed is forestland that has been illegally handed to the property developer.

On weekdays Vadra spends a bit of his time at a gym. He is a member of multiple top-end swanky gyms housed in five-star hotels in south Delhi. Vadra collects motor bikes, enjoys long-distance cycling expeditions and often travels abroad for 'business.' Then there are the perks of being connected to the Gandhi family.

A retinue of armed guards and pilot vehicles guard Vadra, who has been extended the highest security status. Further, he is among the handful of dignitaries that include the President and the Prime Minister of India, who by protocol are not required to be frisked at Indian airports.

Politically, Vadra has so far limited himself to accompanying Rahul and Priyanka in their electoral campaigns, but has shown signs that he may not be averse to the limelight. In an impromptu TV interview during campaign for U.P. elections, he said that he could one day get into active politics, a matter that was quickly dismissed by Priyanka later.

Still, Vadra operates at levels of power and money that few do. Following the accusations, the Congress party, at the instance of Sonia, has come out strongly in support of Vadra, accusing Kejriwal of mudslinging to achieve narrow political ends. Finance Minister P. Chidambaram has spoken in Vadra's defense.

Sonia, in the past, has usually sought to distance herself and her party from persons accused of being corrupt, whether it is former Foreign Minister Natwar Singh, Telecom Minister A. Raja or Suresh Kalmadi in the Commonwealth Games scam. The Gandhi family has faced tough periods in the past such as dealing with the Bofors corruption scandal in the 80s.

It needs to come clean on the Vadra episode.

The defense, if there can be one, needs to be clinical and matter of fact.

The people of India are watching closely.