SOCIAL ISSUES:
India's Granary Harvesting Poison: "Drug Affected Sons of Punjab"


For once, Rahul Gandhi uttered the right thing when he stated an indigestible fact that human resource potential of Punjab in North West India is in shambles as 7 out of 10 young men are addicted to drugs, writes Priyanka Bhardwaj.

---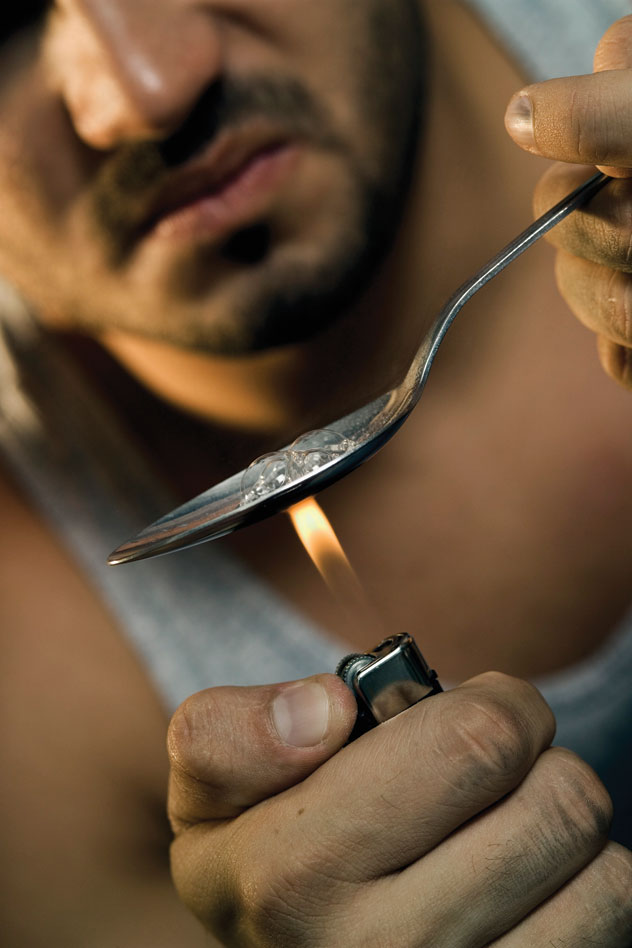 ---
The scion of longest running political dynasty, 'The Gandhi Family,' had no sooner said this, at a rally organized by National Students University of India at Punjab University campus in state capital of Chandigarh, that the ruling Shiromani Akali Dal – Bharatiya Janata Party (BJP) combine and sundry detractors raised their pitch in slamming the Congress General Secretary for his 'derogatory, irresponsible' public statements and demanded a public apology.

Rahul had merely cited from a report prepared by the current state regime and also mentioned in another document of Punjab government entitled "State Disaster Management Plan For 2010-11" which reads, "some 73.5 percent of state's youth between 16 and 35 years are confirmed drug addicts."

On further enquiry, one finds that the plan refers to surveys conducted by Guru Nanak Dev University in Punjab's largest city, Amritsar and it also quotes Raj Pal Meena, ex-head of Anti-Narcotics Task Force of Punjab: "Punjab is teetering on the edge of an extraordinary human crisis, with an inordinately large number of youngsters hooked on to marijuana, opium and heroin, in addition to imbibing a range of prescriptive tablets."

Flaying Rahul's remarks on high incidence of drug abuse especially in pinds (villages) along the border with Pakistan, Harcharan Singh Bains, advisor to Chief Minister Sukhbir Singh Badal called him a "national joke" while Badal accused him of using "politically motivated diversionary tactic to cover up internal contradictions and infighting in Punjab unit of Congress."

---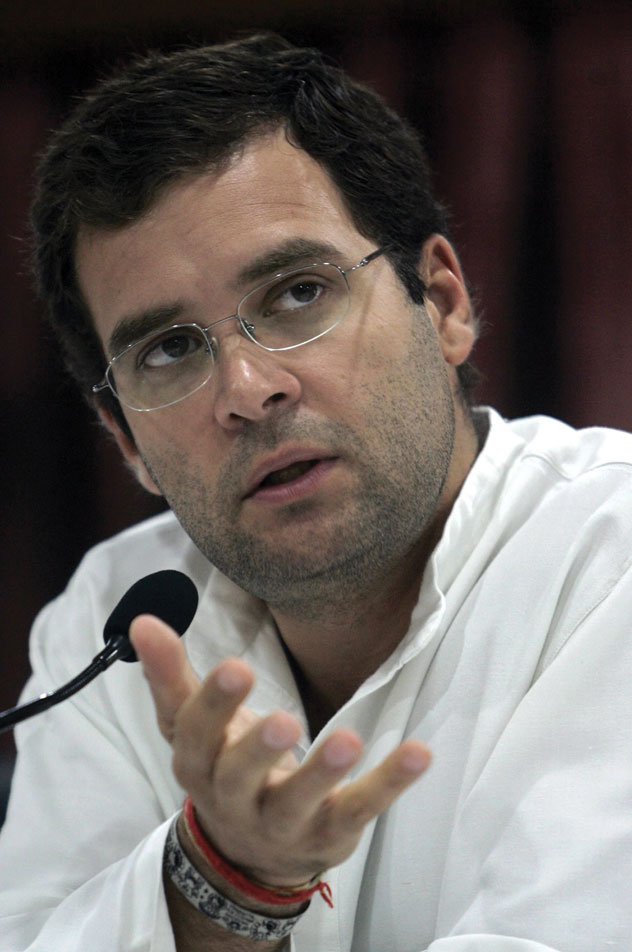 (Above): Rahul Gandhi

---
But Vikram Chowdhary, president of Youth Congress, pointed out that it is Badal who was guilty of patronizing drug lords and failing to curb trans-border smuggling of arms, drugs and fake currency as he directly controls the Border Security Force.

Such vehement denial of bitter reality by ruling forces has not gone down well with activists, health workers and many affected families who cite a 2009 noting of Chief Election Commissioner S.Y. Quaraishi that brought attention to the menace, "We've encountered problem of liquor during elections in almost all states. But drug abuse is unique only to Punjab. This is really of concern." It would also pay well to remember that the statistics for drug abuse formed basis of recent innumerable police raids and state's decision to set up a de-addiction center at each of eight central jails, says public health worker Mandeep Sandhu.

Situated between two major illicit opium producing centers in Asia, Golden Crescent and Golden Triangle, Punjab functions as a transshipment point for heroin destined for Europe from Southwest Asian and Southeast Asian countries but over time graduated as a small market for illicit drugs like raw opium, smack, heroin, synthetic drugs like morphine, pethidine, codeine and psychotropic substances like diazepam.

Terming it as 'drug-terrorism' anti-narco sleuths in Chandigarh say that with the arrest of Punjab militancy that peaked in eighties and early nineties terrorists and global drug cartels operating in neighboring lands have taken to smuggle charas, methaqualone, ephedrine, acetic anhydride and amphetamine into India using the increased Indo-Pak cross border civilian traffic as an unsuspecting conduit.

Each year the drug trade is estimated to have increased by about 30 to 40 percent and while recoveries of the Afghani smack is never more than 10 percent, Punjab alone accounts for 60 percent of the country's drug recoveries as per the sleuths.

Just last year, in a single recovery the state police nabbed siblings carrying close 50 kilograms (costing about Rs. 2.5 billion) in Phagwara district.

The deterrence of three years rigorous imprisonment and a fine of Rs.100,000 for violation of rules of the Drugs & Cosmetics Act of 1940 have proved inadequate to curb the lure of immense black market profit from sale of these illicit substances and it helps explain mushrooming of dozens of illegal chemist shops in almost all villages, even if no health clinic was present, that sell drugs without prescriptions to those who cannot afford heroin.

With the successes of 'Green Revolution' and immigration of large population-sections to Western countries an entire generation of educated or semi-educated youth sprung up that were no longer interested in cultivating their highly fertile agrarian lands, and with no economic opportunities to absorb them they were easily drawn into vicious grip of narco-substances.

An exploration of the Punjabi social fabric shows the deadly shadow of drugs has eclipsed the vibrancy once associated with high spirited and sturdy youth of this wealthy state and threatens the national and food security of this ancient South Asian country.

Associated with this abuse is also fear of rapid spread of HIV and AIDS among drug abusers using syringes.

Psychologist Jagpreet Kaur recalls the distraught existence of Jat Sikh parents of a drug affected son, 35 years of age, and sole inheritor of more than 35 acres of farm land in Amritsar district, who lies in dazed stupor all day, fails to recognize his parents and refuses to undergo substance abuse treatment.

Drug abuse has acted as a great social leveler and city dwellers in Taran Taran say that sometimes amlis (addicts), apparent from deep sunken eyes and skeletal frame, are found begging for money or some have also been caught trying to sell their blood to procure their daily dose of drugs.

Surjit Singh of Modhae village relates how his friend Harkamaljit's drug habit drove him to consume about a dozen prescription tablets and cough syrups in a day and when he would was unable to procure the same he would indulge in violence.

---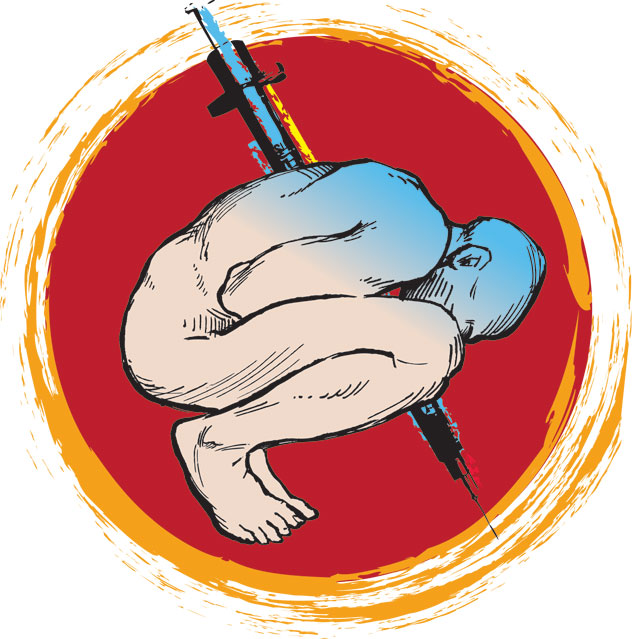 ---
High school kids in the area revealed that drugs are easy to procure outside schools and colleges or in villages where some families sold drugs for an extra buck, $20 for 5 grams, and also supplied a wild grass called bhuki that grows in the state.

Reasons for acquisition of the habit boil down to peer pressure and an escape from exam stress and once addicted, chances are high that the addict would turn into a peddler, roping in his friends and acquaintances to support his drug habit.

While talking of de-addiction, Dr Debasish Basu of Drug De-addiction Center at Postgraduate Institute of Medical Education & Research at Chandigarh says that centers for the purpose are not just ill-equipped but have been found to mint money by supply of contraband material in lieu of money or falsely promising de-addiction treatment using laser therapy.

Of late, there have been efforts to keep the youth away from anti-social activities and drugs, as during a visit to border town of Taran Taran, last July, one found villages in outskirts joining hands with NGOs to stage plays and train the youth in traditional sports and art forms such as gatka.

Towards raising awareness against drug abuse and providing proper counseling, NGOs like Punarjyot and Bir Khalsa Gatka Dal (gatka coaching academy) have had small successes but the magnitude of problem requires concerted efforts employed via multiple strategies and focus on demand and supply sides.

In a century that will be determined by its manpower and for Punjab that has its young outnumbering the old losing an entire generation to killer drugs is the least it can afford.

It is high time that all in the society, State and Center act on the sounds of warning bell that Rahul has rung loud and clear or else face the grim fate of village Maqboolpura in Amritsar which was once known for its affluence but now has become a 'widow village' as drug abuse has claimed male members of almost every household.