EDITORIAL: Lending a Helping Hand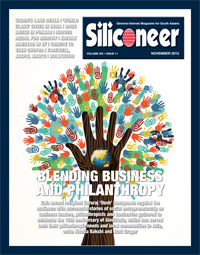 With the growing success of diaspora communities here in the United States, more Indians and Indian Americans are leveraging philanthropy to invest in the success of communities in India. What is interesting about the trend is the range of options and strategies available to give back.

Last month, business leaders, philanthropists and luminaries gathered to celebrate the 10th anniversary of San Francisco-based Give2Asia, which has served both their philanthropic needs and local communities in Asia. The event's theme focused on the evolving practices of effective impact investment and social entrepreneurship. The afternoon keynote speaker and gala award recipient Gururaj 'Desh' Deshpande regaled the audience with successful stories of social entrepreneurship, write Nishita Bakshi and Matt Grager.

There have been a number of corruption scandals that have rocked the Congress-led government headed by Prime Minister Manmohan Singh. The latest allegations are miniscule, at least till now, when compared to the scale of the earlier purported embezzlements related to the coal, telecom spectrum or the commonwealth games scams.

However, the spotlight is due to the supposed perpetrator of the illegality, Robert Vadra, connected to the first family of Indian politics, the Gandhi clan. Insinuation of corruption against the establishment can get no closer or bigger than this, writes Siddharth Srivastava.

The leadership of most major Indian cities aspires to transform them into "world-class" metropolises. Prime Minister Manmohan Singh supported a plan to transform Mumbai, just as Shanghai was transformed, into a "world-class" emblem of modern India. And Singapore, that paragon of order and control that is the antithesis of India's messy urbanism, is widely admired by India's bureaucratic elite, writes Shahana Chattaraj.

Youth in today's world are no stranger to drugs and its consequences. In a shocking revelation, it was disclosed that human resource potential of Punjab is in shambles as 7 out of 10 young men are addicted to drugs, writes Priyanka Bhardwaj.

Infosys founder N.R. Narayana Murthy has been named recipient of the 2012 Hoover Medal. Using his own wealth and through the Infosys Foundation and other company programs, Murthy has created opportunity for India's rural areas and underprivileged population. Siliconeer presents a report on his remarkable achievement.

Pandit Birju Maharaj, the revered master of Kathak Indian classical dance, stunned his audience with his brilliant rhythm and dramatic expressions in the San Francisco Palace of Fine Arts this September. Aaroshi Sahgal was there to witness the performance first hand and presents an account.

The past month has seen two of India's much-revered film and television personalities bid farewell.

Legendary filmmaker Yash Chopra and prolific satirist Jaspal Bhatti, both embarked on a journey beyond time. Such was the impact of their work that the void they leave behind in their respective fields will be a hard one to fill for a long time. Joginder Tuteja pays tribute to the maverick filmmaker, Yashji, and Siliconeer bids a fond farewell to Jaspal Bhatti who was the guru of satire and the common man's voice against corruption and other social injustice.

Siliconeer wishes all readers, friends and advertisers a very happy Diwali and a prosperous year ahead!