CULTURE:
With Bells and Bare Feet: The Kathak Legend Captivates


Pt. Birju Maharaj, the revered master of Kathak Indian classical dance, one of the most dynamic theater arts in the world, stunned his audience with his brilliant rhythm and dramatic expressions in the San Francisco Palace of Fine Arts, Sept. 29, writes Aaroshi Sahgal.

---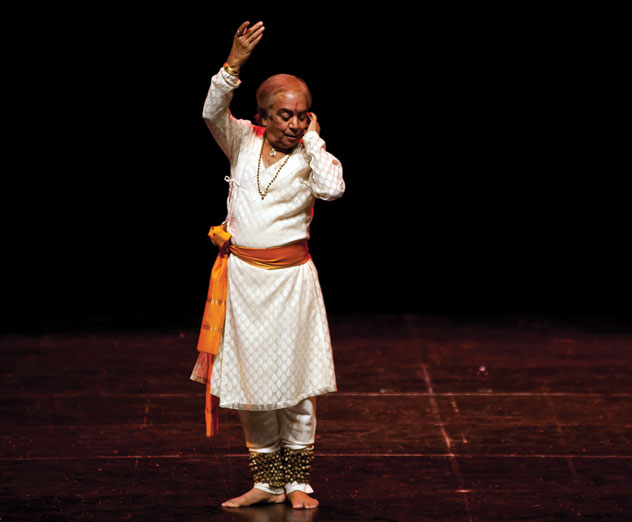 (Above): Kathak maestro Pt. Birju Maharaj during a performance in San Francisco, Sept. 29. [Photo: Joy Dutta]

---
The event celebrated Pt. Birju Maharaj's 75th birthday and the 20th anniversary of the Tarangini School of Kathak Dance, which was established with Pt. Birju Maharaj's blessings and has continued to grow successfully over the years due to the unmitigated dedication of his senior disciple, Anuradha Nag.

Even at the elderly age of 75, Pt. Birju Maharaj's indefatigable passion and skill in this art form transcends any limits that age may normally establish for performers.

The artists that performed alongside him in the event include his youngest son, Deepak Maharaj; one of his foremost disciples, Swapna Saswati Sen; the director of Prerna Center for Peforming Arts, Luna Poddar; Chandrachur Bhattacharjee on sitar, Utpal Ghoshal on the tabla, and Manoj Tamhankar on the harmonium. The great tabla virtuoso, Ustad Zakir Hussain, also accompanied Maharaj to form an exquisite dancer-drummer harmony.

Born in a family of legendary dance experts of the Lucknow gharana, Pt. Birju Maharaj is not only an innovative pioneer of Kathak, but he is also an experienced musician, poet, and composer. As an educator of great charm, he explained onstage how rhythm is an integral part of our everyday lives; through engaging conversations between passages of footwork, he described how it is in the sparkling of stars, the hungry cries of chicks, and our heartbeat. He then proceeded to tap out a few of these seemingly trivial, everyday occurrences with complex footwork, delighting the audience by showing them how rhythms are embedded in even the most unexpected aspects of the universe. His portrayal of the roles of husband and wife in a marital argument left the audience chuckling because of its uncanny accuracy, and the smooth skill in which he distinguished both genders made it all the more humorous.

Maharaj also expertly captured the essence of Lord Krishna's naughtiness and endearing playfulness in his famous interpretation of the story "Krishna Stealing the Milk," and additionally expressed completely different characters in the story that were simple to follow because of his immeasurable ability to capture nuances of personality in his dance.

---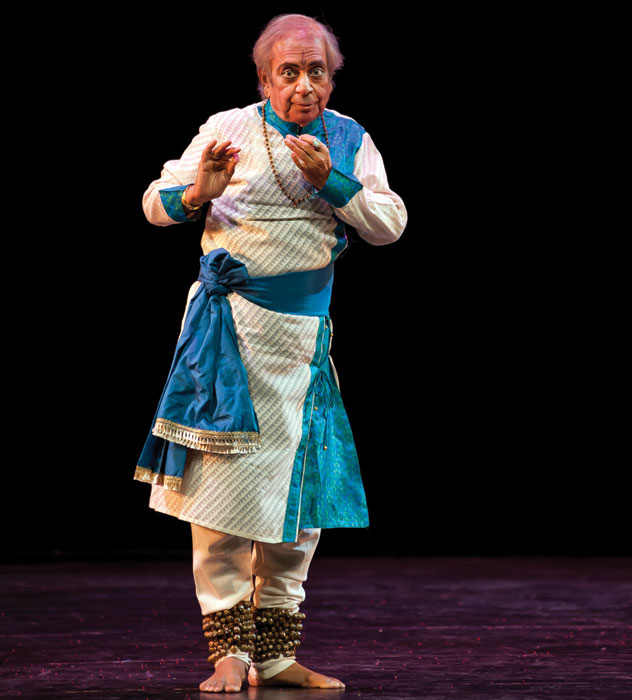 (Above): Kathak maestro Pt. Birju Maharaj during a performance in San Francisco, Sept. 29. [Photo: Joy Dutta]

---
Saswati Sen, a recipient of the Sanskriti award, performed a solo called 'Ahalya Uddhar,' which is an old tale from the Ramayana, an ancient Sanskrit epic. While portraying Ahalya, the wife of a sage who has been cursed by her husband, and Lord Rama, who frees her from the curse after many centuries, Sen reminded the audience of the fundamental origins of Kathak, which began with the performances of storytellers in the courtyards of ancient Indian temples.

Another segment closer to the beginning of the show consisted of Anuradha Nag performing a solo set to a medley of re-recorded Bollywood songs that were interwoven with original Kathak bols to tie with the various moods. In the story of the medley, a woman is forced to let go of her deep attachment with her lover, who must leave her.

Anuradha Nag gracefully portrayed her longing and desperation with a spirit that truly drew the audience in, and expressions that silently whispered not only to watch, but also to watch closely.

In her article "Maharajji, Soul of a Genius," Anuradha Nag writes, "It was Wednesday evening and school was off on Thursday. It was very late by the time the lessons were over and I decided to sleep over at my friend's house. It was 2 am in the morning when Maharajji suddenly woke us up and said he couldn't fall asleep, and so he might as well teach us! He thought of a new 'Amaad.' Until dawn he kept working with us on that same piece explaining to us in different ways until we sort of got the hang of it. Teaching is his passion. He can do it nonstop 24 hours a day without ever getting tired…I am blessed and privileged to be born in the 20th century to witness and come in close association with this great artist and human being: Pandit Birju Maharaj."