POLITICS:
From King to Emperor?: Gujarat CM Narendra Modi


A few days in India's Gujarat state is not long enough to assess the political mood ahead of assembly elections set to take place by the end of this year. It does provide indications as to why Chief Minister Narendra Modi has ruled there for more than a decade. He has made a difference, writes Siddharth Srivastava.

---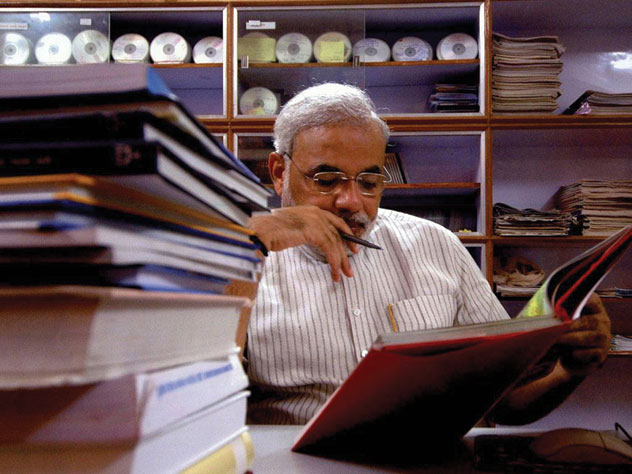 (Above): Gujarat Chief Minister Narendra Modi [Photo: NarendraModi.in]

---
The Gujarat economy is robust, though rising expectations could also see an anti-incumbency factor creep in, and there are always sections who believe that they have not benefited enough or have been left out.

It will still be a surprise if Modi does not win, and his confidence reached high enough recently to see him challenge Prime Minister Manmohan Singh to line up against him in the local assembly vote. "I dare Prime Minister Manmohan Singh to come and have a competition with me. You build roads, I also build roads, you build a canal and I also do the same, you build hospitals and I build hospitals too," Modi said recently.

Growth figures and investments by Tata and Ford are well documented. The indirect beneficiaries from such investment — hotels, transporters, taxi operators, restaurants, retail outlets, travel and tourism players — also form a big vocal support base. They call Modi sher (lion), king of Gujarat who has brought about change and prosperity. Large cutouts of Bollywood super star Amitabh Bachchan, the brand ambassador for the state, convey the message of the incumbency — tourists, investors, business houses that are good for the economy, are welcome.

There are plenty of signs of growing spending power. Gujarat today has higher per capita income and literacy levels and lower poverty rates than the national average. This was not the case in the 1990s.

The big malls housing some of the top global brands in Ahmedabad, the state's biggest city, are choc-a-bloc with shoppers and young people hanging about late into the evening. The Reliance Mart at the Iscon Mall compares with any in Singapore in terms of size and variety of products it offers. There were long winding queues at the many billing counters. Multiplexes screening the latest Bollywood movie Barfi, starring heartthrob Ranbir Kapoor, were sold out. A flight to the beach paradise of Goa in the mid-afternoon was booked to capacity.

Roads and highways in the state are well constructed, though it will take some time for any city in India to be pedestrian friendly - the traffic continues to be unruly, while walkers have a tough time negotiating the maze. As emphasized by Modi on many occasions, there are no power cuts. Wherever the conventional grid is absent, efforts are being made to supplement wind or solar power, with some success.

Predictably, cheap manpower drawn from states such as Bihar and Uttar Pradesh are headed towards Gujarat, given the politically motivated hostilities against "outsiders'' in Mumbai, the usual hub of migrant labor.

---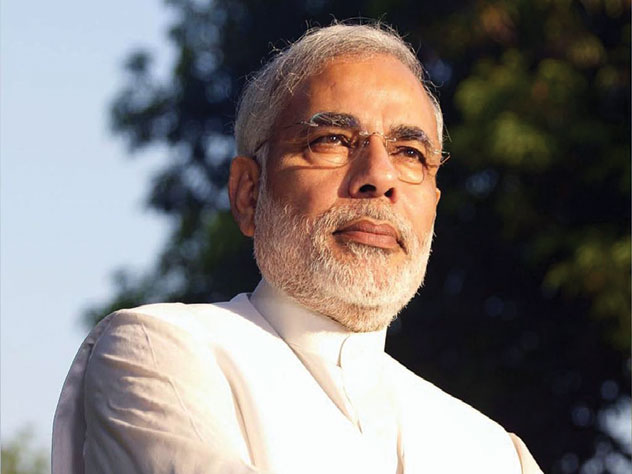 (Above): Gujarat Chief Minister Narendra Modi [Photo: NarendraModi.in]

---
The development has earned Modi rich electoral dividends since he took power in 2001 — he is the longest-serving chief minister of the state. He has also managed to polarize and coalesce the majority Hindu voters, cutting across the usual caste divisions that define politics in other states of India, especially in the north. The big question, however, is whether Modi will be able to translate his regional success to the national level, assuming that he wins Gujarat again.

Modi has not managed to douse the ghost of the 2002 Gujarat riots, in which hundreds of Muslims were killed. Sections of middle-class India could pretend to forget the horrific events and focus on more immediate ends — Modi's ability to deliver economic growth and corruption-free administration as an alternative to the scam-prone Congress-led government headed by Prime Minister Manmohan Singh.

The Muslims, however, will not forgive Modi in a hurry. They will never take the leap of faith with him. The fact remains that a person of Modi's caliber who could galvanize proactive change could easily have goaded the administration to check the 2002 communal attacks.

In Gujarat, Modi could do without his party Bharatiya Janata Party (BJP), the main opposition at the Center. He could launch a regional party and continue to win elections in the state, like Nitish Kumar in Bihar or Naveen Patnaik in Orissa.

However, to be Prime Minister of India, Modi needs the umbrella support of the BJP, the organizational backing and the cadres of the Rashtriya Swayamsevak Sangh. Matters would have been simpler if the BJP could win national elections under its own steam.

As that is unlikely, given the internal dissensions, policy incoherence and leadership battles, the BJP will need the support of regional outfits from Andhra Pradesh, Bihar, Orissa and Tamil Nadu to form a government. These parties count on their Muslim support base and may not be readyt to accept or support Modi as their leader.

Though Modi may be the king of Gujarat, a very different strategy is needed for being emperor of India.