FAREWELL:
A Friend of the 'Mango Man,' Silenced: Jaspal Bhatti (1955-2012)


In what was an unfortunate end, the guru of satire, and the common man's voice against corruption and other social injustice, Jaspal Bhatti departed this world as a victim of a car crash last month. Siliconeer looks at his legacy of humor.

---
(Above): The icon of satire in the Indian comedy circle, Jaspal Bhatti died last month in a car crash.
---
Jaspal Singh Bhatti was an Indian television figure, famous for his satirical take on the problems of the common man. He is most well known for his television series Flop Show and mini capsules Ulta Pulta and Nonsense Private Limited which ran on Doordarshan, India's national television network, in the late 1980s and early 1990s.

From his days in college where he was studying to become an electrical engineer, Bhatti was famous for his street plays like Nonsense Club which were spoofs ridiculing the corruption that engulfed the entire nation.

He was also a cartoonist for The Tribune newspaper in Chandigarh, Punjab. Then came Doordarshan, where he ruled the laughter and social responsibility shows like no one else.

He was, in his own way, the father of anti-corruption movement much before the likes of Anna Hazare and Arvind Kejriwal, keeping his message intact while bringing out the root cause with humor and satire that every common man could relate to.

Clearly, engineering was to take a back seat as Bhatti's real passion was satire.

He produced Flop Show, one of the classic comedy series of all times on India's national TV, Doordarshan, and subsequently acted and directed Ulta Pulta and Nonsense Private Limited.

What attracted audience to his shows was his gift of inducing humor to highlight everyday issues of the middle class in India.

Jaspal Bhatti's satire on the Punjab Police, Mahaul Theek Hai (1999) was his first directorial venture for a full-length feature film in his native Punjabi language. It was well received amongst audience for its simple and honest humor.

Apart from his native Punjabi movies, he also acted in a lot of Bollywood movies like Aamir Khan-Kajol-starrer Fanaa and Koi Mere Dil Se Poochhe.

Bhatti appeared in SAB TV's Comedy Ka King Kaun as a judge with actress Divya Dutta. In another stint, Bhatti and his wife Savita competed in a popular Star Plus show Nach Baliye that was aired in October 2008. The couple put their best foot forward to entertain the audiences with their dancing and comic skills.

---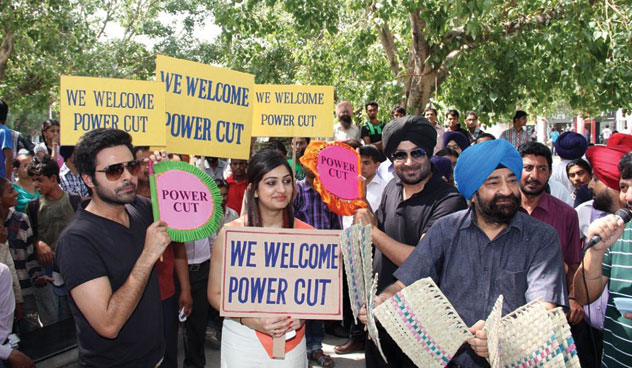 (Above): When almost the whole country is reeling under power cuts Jaspal Bhatti had a reason to rejoice as he was coming up with a Punjabi comedy movie, "Power Cut."
---
The cartoonist, humorist, actor and filmmaker focused on acting as he was getting numerous offers from Bollywood producers as a comedian. Jaspal Bhatti set up a training school and a studio in Mohali near Chandigarh called Joke Factory.

He also launched a new 52-episode comedy series titled Thank You Jijaji on Sony's family entertainment channel, SAB TV. It was shot at his own MAD Arts film school at Chandigarh.

Dealing with corruption in a creative manner was Bhatti's forte.

At a 2009 carnival in Chandigarh, Bhatti put up a stall displaying vegetables, daal and oil. The onlookers were invited to throw rings around them to win these costly goods as prizes to poke fun at the government's failure to control inflation.

Bhatti's school, MAD Art's, animation film on female feticide won the second prize in Advantage India in 2009.

Bhatti was known for floating his political parties during elections to highlight the problems faced by the general public. In 1995, he floated the 'Hawala Party' delighting passers by with his original poker-faced take on growing political corruption in the country, which was already a hotly discussed topic in the context of the Jain-Hawala Diaries.

In 2002, Bhatti announced his 'Suitcase Party,' releasing his manifesto that allotted five seats to his family and more seats to be decided based on the suitcase size of the prospective candidates.

In 2009, the comedian announced the 'Recession Party' and Bhajna Amli (alias Gurdev Dhillon) as his party's face from the Ludhiana. In his trademark satirical style, he kept his party's symbol as opium, drugs and alcohol for which he claimed there will be no shortage of supply if his party is voted to power.
India's leading media critic Amita Malik said this praising Bhatti: "Bhatti has the correct style for TV, an understated, quiet humor which sinks in without shouting, and which mercilessly exposes both corruption in our every day life and the typical people, who thrive on it. The grim fact and the hard truths of our society so bitter otherwise are made so funny through the adept handling of Bhatti, that cleansing laughter is created out of common malpractices."