The last week of November was a car week in the City with the SF Auto Show being held at the Moscone Center in San Francisco, Nov. 22-29. It has been an annual tradition for well over 50 years. This was the 57th Auto Show.
This year was the year of alternative fuel cars, be it electric, hybrids, or the latest debutante, hydrogen fuel cell.
Toyota displayed its first ever hydrogen fuel cell vehicle, Mirai, while other carmakers like Nissan, Volkswagen, and BMW showcased their latest electric cars.
Cars currently in the market were displayed, with many open to public to explore. A little further into the expo, we found exotic cars like the James Bond – Aston Martin DB9. Other exotic makes like Maserati, Rolls Royce, Ferrari, Lotus, and Lamborghini also graced the show.
---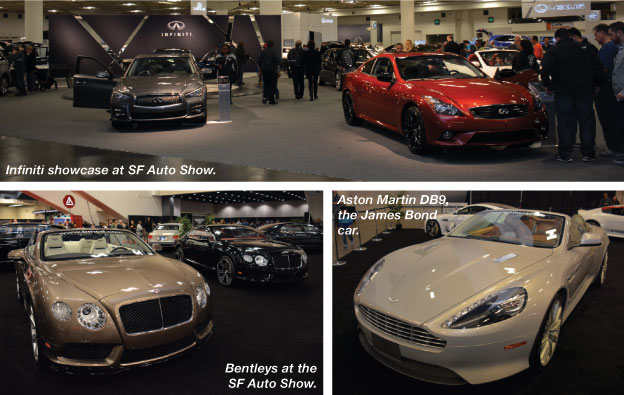 (Above): Exotic and latest cars on display at the SF Auto Show. (Amar D. Gupta | Siliconeer)
---
German automakers Audi, Volkswagen, Porsche, and BMW had an impressive display, but Mercedes-Benz decided to show six cars parked in a row connecting the two halls.
Our very own Bay Area automaker Tesla was sadly missing. It was a bit disappointing, to be honest.
The Japanese had nailed it right in displaying their cars, while the Americans had gone overboard in showcasing their cars.
In our opinion, one of the best cars from Germany was the new BMW 4 Series. The electronics, features and looks were just astonishing. From Japan, we loved the Infiniti Q50 Hybrid as a luxury sedan that's a bit frugal on gas. The dual touch display was spot on. The interior was extremely comfortable and luxurious and the exterior was equally amazing. Kudos, Infiniti!
Among the American makes, we agreed that the Ford Fusion was a prudent choice. A robust exterior with an even better interior. Hats off to Ford for the dual LCD next-generation smart gauges and dashboard.
Audi with its new R8 V10 Spyder, BMW with its upcoming electric i8, Nissan with its GTR, and Chevy with the mouthwatering red Corvette caught our attention. I loved the engine on the Audi R8 V10 Spyder.
Cars available in today's markets were well displayed and fascinating, but little did I know, there was much more to this show than some glitz and glam of the modern world.
---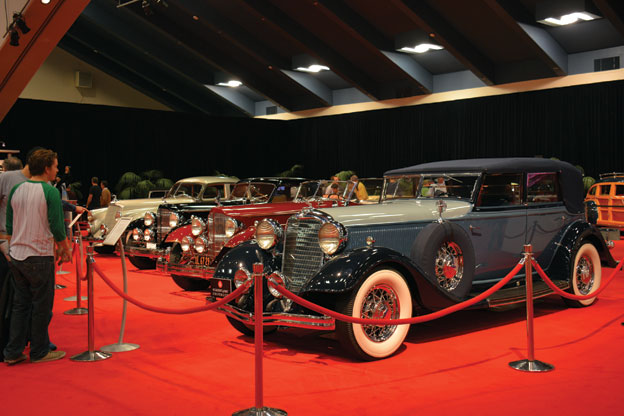 (Above): Classic cars presented by the Academy of Art University. (Amar D. Gupta | Siliconeer)
---
Academy of Art University proudly displayed a bevy of old classic cars which included a 1930 Bugatti, a 1940 Ford, and a 1950 Buick.
The Ferrari Club of Pacific Region displayed Ferrari favorites like the 2006 F430 Spyder and the 2003 Enzo.
Sonoma Raceway, Blackhawk Museum, Jimmy Vasser Chevrolet, California Automobile Museum, USTCC, and 24 Hour LeMons groups associated to make a phenomenal showcase "Gasoline Alley Race Cars." Some of the cars featured here were the '62 Impala and '84 Chevy S10.
Hot Rods were also featured thanks to Dominator Street Rods. Some vehicles featured were the '70 Plymouth Barracuda and '69 Chevrolet truck.
There was also a hands-on section. People could sign up for test drives. Each day had different offerings. Automakers like Cadillac, Volkswagen, Mazda, BMW and few others had their latest vehicles on hand for a test-drive.
The show even featured activities for kids. Racing simulators provided by NCI was one but it was a paid ride.
---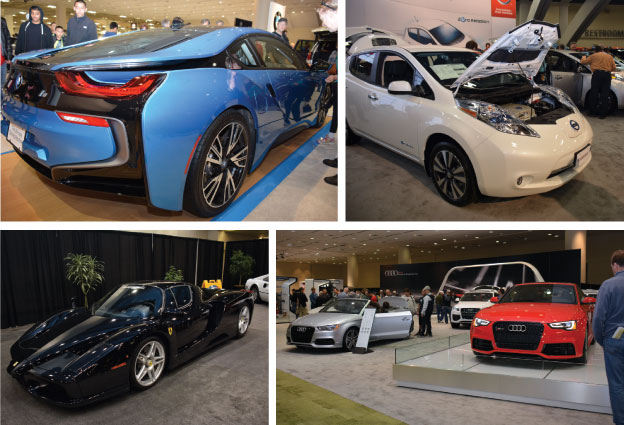 (Above, from top left): The BMW i8 Electric, Nissan Leaf electric, Audi display, 2003 Ferrari Enzo, an all time favorite. (Amar D. Gupta | Siliconeer)
---
Another racing simulator was set up by Ford, looked amazing and was complimentary. As much as I wanted to get on one, it was race against time and I had to give it up for lack of time.
Volkswagen also had a cool offering setup just for kids. There were paint gun kiosks where kids could paint Volkswagen cars using a real spray guns, just like at the automotive manufacturing plants.
A quick tour inside some RVs and we were already planning our next vacation.
The San Francisco Auto Show is a great experience for automobile enthusiasts of all ages.