India's power, coal and renewable energy minister, Piyush Goyal, recently said that New Delhi wants to ramp up India's solar capacity target to 100,000 MW from 20,000 MW by 2022 under the National Solar Mission. "Renewable energy may seem expensive, but in the long run, it scores over conventional energy. The subsidy regime needs to be more robust, targeted and sustainable," Goyal said. New Delhi has also announced plans to add 10,000 MW of wind capacity every year over next five years. Thermal power will continue to be the mainstay of India's energy policy.
In August, India's Supreme Court declared over 200 coal block licenses awarded by the government since 1993 as illegal. This has stoked fears that India's dependence on coal imports will rise.
The government, however, has been keen to push power sector reforms. There is thus hope that matters will turn for the better. New Delhi has said it will allow private and possibly foreign players into commercial mining ending state-owned Coal India Limited's monopoly in the field.
New Delhi has approved three major projects in the power sector targeting improvement of transmission and distribution to plug theft and pilferage. "The recently announced power sector reforms by the Indian government are a step in the right direction as easier and assured access to power will help boost productivity of the manufacturing sector," Japanese financial services major Nomura has said in a report. Recent reports suggest that India's peak power deficit has substantially declined due to better grid management.
Goyal has said the government continues to be "cautious" about tapping nuclear power for electricity generation despite its potential as a clean energy source. Speaking at the India Economic Summit in New Delhi recently, Goyal underlined that America and several European countries no longer set up atomic plants.
"I am told even America hasn't set up a nuclear plant in the last 30 years. Many European countries are discontinuing (use of nuclear energy). This government would like to be cautious so that we are not saddled with something only under the garb of clean energy or alternate energy; something which the West has discarded and is sought to be brought to India," he said.
Goyal's comments highlight the uncertainty linked to India's pursuit of nuclear energy under the Modi government given the misgivings about safety, technology and land acquisition problems.
Concerns about these issues have resulted in violent protests by local populations in Maharashtra, Haryana and Tamil Nadu where new projects are planned.
---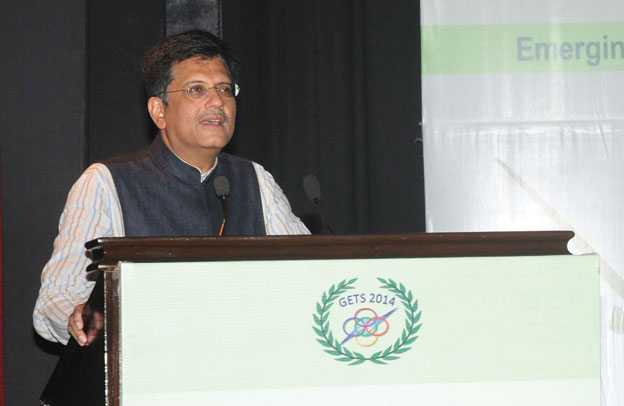 (Above): Minister of State (Independent Charge) for Power, Coal and New and Renewable Energy Piyush Goyal delivering the inaugural address at the Global Energy Technology Summit (GETS) organized by NTPC Limited in New Delhi, Nov. 7. (Press Information Bureau)

---
Government and industry are no doubt emboldened by falling costs of solar power production. Solar prices in India are now quoting under Rs. 7 per kWhr which is almost at par with price of electricity produced by thermal power plants fired by imported coal in the country. According to a recent report published by Tata Power Solar and Bridge to India, commercial rooftop solar installations will reach cost parity with imported coal next year and complete parity by 2024.
Analysts attribute several reasons for steep fall in solar tariffs in India, including economies of large-scale production even as the industry heads towards maturity. This has translated into better project execution and signing of long-term supply agreements. Policy backing by state and central governments, including refusal to impose anti-dumping duties on imported solar equipment that would have hiked costs and support for mega solar projects has helped.
Overall, projections for wind power are bright in India. According to latest estimates by Global Wind Energy Council (GWEC), India's wind energy capacity could double over the next five years due to re-introduction of the crucial Accelerated Depreciation tax benefit in September 2014 with retrospective effect in addition to extension of generation-based financial incentive till 2017. Apart from the tariff advantage, new technologies also permit electricity to be generated in states where wind speeds are not as high as coastal states such as Tamil Nadu.
States such as Rajasthan, Madhya Pradesh, Karnataka and Andhra Pradesh are emerging as new and hot destinations for wind power installations due to attractive policies and high tariffs, as per latest data released by the Indian Wind Turbine Manufacturers Association (IWTMA).
Till now, wind power installations in India have been focused in the states of Tamil Nadu and Maharashtra followed by Gujarat. According to GWEC, India's installed wind capacity could rise to 50,000 MW by 2020 and 25,000 MW by end of next year. The present capacity is 21,600 MW. The contours of India's energy policy focus under Modi are becoming apparent – thermal and renewable energy will need to power India.