BOLLYWOOD | Guftugu | DECEMBER 2014

BIG B: Does Not Mind Chaos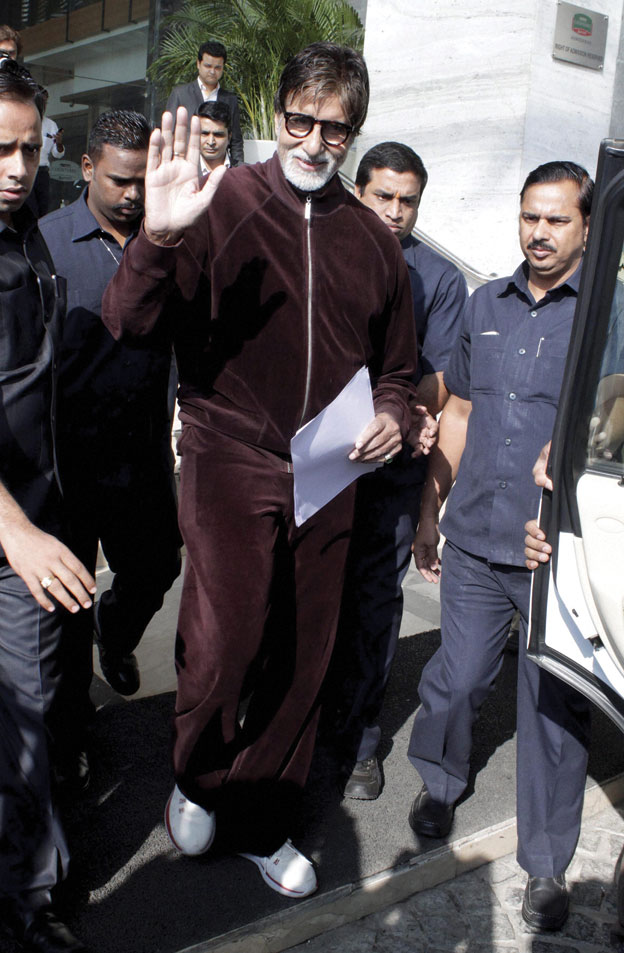 Amitabh Bachchan at a hotel in Ahmedabad, Nov. 29. (PTI photo)

Megastar Amitabh Bachchan feels a little bit of chaos is a necessity in life.

The 72-year-old actor, who is currently shooting Shoojit Sircar's Piku in Ahmedabad, said he enjoys rehearsing his lines amidst noise.

"Words written in solitude in an air of nothingness, bring the required results. Words written in the middle of chaotic traffic, are the best for me - life should be chaotic, yet controlled in some. Those 'some's' I do not know, but this I do know that solitude does not always bring about, the qualities that you long for," Big B posted on his blog.

"At times a bit of noise helps - particularly in front of the camera when we are rehearsing our lines... the errors we make cannot be heard, with that external sound... so I enjoy rehearsing in noise... just rehearsing... nothing else," he added.

Piku also stars Deepika Padukone and Irrfan.

|TOP|

PRIYANKA CHOPRA: Wants to Inspire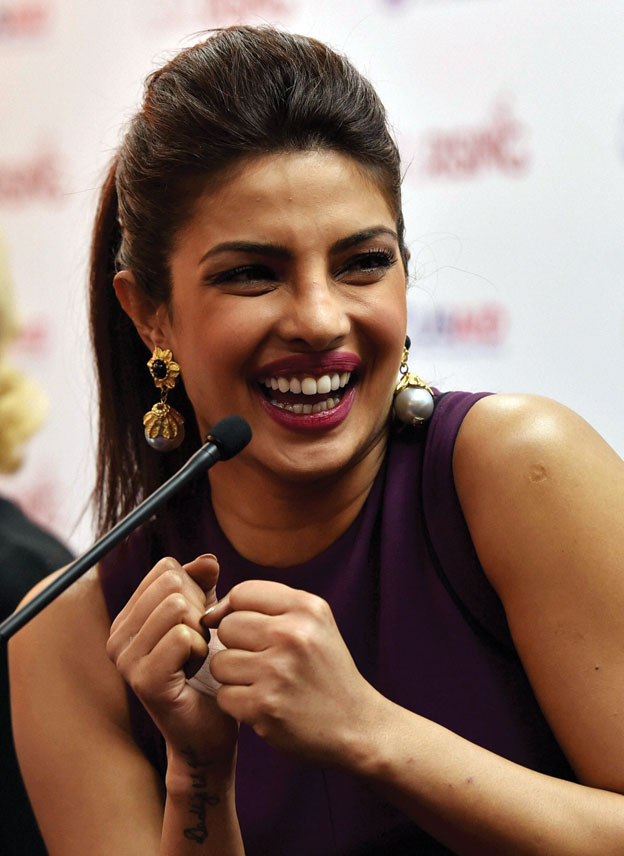 Priyanka Chopra at the 'Girl Rising' global campaign for girls' education at the American Center in New Delhi, Nov. 29. (Vijay Verma | PTI)

Fresh from the success of Mary Kom, Priyanka Chopra says it is her goal to do more meaningful films and inspire future actresses to take up challenging roles in Bollywood.
Priyanka feels actresses are afraid to take risks because of the fear of failure but according to the star success can be achieved by striking a balance between commercial cinema and substantial content.
"Actresses are scared to take risks. They think they will fail and might not get good work after that. It is possible that they may fail but they should start taking up prominent roles.
"I have always done strong and prominent characters be it in Fashion, Aitraaz or Mary Kom. The bigger question for me is that people should be able to see that female actors can do roles of responsibility. The world should start seeing female and male actors as equals. This is my goal," Priyanka told PTI.
She was elated that Mary Kom got a good opening and feels this might pave way for filmmakers to trust actresses.
"It is a victory that we got good weekend numbers. With such films getting good opening numbers, it will be a big step for future female actresses.
"They will start taking up films where at least they are shown at par with the boys. This will hopefully encourage producers to cast actresses in prominent roles," says Priyanka.
Upbeat about her maiden production Madamji, her second collaboration with director Madhur Bhandarkar after Fashion, Priyanka says it is an extremely powerful and entertaining movie.
"I am really excited for the film because it a story about an item girl thrown into the world of politics. It has all kinds of shades and I am really kicked about the story," the actress says.
Priyanka wants to promote new talent though her company Purple Pebble Pictures.
"I want to give chance to new talent through my production house, be it new directors and actors. All films in my production house will not necessarily feature me. We will make movies with other actors too."
When asked if she would like to cast her younger cousin Mannara in any film of her production house, Priyanka said, "I would love to cast her in one of my films and I hope she likes some script. But I will not make films according to actors but on the basis of scripts."

|TOP|

SHANTANU MOITRA: Happy with PK Music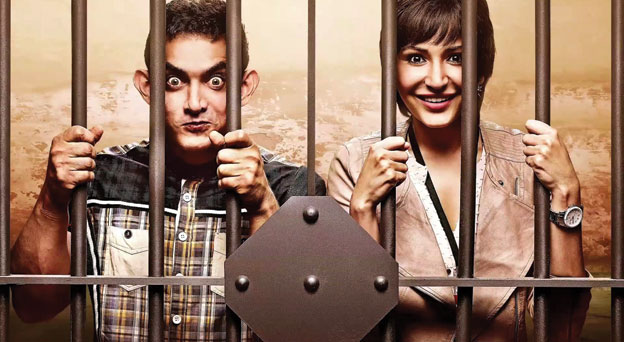 Aamir Khan and Anushka Sharma in "PK."

Music composer Shantanu Moitra is "very happy" with his work in the forthcoming Aamir Khan-starrer PK and hopes people will love it.
"I am very happy to have used the classic waltz, lyrical, lilting music and duets for PK," he told PTI during his visit to Kolkata for the launch of his debut book in English On the Wings of Music.
"My use of music in PK goes with my belief that a rich baritone like Nat King Cole has an eternal appeal," said Shantanu, who has previously composed music for Parineeta, Lage Raho Munnabhai, Hazaron Khwahishen Aisi, Madras Cafe and 3 Idiots.
"The experience of composing for PK has been excellent," said the music composer, who has won the National Film Award this year for best music direction for Tamil film Na Bangarru Taali.
PK is directed by Raj Kumar Hirani and also stars Anushka Sharma, Sanjay Dutt and Sushant Singh Rajput.

|TOP|

FREIDA PINTO: Would Love to Work in Bollywood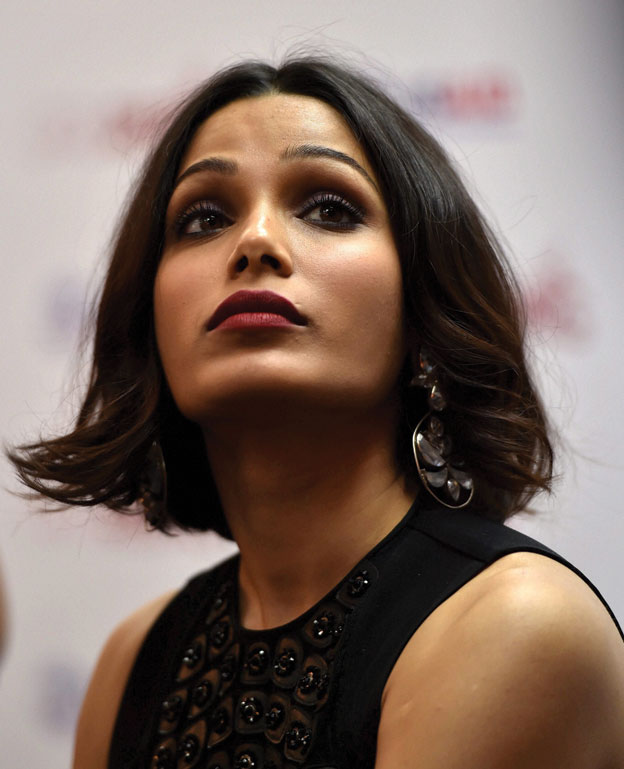 Freida Pinto at the 'Girl Rising' global campaign for girls' education at the American Center in New Delhi, Nov. 29. (Vijay Verma | PTI)

Freida Pinto always wanted to be a global citizen and after making a place for herself in Hollywood, the Indian actress is keen to star in a Bollywood movie.
The actress, who shot to international fame with her role in Danny Boyle-directed Oscar-winning saga Slumdog Millionaire, says there have been opportunities in the past but things somehow did not work out. She is also keen to collaborate with a female director in Bollywood.
"I want to work in Bollywood. I never said that I am not interested in working in Indian film industry.
"I would love to work with a female Indian director. There were times when I liked the scripts but as I had already committed to other films in Hollywood, I could not do. At other times the roles were not exciting or strong enough for me to take up," Freida told PTI in an interview in New Delhi.
The 30-year-old actress says Hollywood was always on her mind and feels proud that she overcame all limitations and realized her dream of working outside India.
"I always wanted to be a global citizen. I knew I had to pack my bags go out and establish myself at the global platform. That was my dream. I could do that because I had the right education. I have transcended all the possible limitations. I hope my story can inspire other girls," she said.
Freida, born and brought up in Mumbai, says she is grateful to her roots for keeping her strong in the foreign land.
"India has taught me a lot; it is something about this country, be the people or the hardships we face but it teaches you great lessons. I don't get shocked when I see poverty in any country because I have seen it in my own country. India has made me value relationships."
Freida says she is always conscious about presenting herself as a universal actress as she does not want be stereotyped on the basis of her origin.
"When I go to a filmmaker in Hollywood I don't present myself as someone who has come from some other country but I go there as an actress. When I choose a role, I look at it from the perspective of content rather than the fact that I am Indian and I should do specific kind of roles. When it comes to work, I just think like an actor," Frieda added.
The You Will Meet A Tall Dark Stranger star feels Hollywood is more open today to various ethnicities.
"Stereotyping of Indian actors has reduced a lot there. It is much easier now but had I entered 10 years back it would have been difficult getting good work there," she said.

- By Priyanka Sharma

|TOP|

WONG KAR-WAI: Wants to work with SRK, Aamir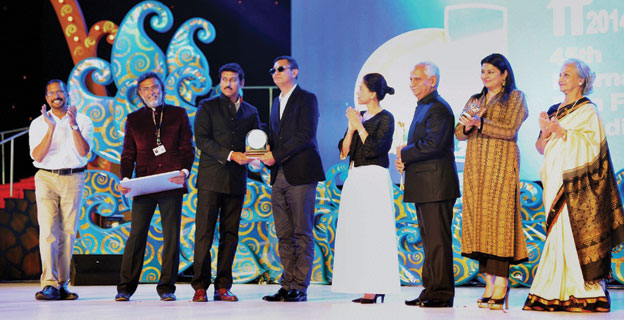 Director Wong Kar-wai receives the Lifetime Achievement award by Minister of State for Information and Broadcasting, Rajyavardhan Rathore, at the International Film Festival of India, in Panaji, Goa, Nov. 30. Actors Waheeda Rehman (r) and Nana Patekar (l), and directors Rakeysh Omprakash Mehra (2nd. from l) and Ramesh Sippy (3rd. from r) are also seen. (PTI photo)

Noted Hong Kong filmmaker Wong Kar-wai wishes to work with Bollywood superstars Shah Rukh and Aamir Khan if he takes up an Indian project in future.
The 56-year-old filmmaker thinks the Hindi film industry is a pool of talent.
"I think there is loads of talent in Bollywood and I am a big fan of Bollywood films. Bollywood films are full of fun. If times allow me or projects are there I would like to work with people like Shah Rukh Khan or Aamir Khan. I feel working with them would be very nice," Kar-wai told PTI in an exclusive interview at IFFI in Panaji, Goa.
Kar-wai, who is considered as the pioneer of new wave cinema in China, was honored with the "Lifetime Achievement" award on the concluding day of International Film Festival of India, Nov. 30.
His latest film The Grandmaster closed the festival.
The director calls himself a great admirer of Satayjit Ray's film and is in tune with the latest work being done in Indian cinema.
"I am a great admirer of Satyajit Ray and I have watched many of his films. I follow Bollywood films and recently I have seen an Indian film called The Lunchbox. The movie is very nice. I heard he (Ritesh Batra) is a first time director, but I think he is a very promising talent," he said.
Sporting his trademark black shades, Kar-wai said his connection with India is not new as he has been here earlier.
"I have been to India many times. I even shot a commercial film in India. But this is my first visit to Goa. We were almost for an hour in the city to have dinner last night. Goa is a very young and vibrant place, seems like people are having lot of fun here," said the director, who looked perturbed by the humid weather of the beach state.
Kar-wai feels the Lifetime Achievement award has come too early in his career.
"First of all it's a great honor. But it is also a big surprise as it came to me a little bit early. That means I would need lot more knowledge to deserve this," he said.
With China being the focus country for the ongoing festival, Kar-wai said both the nations (India and China) have many things in common.
"Both the countries have one of the oldest civilizations in this continent. Each country is very active in the film industry. We have many things in common," he said, adding, "The bilateral pact signed between both the nations will encourage more active collaboration between filmmakers from both the sides."
Kar-wai's latest martial arts drama chronicles the life of the Wing Chun grandmaster Ip Man, whose life has been dramatized by other Chinese and Hollywood directors.
But Kar-wai said his movie shows the history of Chinese martial arts through the life of Ip Man.
"All the other films which were made on Ip Man were after we announced The Grandmaster. They worked much faster than us, but it does not much affect me when I am doing my version because my approach is very different. Most of the films focus on the life of Ip Man, but my film is talking about the history of Chinese martial arts through the life of Ip Man," he said.
The director has a unique style of working on film projects without a script at hand. The filmmaker, however, says it is not a good way to make movies.
"I would not advice others to do that. But to work with the script is not the way I prefer. I prefer to work in a more organized way, but that does not mean that every day is happening. In fact, I know the story so well that I can make adjustment during the process," he said.
Kar-wai said the Chinese film industry is growing in terms of screens and scale of the production.
"You can see in last two years the industry has been very active and it is second biggest film market in the world. That is really helpful for the filmmakers in China to have their resources and the scope to pursue their dream of exploring new subjects," he said.
When asked about the element of Indian cinema that he would like to see in Chinese film industry, he said, "I see cinema has no boundaries. We may make films in different languages or different cultural background, but one thing is common which is always appreciated by the audience - that the film should touch their heart."
The filmmaker is currently working on a show for Metropolitan Museum in New York. The show is about the influence of Chinese cinema on western fashion.

- By Rupesh Samant and Nanda Das

|TOP|

PRIYANKA CHOPRA: Caught Unaware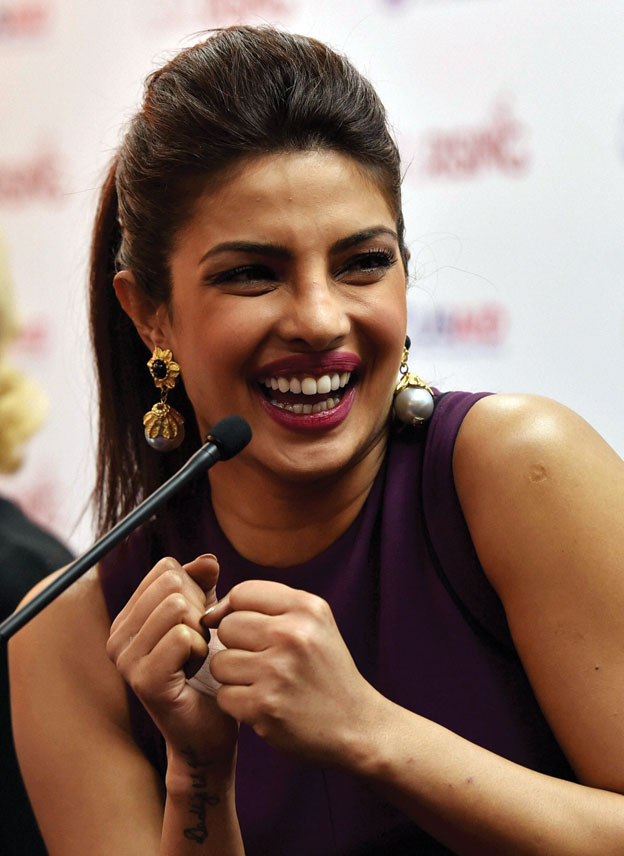 Priyanka Chopra (VIjay Verma | PTI)

Priyanka Chopra has sent a notice asking her tenants, who have been accused of running a sex racket on her property in Mumbai rented to them, to vacate.
Cops busted the alleged flesh trade earlier last month on her property, which Priyanka had leased out to a spa owner.
"It was shocking and little unnerving for me ... You give so many properties which you put on rent and you don't know what people are doing in their homes. Like that, I didn't know what they were doing, it was just a property which went on rent. Right now the police are investigating. I don't have much knowledge of it but my lawyers are keeping a track of it," the actress told PTI.
The 32-year-old star said she has already sent a notice to the accused, asking them to vacate the property.
"It is a matter under investigation. Whatever the police say we will abide by that. We have sent a legal notice already and they will have to vacate," she said.