I mostly go out with my wife now, accompanied by her mother, my kids and maid. Otherwise, too, India continues to grapple with too many graver problems such as corruption, safety of women, open defecation, hunger and lack of health, education facilities and Arnab Goswami screaming on TV.
Elsewhere, in Hong Kong students are fighting for democracy, while China continues to grow. Yet, the matter of hormonally-charged young couples being victimized in parks or pubs by the so called moral police in India has resulted in large sections of disenchanted Indian youth to take to the streets.
Some bravely lip locked to register their protest despite hordes of anti-skirt, jeans, Valentine's Day, new year's eve party, boys accompanying girls or vice versa, desperate looking thugs watching closely. Most I noticed on TV news also desperately needed to brush their teeth, get a haircut and shave.
I do not think any political party or politicians who have eagerly joined the "Swachh Bharat" bandwagon have cared to support the kiss of love campaign.  They are okay to be symbolically seen with a broom for a few minutes following which they head back to their usual ultra-luxurious cocooned existence. There is considerable evidence that some of the sweeping by netas has been carefully orchestrated for news cameras by littering an already clean area. These leaders need to clean their conscience first.
In a culturally diverse and essentially conservative country such as India, a politician supporting public kissing is not on. Promoting concepts such as "Love Jihad" to fan communal tensions can of course be considered sound electoral strategy.  The kiss of love demonstrations have not been as widespread or virulent as anti-corruption or anti-rape protests of the recent past, but do have their relevance.
---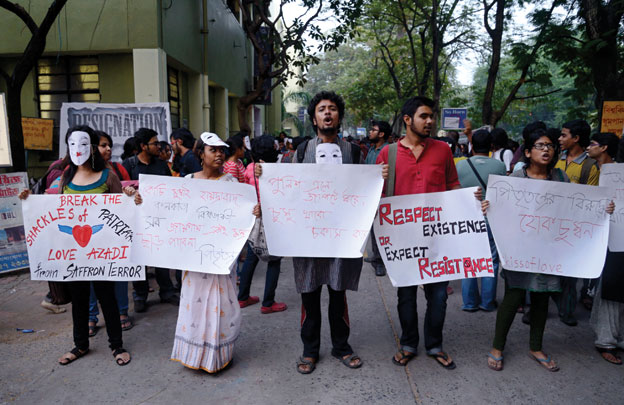 (Above): Students at the Jadavpur University stand with posters at 'Kiss of Love' rally protesting against the Kochi incident. (Saikat P. | Getty Images)

---
The campaign needs to be supported. I believe the protests are not just about sexual freedom in urban pockets of affluence or about young people gone astray due to watching too many international soccer matches on TV, where the action is focused as much on the stands as on the field. There is no way these youngsters need to be set right by cops wielding batons or thugs assaulting them.
I believe the protests are about infringement of privacy, high handedness of the state and uncouth and regressive elements in our society telling us how to behave or not to behave. Unfortunately, the desensitized state tends to side with the inflictors of aggression that only emboldens them further.
Yet, the somewhat radical outpourings by the youth are about resisting uncalled attacks on freedom of expression and liberty, art, literature that can easily extend to innocuous comments on Facebook and other social media. It is about giving give it back to all those who have self-appointed themselves as the custodians of Indian culture that they violently try to defend, which itself defeats the basic tenets of tolerance and live and let live.
The other day cricketer Virat Kohli blew kisses to his girlfriend Anushka Sharma after scoring a fifty. I am surprised nobody has filed a case yet against the cricketer for promoting obscenity. In the past, Shilpa Shetty has not been so lucky when Richard Gere planted a kiss on her cheeks at a public event. The fringe elements have targeted M.F. Husain, Sania Mirza, Sachin Tendulkar and others.
Unfortunately, India's political class prefers to remain silent on the subject as the urban kissing in public class is seen as electorally insignificant and perhaps do not even enjoy the support of their parents. Can symbolic actions make a difference? It did in the past when Mahatma Gandhi famously broke the oppressive salt law and embarked on the Dandi march. The nation followed.
Following Narendra Modi's cue several well-meaning individuals have joined the Swachh Bharat campaign that can only help create more awareness about the subject even if a clean India is a dream that will probably need a few more lifetimes as the Indian affliction of littering and generally spreading garbage is worse than chain smoking. I do, however, have a piece of advice for the kiss of love campaigners.
Some of the visuals are not exactly fit for family viewing given equally aroused TV crews opting for close ups which can only look aesthetically pleasing if shot by trained film directors. Maybe the protests should evolve to convey the same message, perhaps in a more fitting manner: how about kissing a destitute, homeless or stray animal.