Pune-based Indian Institute of Tropical Meteorology instituted to warn the public of the city's air quality issues in advance via its website SAFAR (System of Air Quality Forecasting and Research) mentions that the overall quality and quantity of particulate matter (pollutants suspended in air) has become a cause of grave concern.
Science measures particulate along two indicators - PM 10 and PM 2.5 - particles less than 10 microns in size and those less than 2.5 microns in size respectively.
Of these the second type which is finer and can pass through gaseous exchange region of lungs has been found to manage entry into the bloodstream and thus declared harmful to other organs.
Researchers point that during Diwali the highly dangerous PM 2.5 levels increase manifold, by 40-50 percent, while PM 10 levels shoot up by 30-40 percent.
By the second week of November this year, studies conducted on Delhi's air quality by the Delhi Center for Science & Environment (DCSE), reported the air quality of the district of Anand Vihar as the dirtiest in the world.
Air pollutant known as PM 2.5 touched 580, the report read.
As a matter of fact, other areas of the capital are categorized under hazardous readings, and the best reading came for the air quality at the Indira Gandhi International Airport which has been classified as "unhealthy."
That more than half of Indian cities are "critically polluted" is a fact corroborated by the government of India said Anumita Roychowdhury of the DCSE when contacted by the press.
Topographical too, Delhi's bowl-like terrain that prevents dirty air and dust from construction sites to escape and disperse into the higher layers of atmosphere, complicates the situation.
In comparison the U.S. air-quality classification as set by the U.S. Environmental Protection Agency is more rigid as overall Air Quality Index levels above 151, 201 or 301 are designated as "unhealthy," "very unhealthy," and "hazardous" respectively, and any of these marks would activate emergency health warnings for any American city.
Hence, it would not be preposterous to conclude that more than 25 million people residing in the capital of India breathe air that is heavily laden with dangerously high levels of toxic particulate and gases due to emissions from industries, vehicles, appliances, etc., as well of the burning of biomass.
A latest report by Pune-based Indian Institute of Tropical Meteorology (IITM) and National Center for Atmospheric Research in the U.S., as published in an international journal, Elsevier, on the impact of biomass burning on pollution in South Asia states how burnt leftovers from agricultural produce / residue and forests particularly during the major harvesting period (that falls between March and May) leads to about 60 percent of toxic gases such as carbon monoxide (CO), nitrogen oxides (NOx), methane (CH4), non-methane hydrocarbon (NMHCs), carbon dioxide (CO2) and particulate matter.
It mentions percentages of released gases for Central India, Indo-Gangetic Plains and Bay of Bengal as 52 percent, 25 percent and 40 percent respectively and conjuncts these with the definitive increase in the highly injurious ozone gas and aggravation of global temperatures.
An investigator at IITM, Sachin Ghude says that about 138 to 350 teragram of biomass (resulting from agriculture burning and wildfire) is burnt every year, especially in the central, northern and north-eastern regions, further raising temperature, solar radiation, surface ozone and ozone in troposphere and polluting the air quality over the entire South Asian region.
The analysis reveals that surface ozone shot up to about 4-10 ppb or parts per billion (25-50 percent) in the eastern region (during March and April), 1-3 ppb or 10-25 per cent in central India during March and 1 to 7 ppb (4-10 percent) in the Indo-Gangetic region.
Figures for rise in ozone are also — 2-6 ppb or 8-20 percent in March in the Bay of Bengal region and at the highest levels over the eastern region, followed by Central India, Indo-Gangetic and the Western Ghat region, and in troposphere it was found to be up to 2 ppb or 10 percent due to fire emissions.
---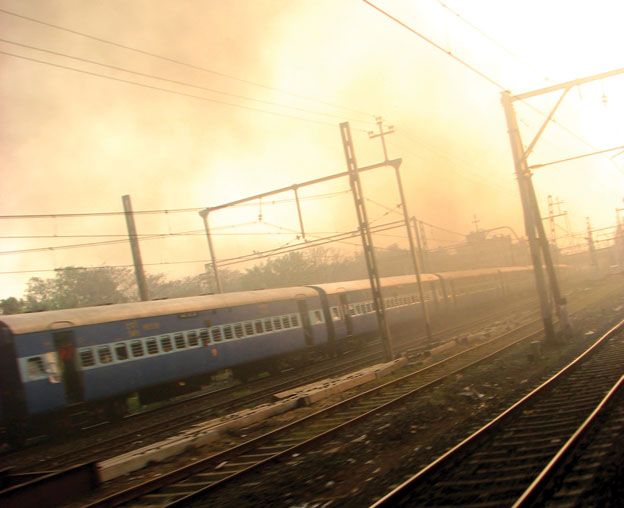 (Above): Smog, haze and fog cover Delhi during the winters. A view from railway tracks in New Delhi.
---
Yet another study, by the Tokyo University, carried out on distribution and identification of source of persistent organic pollutants (POP) states that India has highest polycyclic aromatic hydrocarbons, a carcinogenic POP as compared to cities of other countries (Laos, Cambodia, Vietnam, Thailand, Philippines, Indonesia, Malaysia and Japan) covered under the research.
The nine-year-long research carried out by Indian scientist Dr Mahua Saha defined POPs as organic compounds resistant to environmental degradation through chemical, biological, and photolytic processes.
Saha elaborated, "Public concern about contamination by POPs exists due to the multitude of evidence showing the negative effects of POPs on human health and the environment. Several compounds have been identified as hormone disruptors which can alter normal function of endocrine and reproductive systems in humans and wildlife. Cardiovascular disease, cancer, obesity, and diabetes have also been linked to POPs."
The study states that Indian urban areas have the highest PAHs that after incorporation into the environment become hydrophobic or not dissolvable in water.
The implications of the poor quality of air on agricultural productivity have also been found to be negative.
"Recent climate and air pollution impacts on Indian agriculture," published in the Proceedings of National Academy of Sciences analysed economic costs of air pollution and suggested policies to be devised to combat it.
Conclusions based on study of three decades of historical data on crop yields, emissions and precipitation and a new statistical data established direct links between air pollution and smog, and 50 percent decline from 2010 levels in wheat yields in densely-populated states.
The report suggests simple techniques for mitigating problems and these are fitting trucks of grains with particulate filters for diesel, and spreading awareness to cleaner fuels rather than burning biomass.
As the Indian air quality situation is expected to only get worse with constant dipping of temperatures, Roychowdhury says the government efforts need to be the driving force to tackle the problems.
The current government has initiated to enhance citizens' understanding of complex pollution data and its implications on health by launching a National Air Quality Index, informs Environment Minister Prakash Javadekar.
This index forms a part of Prime Minister Narendra Modi's "Clean India Mission," aims to furnish one consolidated number after tracking eight pollutants and employs colour coding to describe associated health impacts.
The Minister divulged that the government would also embark on action-oriented programs in association with the states to improve air quality.
Air quality has indeed become a serious issue as the country ranks abysmally poor among the big economies, at par with China, with the highest average exposure at PM 2.5.