(Above): Sandy Close of New America Media (far right) speaks to members of the press as she introduces the panelists at the Coordinated Health plan meet in San Jose, Nov. 13. (Amar D. Gupta | Siliconeer)
---
When Crisanta Allas received a blue envelope in her mailbox letting her know she qualified for a new state health program, the 87-year-old San Jose resident hesitated. Having been dis-enrolled and then re-enrolled in her previous plan, she had a lot of questions.
"I'm still reading and studying the information" in the envelope, "so I can make the right decision," she said.
Allas is one of 456,000 older Californians who qualify for Cal MediConnect, part of the Coordinated Care Initiative, a three-year pilot project under the federal Affordable Care Act. 
Santa Clara is one of seven targeted counties in California that will host the program, which combines the benefits of Medi-Cal, California's health plan for low-income residents, and Medicare – the national health plan for seniors and those with disabilities – into one coordinated health plan. Dual eligible beneficiaries receive coordinated medical, behavioral health, long-term institutional and home and community-based services as well as assistance in 12 languages through a single organized delivery system.
Santa Clara is readying itself for a launch next month.
---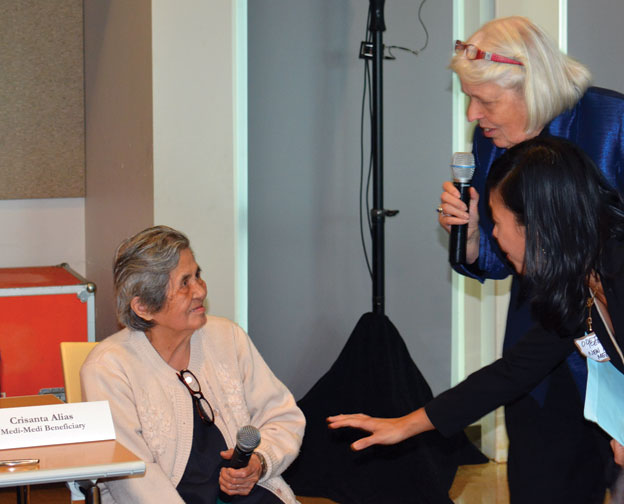 (Above): 87-year-old Crisanta Allas, a San Jose resident (l), talked about her initial concerns and how the program helped her. (Amar D. Gupta | Siliconeer)
---
Allas arrived from the Philippines in 1993 and has been a Medi-Cal and Medicare beneficiary since 1998. But accessing health care hasn't always been smooth for her. She says traveling to her local clinic and communicating with her doctors in English have been hurdles in accessing care.
"Sometimes, I have difficulty in communicating with the hospital or my doctor. I am more comfortable speaking Tagalog," Allas told a group of ethnic media reporters at a recent forum organized here by New America Media. She joined frontline practitioners, service providers and beneficiaries at the event, held at the Joyce Ellington library.
Cal MediConnect will coordinate not only patients' hospital and physician coverage, but also provide healthy nutrition, vision care and non-emergency transportation benefits. Enrollees will also gain access to coverage for prescriptions and assistance with other daily living needs.
"If a patient can't go to a hospital or talk to the pharmacy … [Cal MediConnect] will build a network and build a plan for you to meet those needs," said Ryan MacDonald, deputy director of strategic communications and outreach at Harbage Consulting, which co-hosted the event.
---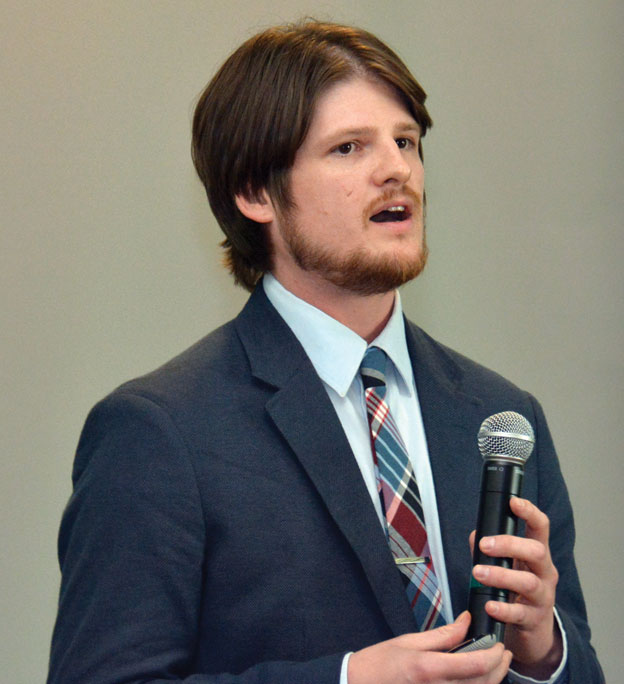 (Above): Ryan MacDonald, deputy director of strategic communications and outreach at Harbage Consulting, which co-hosted the event. (Amar D. Gupta | Siliconeer)
---
MacDonald explained that enrollees will have access to a team of care coordinators comprised of doctors, nurses, social workers, nutritionists, physical therapists and other specialists who can best align services to meet individual needs.
That kind of coordination will provide more "culturally accessible" health care for enrollees, noted Albert Lam, a practicing geriatrician at Palo Alto Medical Foundation.
The Coordinated Care Initiative is based in part on the Program for All-Inclusive Care for the Elderly (PACE) model first pioneered more than 40 years ago in San Francisco.
Seventy-year-old Rosario Barbosa is a PACE beneficiary. She says the services she's received from On Lok, a local PACE provider, has helped her deal with debilitating arthritis and tendinitis, and has helped her lose weight.
"Losing weight is one of my goals … I've lost 35 pounds so far," said Barbosa, who visits On Lok twice a week for bingo, dominos, singing and exercise classes. "I'm the youngest there. The crowd is so diverse … including Chinese, Latino, Korean and Vietnamese."
But even though the state promotes the program as being able to improve beneficiaries' health, questions remain for many of those eligible to enroll.
Marcelo Espiritu is a health insurance counselor with the Santa Clara-based Sourcewise, which works to connect elderly residents with in-home care. He said that "Cal MediConnect may be a great fit for some but not a great fit for others."
As an example, he pointed to a recent case involving a 70-year-old Vietnamese immigrant who, because of various ailments, relied on 12 different specialists, not all of whom were part of Cal MediConnect. For that reason, Espiritu explained, the person remains reluctant to enroll.
Espiritu said the biggest challenge for those considering enrolling is making sure one's doctors and providers are part of a Cal MediConnect network.
Beneficiaries who receive the blue envelopes about Cal MediConnect from the state health department have the right to decline joining the program, or if they become enrolled, to opt out of it at any time. But they need to know that even if the don't sign up for the combined Medicare-Medi-Cal program, they must still be in a state- approved Medi-Cal managed care program. They just won't have the care coordination between the two federal and state programs or other new benefits.
While beneficiaries can disenroll from MediConnect or change plans at any time, advocates stress the most important step is to open the blue envelope and choose the best plan.