SUBCONTINENT:
A Passage to Honesty: The Story of Shankar Singh


From a tout who needed kickbacks to get a job done, a Kanpur resident has now become an activist for the Right to Information Act, writes Sandeep Pandey.
---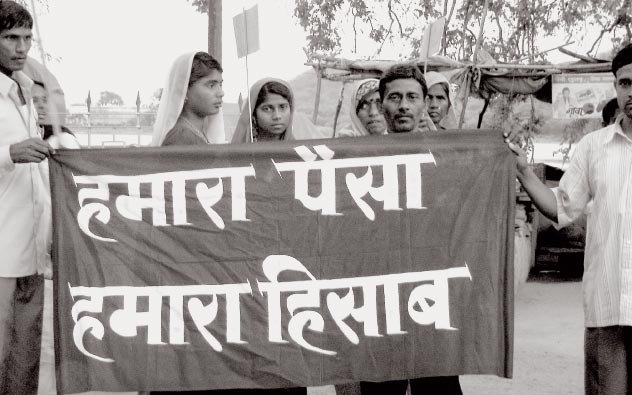 (Above):
Activists for the Right to Information Act demanding accountability of government expenses.
---
Shankar Singh was a tout at the Road Transport Office earlier and used to get people's work done by paying bribes to the officials and take his own cut. Today he is a Right to Information activist working with a team in Kanpur to check corruption not just at the Road Transport Office but also at other offices.

Born to a family of a JK Jute Mill worker, his early days were tough. His father met with an accident and had to leave the job. He became an associate of communist leader S.N. Banerji and started a restaurant named Raja Tea Stall which was managed by eight of the twelve children who survived in the family. As Shankar grew up he managed to get a job with the Roshan Transport Company. He was paid Rs. 2,000 a month to be stationed at the RTO to take care of the company's work there. He used to get the roads and goods tax deposited. He used to take care of the license, fitness, permit and registration of new vehicles. In 2006 he was unknowingly involved in the illegal sale of a Maruti van which was bought with a loan from a company. When the new owner sought a loan from another company, the first company objected as its payments were still pending and a complaint was filed. Shankar Singh was beaten by a clerk at the direction of the officer. This provoked his conscience. He decided to take on the system. He lodged complaints with the chief minister and the commissioner about irregularities in the RTO. The commissioner and the officer at RTO worked out a compromise for him and the clerk was made to apologize to him. That is how his file was closed.

But now he did not want to go back to the rotten system. He saw news about the Right to Information campaign in the newspapers. He was attracted by it. He decided to go to the camp. Before he realized, he became a volunteer with the Right to Information campaign in Kanpur city. At the RTO where a learning license costs Rs. 60 but is made for Rs. 200 and the regular license costs Rs. 140 but is made for Rs. 350, Shankar and his friends decided to organize a RTI camp, the licenses were made for the actual fees. His role was reversed. He was no longer facilitating corruption. He was there to check it. The staff of the office was terrorized by his presence.

---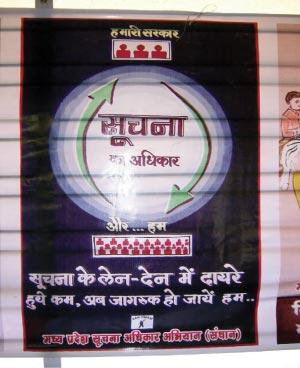 (Right):
A poster promoting the Right to Information Act.
---
Shankar now finds himself in a piquant situation. Around 1,200 of his old colleagues, who prefer to call themselves "transport advisors" and are formally registered as Parivahan Salahkar Samiti since 1982, want their profession to be legitimized. They claim that if their role is officially recognized and they are authorized to charge legitimate fees for the service they render, they would stop facilitating corruption at the RTO. They have told Shankar that if he wants a corruption-free system then he must lead the struggle for their livelihood rights. On the other hand Shankar has vowed that he would not allow any corruption to take place at the RTO even if it means going against his own former colleagues.

Shankar Singh joined the first RTI camp in Kanpur city Nov. 15, 2006, the conclusion of which was attended by federal minister Shriprakash Jaiswal, also the MP from Kanpur. Since then over the last two years Shankar Singh must have been present as a volunteer in hundreds of camps. There are about ten camps organized every month with two to three averaging per week. Anywhere from 50 to 200 applications are prepared in these camps which are filed in different government offices. Most of the applications are about the Kanpur Development Authority, Nagar Nigam, Kanpur Electricity Supply Corporation, Water Board, Police, RTO, Social Welfare Department, District Supply Office, Basic Shiksha Adhikari, Kanpur University, Awas-Vikas, Banks, Passport, District Magistrate's office, etc. Recently after results for the high school were announced there was a huge number of students wanting to know whether they could see their answer books. The Kanpur Right to Information Campaign Committee, of which Shanker Singh is now a permanent and important part, immediately organized a six-day camp in which 1,200 students filed applications seeking photocopies of their answer books for various subjects. They suspect that they have not been fairly evaluated and would like to verify this. The RTI campaign has generated an empowering awareness among people as a result of which people feel that they can ask legitimate questions as their democratic right.

In May 2008 Shankar Singh also participated in a social audit of National Rural Employment Guarantee Scheme in the Miyaganj Block of neighboring Unnao District. He now feels that his responsibility as a concerned citizen is not just limited to Kanpur city. As his horizon of understanding broadens he feels a growing commitment within him for other social issues too. He spent nine days in rural areas of Unnao trying to understand the way the village panchayats and the Block Development Office functions and how the vested interests are responsible for siphoning off huge sums of money from government schemes and how the papers are fudged. He proved to be an important member of his social audit team too which visited various villagers and interacted with ordinary village laborers and interviewed them to find deficiencies in the implementation of the National Rural Employment Guarantee Scheme.

---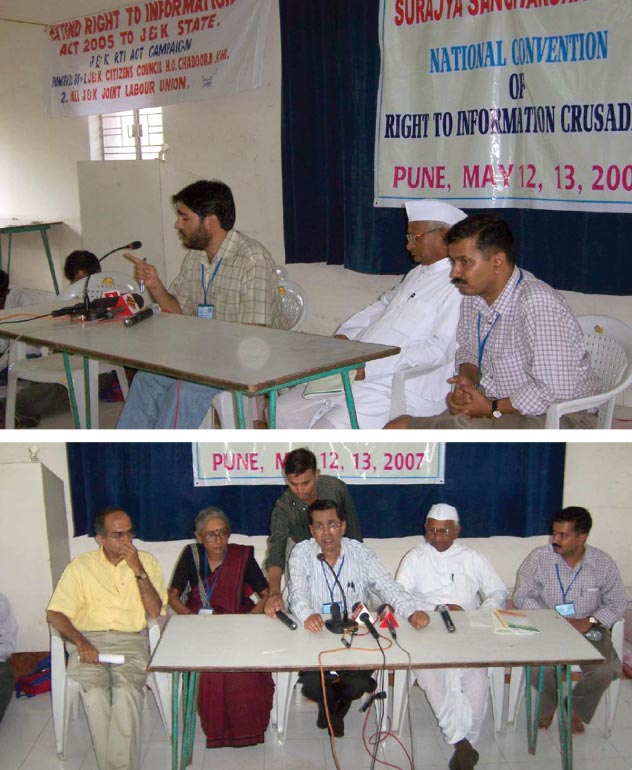 (Above):
Two panel discussions at the national convention of Right to Information activists May 12-13, 2007 in Pune, Maharashtra.
---
Shankar Singh's life has taken an about turn. From slipping into the ever deadly world of corruption and crime he has dragged himself out with some effort and placed himself in a position from where he is rising everyday as a shining star. He has become synonymous for hope for many people who have been victimized in some way. And Shankar is full of optimism. He always encourages people to stand up and fight for their rights. His exuberance inspires confidence in others.

Shankar Singh's dream is now to serve the people from even bigger platforms. He wishes to contest an election some day. He has realized that the small battles that he is now fighting every day would become a little bit easier if he acquires a legitimate constitutional position. He wishes to serve more people and at a faster rate.

Shankar Singh's evolution is a compelling example of how a corrupt environment can disfigure a life, and how an uplifting grassroots movement can rescue an individual from a life of petty corruption and possibly more serious criminality.

While by no means absolving individuals of their personal responsibility towards moral probity, his early life and the profound change in his later life is also a function of the circumstances around him.

There is an innate goodness in all of us, what is needed is the genuine communitarian commitment to the social good to tap and unleash that goodness.

Shankar Singh's life is heartwarming proof that this can actually happen in real life; the challenge is to scale up what India's Right to Information movement has unleashed to a level where it reaches every nook and corner of this large, diverse nation.

India's democracy has been rightly celebrated but its limitation has been the fact that it functions best only during elections; RTI is arguably the best grassroots tool to marry accountability to governance to give democracy real meaning.

---

Sandeep Pandey, a Magsaysay award-winning activist, is India editorial consultant for
Siliconeer.