POLITICS:
Saffron Connection?
The Strange Case of Sonal Shah


The inclusion of Sonal Shah by President-Elect Barack Obama to be one of his advisors on the Transition Team has triggered a huge controversy over her possible links with the Sangh Parivar. Shalini Gera examines the pros and cons of the issue.

---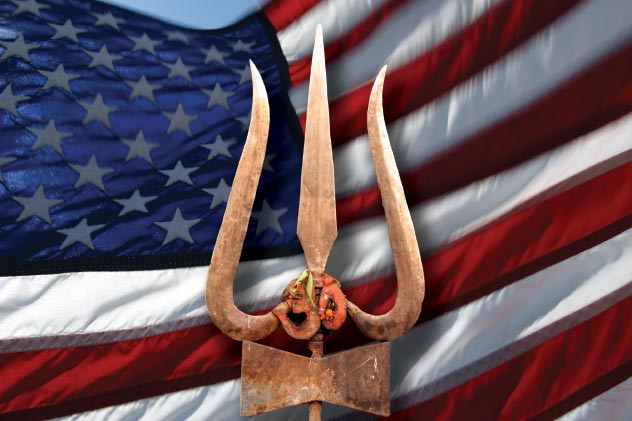 ---
Sonal Shah, a young Indian-American picked by President-Elect Barack Obama to be one of his advisors on the Transition Team, has been at the center of a raging controversy.  Within days of her appointment, Vijay Prashad, author, political commentator and professor at Trinity College, Hartford, stirred the pot by pointing out Sonal's connections to the Hindu nationalist groups in India and in the U.S. (the Sangh Parivar) in a couple of scathing articles in CounterPunch.  Many bloggers, columnists quickly jumped to Sonal's defense extolling her impeccable credentials as an economist and a philanthropist.  But other progressive groups, such as the Campaign to Stop Funding Hate, backed up Vijay Prashad's assertions with more data showing well established links to groups from the Hindu Right over a significant period of time, and demanded unambiguous explanations from Sonal Shah about these connections.  

In response to all this brouhaha, Sonal Shah did come out with a statement, but if anything, that has only added fuel to the fire, and the Internet feud between supporters and detractors of Sonal Shah carries on unabated.  There are online petitions in support of her, and others opposed to her; Facebook groups have sprung up praising her community services, as well as nailing her as a supporter of Hindu Fundamentalism; many community organizations have written to the Obama transition team highlighting their concerns over her choice, while others have taken out advertisements in the paper to celebrate her selection. 

At the heart of this debate lie the organizations collectively known as the Sangh Parivar — organizations that have sprung out of the virulent ideology of the Rashtriya Swayamsevak Sangh and the Vishwa Hindu Parishad in India that strives for the establishment of a Hindu nation in India, where the other religious communities are relegated to a second class status.  These groups orchestrated the terrible anti-Muslim carnage in Gujarat in 2002 where over 2,000 people were killed and 150,000 displaced.  More recently, they have similarly engineered the anti-Christian violence in Orissa where over 50,000 tribals have been uprooted and many deaths and rapes have been reported.  

In all fairness, not even the supporters of Sonal Shah have shown any tolerance for the nutty ideology of the Sangh Parivar.  None of this feisty debate is being held along the lines of whether or not the RSS is a likeable organization — all commentators have suitably distanced themselves from it.  Their disagreements with Vijay Prashad's article are around a few main issues — are Sonal's links to the Sangh real, how strong are they, and are they relevant in the current context?  In many ways, this mirrors the defense provided by Sonal herself in her statement, where she alludes to these allegations as "guilt by association," and equates them with the tactics that were deployed against Obama with respect to his association with Bill Ayers and Reverend Wright.  This article is an attempt to answer some of this criticism in light of what we know about Sonal Shah.

Are the allegations against Sonal Shah simply "guilt by association"? 

Yes, Sonal's father may well be an RSS bigwig, but all our families have Sanghis, some more prominent than other.  Are we required to publicly denounce them all the time?  

By now, it is amply clear that the affiliations to the Sangh that are causing concerns aren't simply her father's, but Sonal's own.  Sonal herself acknowledges her role in coordinating the relief effort of Vishwa Hindu Parishad of America after the Gujarat earthquake of 2001.  Problematic as that is — given what we know now of the discriminatory nature of VHP's relief disbursement — even more problematic is the fact that this is not her only role in VHP-A.  The Campaign to Stop Funding Hate has put out evidence clearly outlining her participation in the VHP-America governing council, and even the VHP has admitted to her presence on the governing council for 3 years.  Moreover, Vijay Prashad, in a follow up article on Counterpunch, pointed out her support to other groups within the Sangh Parivar, namely, the Hindu Swayamsevak Sangh and Ekal Vidyalayas.   

Okay, so Sonal might have participated in the Sangh activities.  But what evidence do we have that she actually subscribes to their views? 

After all, it is fairly common for Indian American families to send their kids to VHP youth camps.  But that doesn't mean that all of them support Narendra Modi.  Where is the evidence that she actually promotes the Sangh agenda? 

While not commonly articulated in this manner, this line of questioning is indeed the crux of the current debate.  On the one hand, there are people who know Sonal personally, and can vouch for her progressive views.  "See," they tell us, "she has many Christian and Muslim and Pakistani friends." And hence, they argue, she possibly cannot subscribe to the hate-filled agenda of the Sangh.  At first these friends argued that her connection to the Sangh, as outlined by Vijay Prashad, could not possibly exist.  However, as more and more evidence has emerged showing an incontrovertible link, they argue that she was possibly acting under family pressure or filial duty or some other reason…that these cannot possibly be her views. 

Now, determining Sonal's views on this issue is difficult for those of us who don't know her, considering how reticent she has been to reveal them.  When others write that she has a very pleasant personality and a sweet disposition, there is no reason to disbelieve them.  But consider this: Sonal was part of the VHP-A governing council from around 1984 to at least as late as the Gujarat earthquake in 2001, if not later.  We are talking here of a 30-33 year old woman, who has already been in public office (as part of the Clinton administration's Department of Treasury) and not a 15 year old kid being forced by parents to attend a summer camp.   We can only assume that her decision to be part of the VHP-A was an active, deliberate, adult decision.  At best, this shows questionable judgment if not moral culpability. 

One could certainly argue that many second-generation desis, growing up in the U.S., far removed from the ugly everyday reality of Hindutva, are inadequately informed of its ideology.  But consider Sonal's background.   Not only is her father, Ramesh Shah, the vice president of Overseas Friends of BJP, but he actually campaigned for L.K. Advani in Gandhinagar in 2004.  Narendra Modi used to visit the family in Houston when his visa to the US was still valid, and more recently, Ramesh Shah organized a rally in Houston to celebrate Modi's reelection in 2007.  If, in spite of having such close association with people central to the Sangh, Sonal was still misinformed about it, then it can only be because of willful ignorance, or complete lack of curiosity.  It is definitely not due to lack of opportunity.   

And finally, it is still plausible that someone growing up in a Sangh family might harbor some rosy illusions about it in the 1980s or 1990s.  But after the Gujarat carnage of 2002, exceptionally well-documented in all English language media — one has to be either living in a cave or be ideologically inclined with the Sangh, in order to still be associated with it in the aftermath. From what we can tell, Sonal was definitely not living in a cave in 2002.  In fact, it was in the fall of 2002 that Indicorps, the NGO started by Sonal and her siblings launched its program in Ahmedabad, the epicenter of Sangh's violence against the Muslims.  Yet, Sonal continues to work with Sangh groups like IDRF, Ekal and HSS well after 2002, and has refused to dissociate with the Sangh despite being publicly asked to.   

So does that prove that Sonal actually subscribes to the hate ideology of the Sangh?  The most charitable reading of all this is that we don't know for sure what her personal beliefs are, but at the very least, she doesn't find this ideology politically objectionable.  She is still willing to lend her name and goodwill to Sangh projects, to fundraise for them, to promote them.  Furthermore, her association with the Sangh cannot be explained away either as immaturity, or as ignorance — leaving us with only a few other possibilities. 

And for those who still feel this is not enough evidence of "direct" endorsement of the Sangh ideology, answer this — if we had a public figure who openly sported the KKK insignia or Hitler's swastika, would we really wait to find out whether they have actually participated in a cross-burning or a pogrom, before asking for explanations?  Wouldn't the very fact that they don't find these symbols reprehensible be enough to destroy our faith in them? 

It does appear that Sonal Shah actively participated in the Sangh in the past.  But everyone makes mistakes once in a while and this was hers.  However, NOW she has come out with a statement, as has her brother, distancing herself from the Sangh.  Shouldn't we just graciously accept this and move on? What else do you want?  

Both Sonal Shah and her brother, Anand Shah have recently released statements to the press, distancing themselves from the Sangh Parivar.  These statements have taken a long time coming.  More than three years ago, in 2005, Sonal Shah was the keynote speaker at a Yale conference of South Asian youth organizations, where a couple of participating groups, OY! and YSS, made a public appeal asking her to clarify her/ Indicorps links with the Sangh.  While Sonal refused to address those concerns at the conference, Anand Shah did undertake a few public and private conversations following this encounter, and argued that the vision of Indicorps is inclusive but refused to address the central questions around Indicorps relation to the Sangh.  In the face of this history, the recent statements from Anand and Sonal, suggesting that neither they, nor Indicorps, nor their family has any connection with VHP, RSS etc — though several years late, are nevertheless very, very welcome because they express a desire to engage with their critics, which is certainly to be lauded. 

But inexplicably late as these statements are, they are also inaccurate.  First, there is a clear attempt at obfuscation. Anand says that their family has no connection to VHP or the Gujarat government and Sonal gives a similar disclaimer adding that she has never been active in Indian politics.  However, no one is claiming that she was active in Indian politics!  The allegation that she needs to answer is that she has supported the Sangh Parivar in the U.S., which in turn enables the politics of Hindutva in the U.S. and India.  The attempts by the Shah siblings to distance themselves and their family from the Sangh appear disingenuous given that the RSS in India has proudly acknowledged that Sonal comes from an RSS family, her father leads the Ekal Vidyalaya fundraising effort in the U.S.; and the VHP-A has publicly acknowledged that Sonal was part of the governing council for over 3 years.  Furthermore, Sonal's attempt to portray her family's links to the Sangh as simply "cultural and religious affiliations" is outright objectionable.  Campaigning for L.K. Advani and championing for Modi's election is not by any stretch of imagination a cultural or religious activity.   

No, this is not mere nit-picking. There is something fundamentally dishonest about the two statements.  They blandly deny the well-documented links of the older and younger generations of the Shah family with the Sangh Parivar in the U.S.  At the very least, these need to be admitted, in order for an honest dialogue to take place.  Yes, the critics are correct when they point out that we have no way of knowing Sonal's current views on the Sangh Parivar ideology — but is that not all the more reason for her to come out and unambiguously state them?  There is enough in her past history of public life to raise legitimate doubts about her political judgment and affiliations, and Sonal would do well to address these concerns openly and honestly.  She is in an important enough position that public scrutiny is not only to be expected, but to be welcomed.  So far, the fact that Sonal Shah has been less than forthcoming in addressing these concerns only increases our anxiety around her appointment, instead of putting it at rest.