RECIPE:
Sweet Treat: Eggless Cake


A simple and easy way to make a perfect holiday treat. Chef Sanjay Patel shows you how to make an eggless cake.
---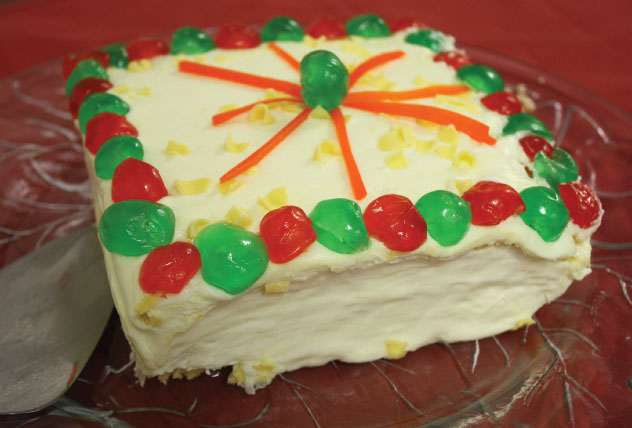 (Above): Eggless Cake [SILICONEER photo]

---
Ingredients

2 1/2 cup Maida (Flour)

3 tbsp Butter or Ghee

1 cup Milk (room temperature)

1 cup Seedless Dates, finely chopped and mixed with 1 tablespoon flour

2 level tbsp Baking powder

2 cups Powdered Sugar

1 cup Walnuts, Apricots

2 tsp Vanilla essence


For Icing:

2 1/2 cups brown sugar

1 1/2 cup milk

Cherries

Almond and pistachio flakes

Method:

Powder sugar. Add butter and blend for 2 minutes. Add milk at room temperature and blend for a second. Add curd and blend for another minute. Add dates, vanilla essence and blend for 2 seconds. Add the sifted maida and baking powder mix and just blend to mix together.

Pour into a well greased cake pan and shake gently. Top that with chopped walnuts and apricots. Bake in a heated oven at 190 degrees C for about 40 minutes.

When a nice smell starts coming in, insert a sharp knife into the cake; if the knife comes out in one smooth motion without sticking, this means your cake is ready. Cool the cake and either serve it as is or you can add icing to the cake as well.

Icing:

Mix brown sugar and milk and cook until it forms a soft ball then beat until firm and gently spread over the cooled cake.

It is a good idea to prepare the icing a day in advance and keep it refrigerated.

You can also decorate the cake to your taste using cherries, almond and pistachio flakes, etc.