RESEARCH:
Energy Smarts: THE BIJLEE Program


BIJLEE — the Berkeley-India Joint Leadership on Energy and the Environment — will bring together researchers from Berkeley Lab and UC Berkeley and other U.S. and Indian universities to develop renewable energy technologies. A Siliconeer report.
---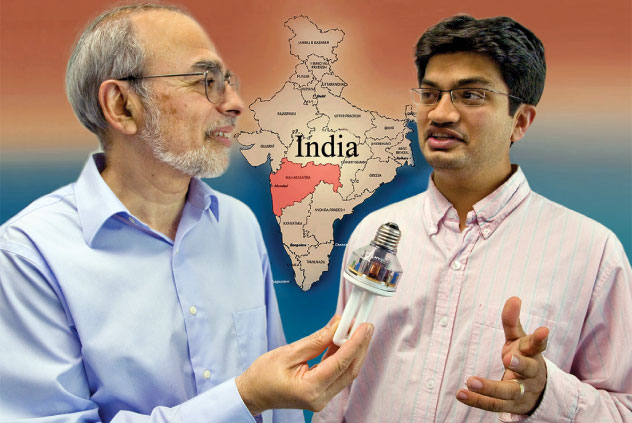 A collaboration spearheaded by Jayant Sathaye (left) and Amol Phadke of Berkeley Lab's Environmental Energy Technologies Division will share California's energy-efficiency know-how with the Indian state of Maharashtra. [Roy Kaltschmidt/Berkeley Lab photo]
---
The Berkeley-India Joint Leadership on Energy and the Environment — BIJLEE — will bring together researchers from Berkeley Lab and UC Berkeley, including its College of Engineering, and other U.S. and Indian universities, institutions, and corporations to develop energy-efficient and renewable energy technologies. At the same time, BIJLEE will address the policy innovations needed to transfer these technologies to the marketplace, with the goal of combating climate change and promoting economic growth with solutions that are appropriate to India. BIJLEE's collaborative, outcome-oriented research will come from Berkeley Lab, the College of Engineering, and a new center in India.

"The goal of BIJLEE is both timely and visionary: to accommodate rising demands for energy with a richer mix of sustainable alternatives," says S. Shankar Sastry, Dean of UC Berkeley's College of Engineering. "UC Berkeley and the Berkeley Lab will partner with government and industry in India to spark innovations in renewable energy technologies and transform market and policy mechanisms for adopting these technologies. Both countries — indeed, the entire planet — will benefit."

As a strong advocate of BIJLEE's mission and a founding supporter of this new partnership, Dr. Purnendu Chatterjee, chairman of the global investment firm The Chatterjee Group, will contribute $2,000,000 to endow two chairs in Berkeley's College of Engineering. His gift will establish a chair in energy technologies to support an eminent professor pursuing research in such areas as energy efficiency, renewable fuels and power, and sequestration of fossil-fuel emissions. Dr. Chatterjee's generosity also creates a chair in engineering biological systems.

"When leading experts from both India and Berkeley unite on cooperative ventures, new technology and long-term solutions are likely outcomes," says Dr. Chatterjee.

Just how fruitful the cooperation might be for India is evident from a recent memorandum of understanding that brings California's knowhow to cut power loss in Maharashtra.

Maharashtra is at a crossroads. Its people endure frequent electricity blackouts due to a booming energy demand that far outpaces energy production. One solution is to build more coal-fired power plants, which are among the chief greenhouse-gas-emitting culprits of climate change. Another solution takes a different approach: reduce electricity demand, and the need for more power plants, by implementing energy-efficiency measures. The latter choice may have an edge, thanks to a Memorandum of Understanding facilitated by Berkeley Lab scientists that aims to export California's lessons in adopting energy efficiency strategies to the state of Maharashtra. Maharashtra leads India in energy consumption.
The MOU, which is the only one of its kind between energy regulators in the U.S. and India, was signed in December, 2007, by Pramod Deo, chairman of the Maharashtra Electricity Regulatory Commission; Berkeley Lab Director Steve Chu; Art Rosenfeld, Commissioner of the California Energy Commission; and Dian Grueneich, Commissioner of the California Public Utilities Commission.

"The idea is to meet a significant portion of Maharashtra's electricity growth through energy efficiency, not by building power plants," says Jayant Sathaye of Berkeley Lab's — EETD — Environmental Energy Technologies Division, who engineered the collaboration with fellow EETD scientist Amol Phadke. In addition to facilitating the MOU, Berkeley Lab, one of the world's premier research institutions in energy and environmental technology policies, will provide technical support to Maharashtra's energy regulators and utility companies.

The collaboration is designed to help Maharashtra meet a 5,000-megawatt shortfall in energy production, which sparks power outages that hamstring the state's economy and force businesses to use polluting, back-up diesel generators. The signatories hope to help Maharashtra erase this deficit by sharing California's energy-efficiency programs and practices, which have been instrumental in restraining California's per capita electricity consumption to a level that is almost half the per capita electricity consumption of the U.S.

"This landmark agreement between our two states is a clear indication that the world looks to California for pioneering innovation in energy efficiency and climate change," says California Energy Commissioner Art Rosenfeld. "Exporting California's energy efficiency measures will result in more available power for Maharashtra, a cleaner environment, and reduced greenhouse-gas emissions."

---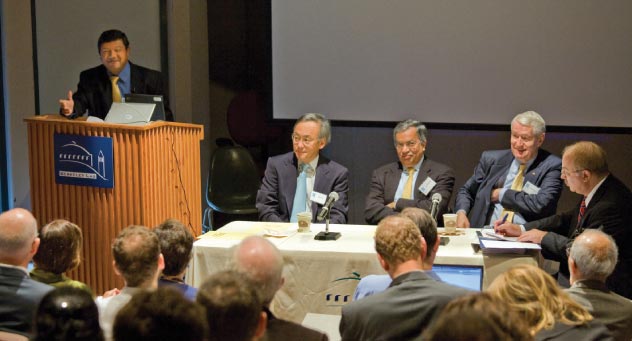 Arun Majumdar, director of Berkeley Lab's Environmental Energy Technologies Division, announcing the BIJLEE partnership. Seated (from l) are Berkeley Lab Director Steven Chu, Purnendu Chatterjee, chairman of the global investment firm The Chatterjee Group, Robert Birgeneau, chancellor of the University of California, Berkeley, and John Mizroch, acting assistant secretary, U.S. Department of Energy. [Berkeley Lab photo]
---
The document lays the groundwork for an exchange of expertise between the parties and for embarking on joint research activities. Together, they'll explore policies on energy efficiency, demand-side management, renewable energy development, innovative electricity regulation, and integrated resource planning, among other areas. Incentive programs that drive the adoption of compact fluorescent lamps, efficient industrial processes, solar water heaters, and energy-efficient refrigerators, electric motors, and irrigation pumps will be considered.

"The MOU will also help California, where we have a great concern in mitigating climate change," adds Sathaye. "India's energy consumption is growing at approximately nine percent per year. We need to help them find ways to solve this problem by slowing the building of more power plants."

Meanwhile, in the BIJLEE project, scientists in the EETD including division director Arun Majumdar, deputy director Ashok Gadgil, and international energy group leader Jayant Sathaye are participating on the Berkeley Lab side. Researchers from UC Berkeley include Shankar Sastry, Ramesh Ramamoorthy, Professor of Materials Science and Engineering; and other researchers with interests in India, energy-efficient and renewable energy technology, and international economics issues.

"Berkeley Lab and the UC Berkeley campus have taken leadership in creating the BIJLEE program," says Majumdar, who is also a professor of mechanical engineering at UC Berkeley. "However, it will also be open to collaborations with any institution or corporation interested in contributing to its effort. No other national laboratory is adjacent to a major research university with such strengths in clean energy development and south Asian studies, and with strong connections to India. Our proximity to the Silicon Valley's culture of investment and innovation and its large Indian expatriate community will also help advance this effort."

"India has one of the largest populations and fastest growing economies in the world, and it is the world's largest democracy," says Majumdar. "For the foreseeable future, it will have one of the fastest rising rates of greenhouse gas emissions, along with China. The U.S. needs to figure out how to address these growing emissions in partnership with these two rapidly expanding economies if we are to have any chance of reducing those emissions globally." Berkeley Lab already has a China Energy Group that works with the Chinese government and private sector on these issues.

The Indian economy is growing about eight to nine percent per year. India is the sixth largest greenhouse gas-emitting nation in the world. "There is considerable interest in India now in developing the technological capacity and institutional expertise to reduce their GHG emissions while maintaining economic growth," says Majumdar.

BIJLEE scientists will conduct research on the three pillars of sustainability: basic science and engineering, new technology development, and policies to promote market transformation to further energy efficiency, clean energy sources and smart growth. "Only a combination of these approaches will lead to measurable progress in reducing GHG emissions," says EETD deputy director Gadgil.