FILM REVIEW:
A Dynasty of Despair: Yuvvraaj

Rating: *1/2 (Mediocre)
Mukta Arts Ltd
Yuvvraaj

Producer/Director: Subhash Ghai
Written by: Sachin Bhowmick, Kamlesh Pandey and Subhash Ghai
Lyrics: Gulzar
Music: A.R. Rahman
Starring: Anil Kapoor, Boman Irani, Katrina Kaif, Mithun Chakraborty, Salman Khan and Zayed Khan.
---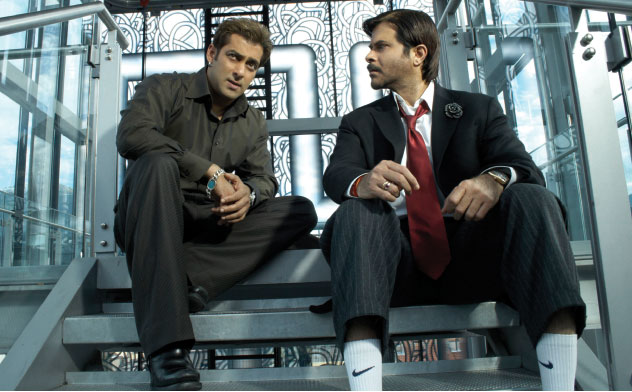 (Above): Salman Khan and Anil Kapoor in "Yuvvraaj."

---
Here we go again! Subhash Ghai, once known to churn hit movies like Karz, Meri Jung, Ram Lakhan, Saudagar, and Taal, to name a few, seems to have completely lost touch with today's entertainment trends. Yuvvraaj is another strong contender for 'the worst of 2008' and lacks the old 'Ghai magic' every bit.

Yuvvraaj starts as the story of Deven (Salman Khan), a chorus singer in Prague. Love is literally in the air as he starts dreaming of marrying Anushka (Katrina Kaif) who is a cello player by choice rather than by profession. So far so good, but then the film rewinds into retro mode with the age-old 'rich-girl-poor-guy' Bollywood formula, and the usual bickering from the rich dad (Boman Irani) objecting the marriage.

There is a Munnbhai MBBS retouch to the plot with Boman Irani posing as the bride's dad as well as playing a doctor in the laughter-therapy mode. Remember Dr. Asthana?

Coming back to another traditional Bollywood formula, Deven happens to be from an affluent family who he left behind long back. His billionaire father is now dead and Deven is only happy about the fact as he approaches his family to seek his share of property and now the story deviates to the 'jaydaad-ki-ladaai' formula and the audience is introduced to endless characters, the likes of the wicked mamaji, or the perpetually cleavage-popping bhabhiji, who want their share of the ancestral pie.

Deven has two brothers, Danny (Zayed Khan) who is a spoilt brat and Gyanesh (Anil Kapoor) who is autistic and the chosen one for the prime property. Here comes a strong reminder of another Ghai formula, remember Kishen Kanhaiya? Consequently characterless people take charge as they want less characters in the property share.

Sachin Bhowmick and Kamlesh Pandey's script lacks intelligence or innovation and has a dated feel. Adding fuel to the fire is Subhash Ghai's worn-out direction making the proceedings worse and clichéd. The scenes are jumbled with continuity lapses and the dialogues range from clichéd to preposterous.

A classic example of sloppy dialogue-writing is when Salman Khan blurts out, "abhi toh sirf well-done kiya hai, abhi dun-dun karna baaki hai" or "tumne bharosa kiya, now trust me." Now, isn't that getting too close for comfort, to think the audience would still have the bharosa in Mr Ghai?

---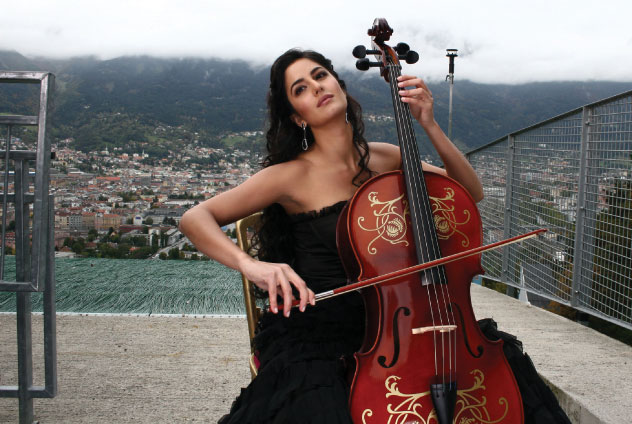 (Above): Katrina Kaif in "Yuvvraaj."

---
Though the film is supposed to be about brotherly-bonding, there is hardly any evidence of a blending chemistry between the three brothers and to add to the dismay, the writers choose to mess up matters while making Gyanesh (Anil Kapoor) needlessly fall for (Anushka) Katrina Kaif, though thankfully the love-triangle is averted before it could create more chaos. A psychiatrist explains that mentally deficient humans are always proficient at classical singing. New research?

And when you are squirming in your seats with impatience, comes a song, "Tu Muskura." Farah Khan did a decent job of introducing cast and credits in Om Shanti Om and Mr. Ghai takes cue only to make a poor exhibition of the movie's cast and crew.

Salman seems to justify his real-life anger through the character of Deven as he goes on a glass-shattering and violin-smashing mode. Anil Kapoor wears his Raj Kapoor-style innocent act from ealier films like Eshwar, Beta and Kishen Kanhaiya. Boman Irani overacts as usual, Katrina under acts, Zayed can't act.

The music of the film has a retake on Western Classical and the usual Bollywood fare but will still pass.

According to Ghai, it is a first time that a cello is used in a Bollywood film. "My film opens with a long passage on the cello. Rahman, Gulzar and I sat over every note trying to get the music right. Yuvvraaj is my first full-fledged musical since Taal. And I can't think of anyone except A. R. Rahman who could've given me this score."

Earlier this year another Ghai movie Black and White had raised hope that Subhash Ghai still had some aces up his sleeve. With Yuvvraaj Ghai has alienated himself again from fans who still believe that the showman could rewind the magical moments of his hey days.

Ghai has an eye for visuals and the stunning sets and dramatization are probably the only good part of the movie. With a blatant retake on old school drama, dialogues and storyline, Yuvvraaj has leaves one wondering, "audience ka karz kaise chukaoge Ghai sahab?"