HUMAN RIGHTS:
Fighting for Dalits: Krishnammal Jagannathan


Octogenarian Gandhian activist Krishnammal Jagannathan has spent 40 years fighting for land rights and the self-empowerment of women in Tamil Nadu. This year she was recognized with a $100,000 Opus Prize. A Siliconeer report.
---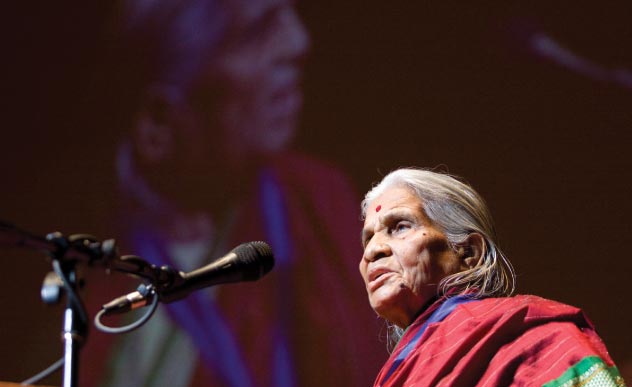 Krishnammal Jagannathan, founder of Land for Tillers' Freedom, has spent 40 years fighting for land rights and the self-empowerment of Dalit women in Tamil Nadu. She is speaking Nov. 18 to an audience at Seattle University after being recognized with a $100,000 Opus Prize. [Tom Reese/Seattle University]
---
Krishnammal Jagannathan, founder of Land for Tillers' Freedom, who has spent 40 years fighting for land rights and the self-empowerment of women in Tamil Nadu, India, was named Nov. 18 one of two winners of the $100,000 Opus Prize.

In addition, Seattle University and the Opus Prize Foundation awarded a $1 million Opus Prize to Marguerite "Maggy" Barankitse for her 15 years of work providing safe havens to 30,000 child victims of ethnic strife in Burundi, Africa. The other $100,000 winner was Michael Woodard, founder of Jubilee House Community and Center for the Development of Central America, who has spent the last 15 years creating self-sufficiency from poverty in Nicaragua.

The Opus Prize is a $1 million dollar award and two $100,000 awards recognizing unsung heroes creating lasting social change and inspiring others to do the same.

The recipients were announced Nov. 18 morning at a press conference hosted by Seattle University president Stephen Sundborg, S.J. The three social entrepreneurs spent three days on campus visiting with students, faculty and staff. In the evening, they were honored at a civic celebration at Benaroya Hall in downtown Seattle.

Krishnammal Jagannathan and her husband Sankaralingam Jagannathan are two lifelong activists for social justice, and for sustainable human development, working with those who are at the lowest rung of the social ladder. They have carried the Gandhian legacy into the 21st century, never ceasing to serve the needs of Dalits, landless and those threatened by the greed of landlords and multinational corporations.

---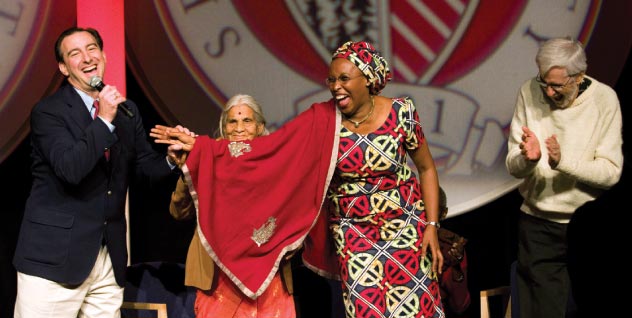 Joe Orlando (l), director of Jesuit Mission and Identity, leading Opus Award winners (l-r) Krishnammal Jagannathan, Marguerite "Maggy" Barankitse, Michael Woodard and the audience in John Lennon's "Imagine" at the awards ceremony at the Seattle University.
---
Krishnammal Jagannathan and LAFTI have elevated the social status and acceptance of the Dalits, some of the India's poorest residents, by negotiating land subsidies with the Indian government. Providing skills workshops to encourage empowerment and sustainable practices, Krishnammal is helping these individuals command the respect of others and showing them that everyone has the right for a good, dignified life.

An unfathomable tragedy was a turning point in Krishnammal Jagannathan's life. In 1968, 44 Dalits — members of India's lowest caste and some of its poorest residents, previously known as the "Untouchables" — were murdered at Kilavenmani village in the Nagapattinam district of Tamil Nadu. This devastating occurrence proved to be the impetus for founding Land for Tillers' Freedom.

"My mission was to provide livelihood by abolishing landlessness among the poor and bring humanness and dignity to their lives," Jagannathan says. "The Dalits were banned from wearing chappals (foot wear) collecting drinking water in the village well and temple entry. They were tied to the trees and forced to eat cow-dung when anyone broke the norms. All of this happened during the 1970s and I resolved to change all of this, to bring an end to the worst form of apartheid in the 20th century."

Formally founded in 1981, LAFTI allowed Jagannathan and her husband to work toward justice and land rights in Tamil Nadu by elevating the social status and acceptance of the Dalits through housing and farmland provisions. LAFTI is equipping the landless with land through loans and work opportunities, thereby allowing them to become self-sufficient. LAFTI's skills workshops allow people, during the nonagricultural season, to support themselves through entrepreneurial efforts like mat weaving, tailoring, plumbing, carpentry, masonry, computer education and electronics.

Through LAFTI, Jagannathan has negotiated land subsidies with the government and reduced-interest bank loans to purchase land. Because of her work and its undeniable results, the government of India is also considering implementing LAFTI's approach to increase the peaceful transfer of land.

However, LAFTI is about more than protection of land rights. It encourages empowerment and sustainable practices to benefit other oppressed communities. Hundreds have benefited from educational and outreach opportunities that promote wasteland development, self-employment and environmental protection.

With dignity, vision and an indefatigable spirit, Jagannathan is improving the living conditions and the future of the Dalits. LAFTI has changed the lives of 13,000 families and those who were once powerless are now in charge of guiding their future.

"Bridging the gap between the rich and poor, bringing the landless and landed rich to the negotiating table to share and care for each other is most fulfilling to me," she says. "Hope in the midst of misery and poverty by lighting the lamp in the homes of Dalit women is an enriching moment for me."

Krishnammal Jagannathan was born to a landless Dalit family in 1926. Despite her family's poverty, she obtained university level education and was soon committed to the Gandhian Sarvodaya Movement, through which she met her husband, Sankaralingam Jagannathan (born in 1912), also a noted Gandhian.

Sankaralingam Jagannathan came from a rich family but gave up his college studies in 1930 in response to Gandhi's call for non-cooperation and disobedience. He joined the Quit India Movement in 1942 and spent three and a half years in jail before India gained its independence in 1947. During this time he already had considerable impact as campaigner on behalf of the poor.

Sankaralingam and Krishnammal married in 1950, having decided only to marry in independent India.

"Vinoba Bhave, by whom my husband and I were inspired said 'Jai Jegath' (Long Live the World) and he was convinced this is possible by awakening of 'Sthree-shakthi' (women-power). I sincerely believe that the social, economic and spiritual crisis we are facing today in the world can be overcome through universal sisterhood and science and spirituality coming together for the good of the entire humanity," she says.

The Opus Prize is one of the world's largest faith-based, humanitarian awards for social innovation. Its $1 million and two $100,000 awards are given annually to recognize unsung heroes of any faith tradition, anywhere in the world, solving today's most persistent social problems. The Opus Prize Foundation is an independent, private foundation established by the Opus Group, a national real estate development company. The Prize identifies exceptional, but lesser known social innovators and highlights their unique entrepreneurial approaches which give power to the disenfranchised, opportunities to the poorest and inspire others to pursue lives of service. The Opus Prize Foundation administers the prize each year in partnership with a university that conducts research on nominees, makes site visits and makes a recommendation to the foundation for a final decision.