TRAVEL:
Skiing Haven: Mt Rose, Nevada


Mt Rose, a truly family and funky ski spot, is the best-kept secret in the Lake Tahoe area, writes Al Auger.

---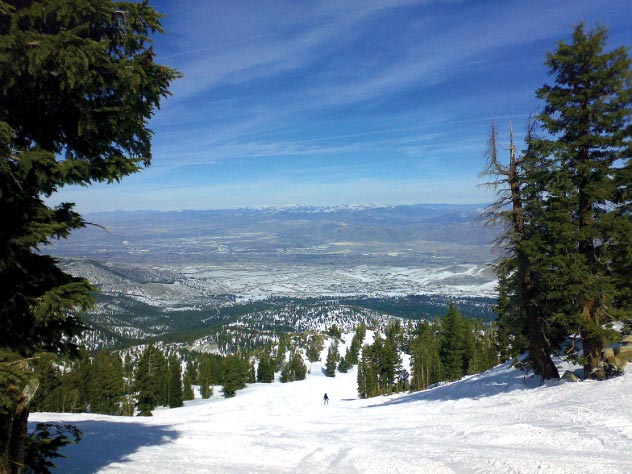 (Above): Mt Rose offers a spectacular vista of Lake Tahoe..

---
How would you like to find the best-kept secret ski resort in the Lake Tahoe area? A truly family and funky ski spot that measures its apre ski action and lodging facilities in miles. Mt. Rose is not only high, but has some of the most interesting runs from easy to double diamond for a pleasant surprise for those who visit for the first time. Their ski school specializes in teaching toddlers and up.

Long before there was a Mt. Rose Ski Resort, we would ski the backside called Slide Mt (now called Slide Bowl), an even funkier resort . With only two chairs, Slide's biggest feature was the steep and deep snow and a rock and roll run of round bumps. Taking the longest lift to the top, we would hop over the peak and ski the untracked snow through the trees where the present resort resides. A few years after Mt. Rose Ski Resort became a reality, it bought out Slide, giving it a two-sided personality and a huge selection of runs.

It was at Slide that we became acquainted with some of the truly unforgettable characters you can find on the slopes. First, there was Smitty, a gnome of a man who had a job identity that was undecipherable. But you never crossed his decisions or his suggestions. He never sees you acting out some unacceptable act on the mountain.

---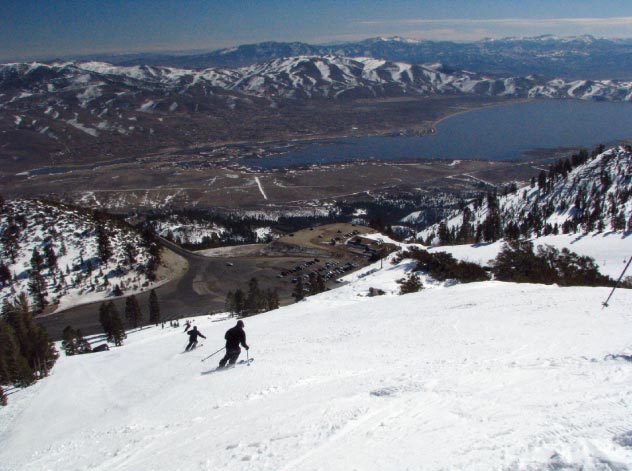 (Above): Skiing down Mt Rose is one of the most exhilarating experience.

---
And then there was the mayor of Carson City, who was the ski patrol boss at Slide. Truly a model of the legendary ski bums who can be found at ski resorts world-wide.

Slide is infamous for its powerful winds that can come alive at any time. One day our gang, on our annual New Year's bash, arrived at the base lodge to find the main lift with many of its chairs wrapped around the cable. That left only one other lift to use. This meant very long lines and a less than desirable number of runs during the day. Someone in our group came up with an idea that would overcome this obstacle.

We approached the mayor and asked for a ski instructor and offered a price that was less than a group lesson, but was a nice number, nevertheless. Being in a school meant we could jump the lift line. After breakfast we skied to the school meeting place and asked the mayor where our instructor was. "Right here, dude," he said, poking his chest with his hand.

---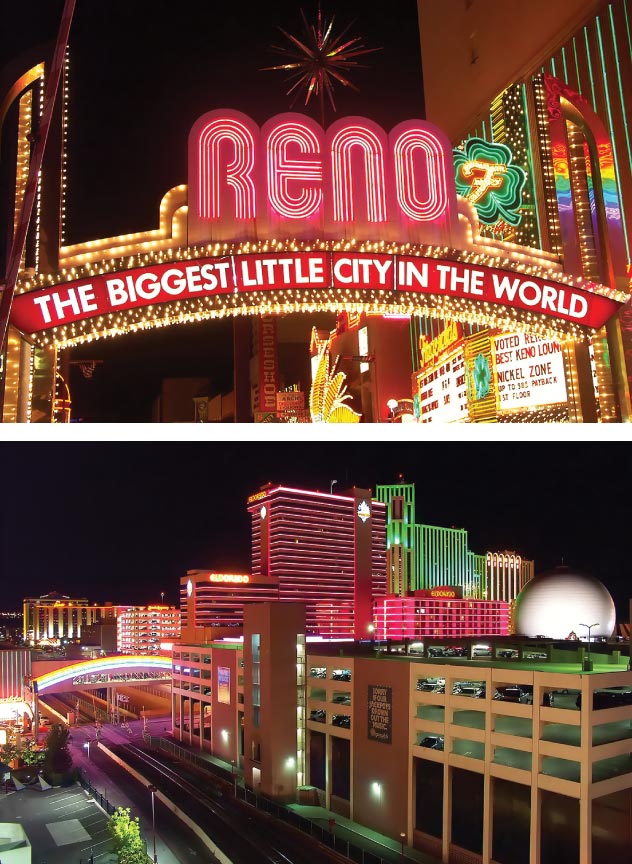 (Above): (Top): The famous entrance sign at Reno, Nevada, beckons all comers looking for a good time. (Bottom): The casino city of Reno is just minutes miles away from Mt. Rose presenting shows and cuisine to please every taste.

---
So, up we went, all twelve of us, and began following him down the slope. The mayor, with his leathered, tanned and well-lined face dramatized by his bushy moustache, left us in his rooster tails. That guy could ski and, although we had to push ourselves to the limit just to keep up, we learned a lot that day. It was a day of hard skiing; definitely we learned a lot. We laughed a lot about the day as we headed down the mountain, commiserating with each other and complaining about tired and unhappy thighs.

So where's the apre ski action? Approximately 30 minutes away in Reno, the Biggest Little Ski Lodge. But, more of that later. Mt. Rose, through the years, has matured and become creative with six fast, three, four and six-passenger lifts and two surface lifts. It has long cruising runs or some of the best tree skiing on the east side of Lake Tahoe.

What makes Rose especially entertaining to the mid-level skier is the blue runs that are long and interesting.

But don't let the plethora of diamond runs scare you away. Most skiers think the diamonds mean advance and expert only. The true definition is they are measured against the rest of the mountain runs. The many runs, black or blue, are all long with space for the mid-level to expert to do your thing, whatever that may be. The highest base in the Tahoe basin, it means long, comfortable runs to bring your skiing easily up a notch or two.

But then there are the infamous "chutes." Accessible from either the Double Down six-passenger chair lift on Slide Bowl or front-side six-passenger lift, these will get the adrenalin running and a grim smile as you negotiate the single and black runs. The three main lifts take you to the top of the mountain at 9,700 feet. Not only are you afforded a wide choice of runs, the heavily forested mountain is a great place to sit and enjoy an al fresco lunch with a wide-angle view of Lake Tahoe.

---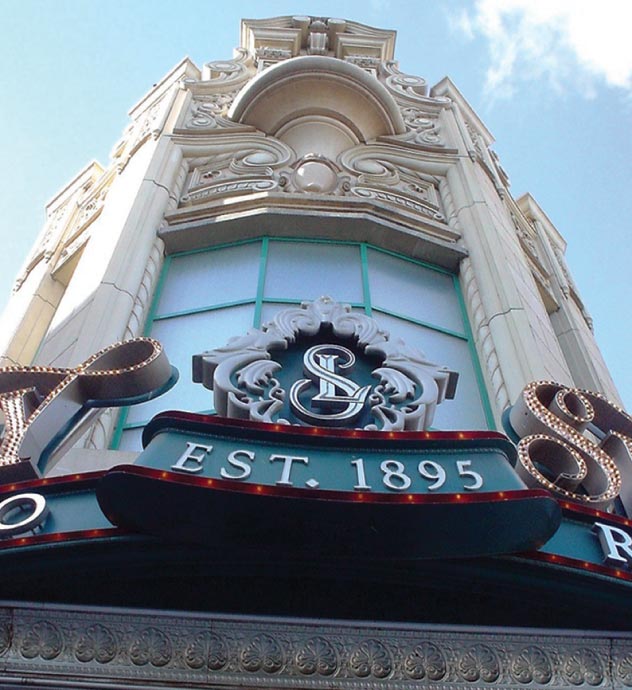 (Above): Entrance to the plush Silver Legacy casino in Reno, Nevada.

---
Even back in the days when Rose was a burgeoning resort, its kid's park and school was far ahead of most of the bigger resorts ringing Tahoe. Not only kid-friendly, but parent-friendly as well. Instructors specially trained to teach the ankle-biters keep everything on a high level of expertise. Skied by locals, everyone seemed extra friendly and welcoming to the newcomer.

Next to the skiing is the lodging and nightlife that can be priced to fit anyone's budget. When I had the bucks, we'd stay at one of the many casino-hotels in Reno, where elegant sit-down dinners, dancing and world-class shows and music are available. For instance, Neil Young recently headlined a concert at the Events Center and the Little Waldorf features weekly jazz sessions. Reno is full of five-star and excellent affordable lodgings, most close to the gaming and entertainment center.

Whatever you choose, there's always a restaurant, show or club band to fit your pocketbook. The list of dining choices range from an In-and-Out Burger to the highly acclaimed restaurants in the Nugget in Sparks. How about a Hawaiian luau or some comfort food from the Retro Diner? Casino showrooms feature everything from the circus to musicals and musical headliners. And, of course, there's always gaming for the adventurous (that's PC for gambling).

Mt. Rose has consistently been a snow magnet and when the weather factors are right, the powder can be delicious. It's a different way to go skiing from the usual resort setting. A reason skiing Mt. Rose is such fun is that the skiers and 'boarders you share the mountain with are mostly upper-level and totally friendly. The ambience is different and the mountain puts a great big smile as you head down the road to Reno and some real apre skiing.



Mount Rose and Reno

MOUNT ROSE — Located at the top of SR431 Mt. Rose has Tahoe's highest base at 8,260 feet and 1,200 acres of skiable terrain. Web site: skirose.com
HOURS: Blazing Zephyr (Slide Bowl) 8:30 a.m.-4 p.m.; Mount Rose 9 a.m.-4 p.m. Half-Day: 9 a.m.- 12:30 p.m./12:30 p.m. - 4 p.m. TICKETS: Adults (18-64) - $64 All Day - $50 Half Day; Seniors (65-74) - $44; Super Seniors (75+) - $17; Teens (13-17) - $44; Child (6-12) - $17; Under 5 yrs. Free. Group, military and college discounts also available. Special daily packages (Ladies Day, etc.) also available. See Mt. Rose Web site for full information.

RENO — with 17,000 rooms, Reno offers a wide range of lodgings and prices. Go to the Web site at visitrenotahoe.com for complete information including a calendar of coming events, dining, shows, etc.