CELEBRATION
The Other Pakistan: Independence Day


There is a great deal more to Pakistanis than meets the international media eye, and three visiting pop singers underlined the nation's culturally rich and lively identity at Independence Day celebrations in Sacramento and San Francisco, writes Ras H. Siddiqui.
---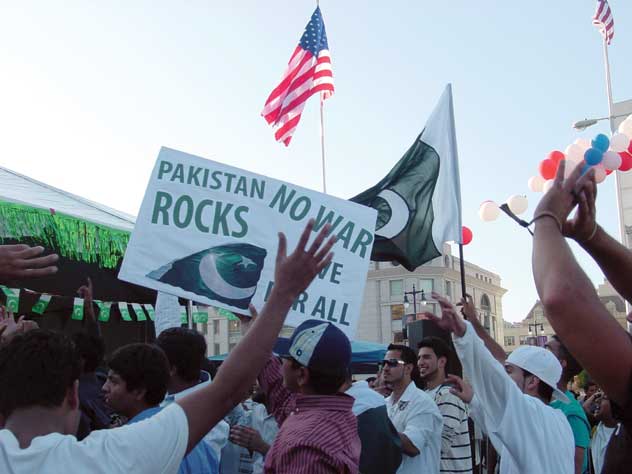 (Above): A banner for love and peace at Pakistan's Independence Day celebrations in San Francisco.
---
The Pakistani-American Associations of Sacramento and San Francisco celebrated Pakistan's 62nd Independence Day (officially August 14) with a great deal of fervor at the California Exposition Center in Sacramento Aug. 1 and at the Civic Center in San Francisco Aug. 16t, giving Northern California a different window into the country. Attracting over 1,000 people in Sacramento and over 3,000 in San Francisco, one was inspired to see the community keep its chin up in spite of the troubling news from Pakistan recently. And what helped was that here to entertain them were some of the superstars of Pakistani pop music today, namely Shehzad Roy and Jawad Ahmad in Sacramento and Najam Sheraz in San Francisco.

"Pakistanis" and Indians have lived in Northern California's Central Valley (Lodi, Live Oak, Sacramento, Stockton, and Yuba City) for about a century now as people from Punjab and the North West Frontier of British India settled in this part of the world long before India's Partition and the birth of Pakistan. The descendents of the original immigrants and later additions are predominantly of Punjabi and Pashtun origin. People from present-day Faisalabad and the area around Attock in Pakistan are in the majority here, along with a few others from Sind and even a Baloch or two.

---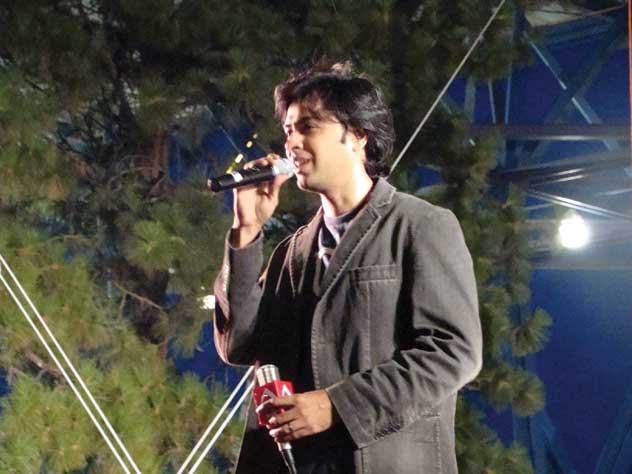 (Above): Shehzad Roy
---
Sacramento

In the backdrop of Pakistani fashions and spicy food for sale, the entertainment lineup for the evening started off with Ajit on dhol and Faisal vocalizing a number of Bhangra hits to get the audience in a more festive mood. Zaki Syed with his "Desi Rap" next imparted not just entertainment but wisdom as well.

After some invited guests and event sponsors said a few words, local Punjabi Singer Ishmeet Narula added a great deal of energy to the program with her musical trip from Lahore to Bollywood. Ishmeet is becoming a familiar face and voice for us here, ever since her performances at Desi peace programs in the Bay Area.

Headliner Shehzad Roy is currently one of the most popular Pakistani musical performers. His fan following, especially amongst Pakistani-Americans, is well deserved. Soon after Shehzad appeared on stage, young people congregated up front (although one could also observe a number of Aunties amongst them). Shehzad has almost patented his relaxed, laid back look that endears him to his female fan following. But he also remains a serious musician, singer and social commentator too. Starting off with "Yeh Jo Aag Hai" (This Fire) followed by "Payal Jab Bolay" and the crowd shaker "Teri Soorat" (Your Face) all the way to that "Saali" (Sister In Law) often used politically, Roy swayed the audience. His song/commentary on white mansions and black Mercedes vehicles was also quite a crowd pleaser. He inserted into his performance a few words about his Zindagi Trust which is currently educating 8,000 kids in Pakistan (a commendable effort, Shehzad!) And not by chance, the main song from his latest CD "Qismat Apnay Haath Mein" or "Laga Rahe" which basically translates to "Keep At It," along with "Yeh Udasi Kiyoon" (Why this Sadness?) ended his performance.

---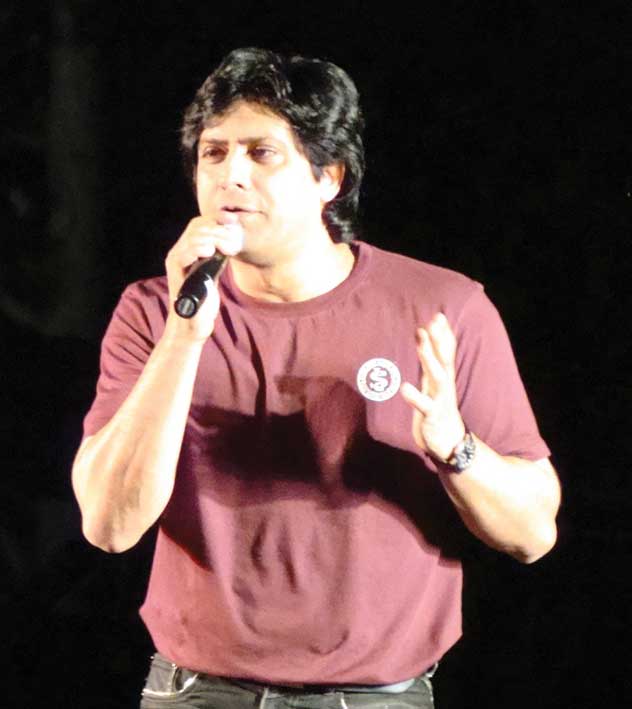 (Above): Jawad Ahmad in Sacramento
---
Jawad Ahmad, the other young Pakistani singing icon closed the Sacramento show. His "Bin Teray Kiya Hai Jeena" (What is Life without You?) is still a local favorite. Jawad has had numerous concerts in this area and his Punjabi songs retain quite a following. "Oh Kendi Hai" (She says) and the sentimental "Dholna" are amongst his most popular numbers which he presented once again for us. Due to the shortage of time he could only sing Shahbaz Qalandar and a fine rendition of the National Anthem to end the show. Jawad's voice has both power and range and could benefit from newer material. Jawad is also heavily involved in his "Taleem For All" education program, something that people here might also want to look into.

---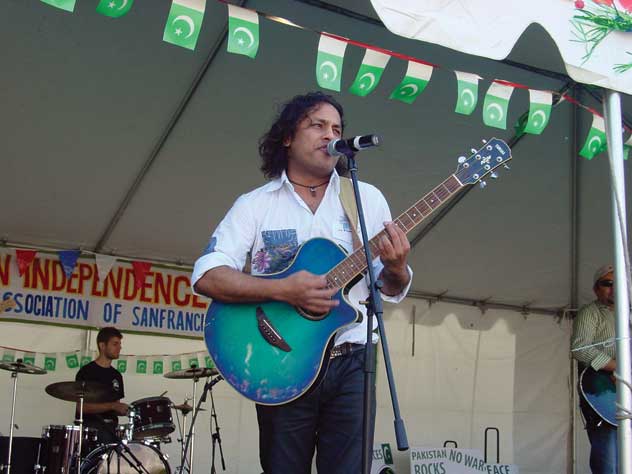 (Above): Najam Sheraz in San Francisco

---
San Francisco

A bigger and more colorful gathering was held here, put together by the local Pakistan Association of San Francisco. This event attracted people from the entire Bay Area and beyond. Entertainment was provided by Imran and a host of others but it was the versatile Najam Sheraz that people came to see. And they were not disappointed and had an opportunity to see a fine performance from him.

But before going into his performance, it was good to see that the theme for this Independence Day gathering included a substantial effort to call for internal Pakistani, regional and world peace. This was a voice of reason and hope emerging from the diaspora of a nation fighting a war from within, calling on all concerned to focus on harmony and tolerance instead.

Najam Sheraz started his performance enhancing the peace theme with "Yeh Muamla Koi Aur Hai" (This is something else) and "Parcham Tumhara Hai" (This Flag is yours) on a patriotic note. But romance soon crept in with "Dil Jahan Miltay Hain" (Where hearts meet)

And a favorite from Sindhi Sufi archives. Najam had quite a bouquet of songs in his almost two hour performance but his rendition of the Late Nusrat Fateh Ali Khan's "Allah Hu" was possibly the most powerful. "Let the world hear you," said Najam Sheraz as he proceeded to sing "Hum Bolain Mohabbat Ki Zabaan" (We speak the language of love). On a side note, Sheraz is releasing his first English song soon titled "Only Love" which we will look forward to.

In conclusion, there is a great deal more to Pakistanis than meets the international media eye. One is glad to see that these young singers are representing the other side of the country which is culturally rich and lively. The three entertainers (Shehzad, Jawad and Najam) whom we saw and heard here in northern California performed an important service for their overseas community and its American friends from other South Asian countries. We were reminded of the benefits of peace and not to forget that joys of Bhangra which beats extremism any day.