EDITORIAL: Swine Flu Pandemic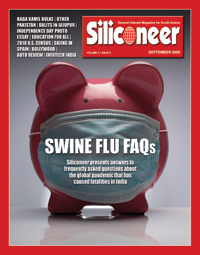 Rarely has a health hazard caused so much alarm in the South Asian community, particularly among Indian Americans, as swine flu.

Of course, with the death toll in India over 83 at press time, there is understandable cause for concern. But that said, one has to remember that the vast majority of people are actually quite safe.

Yet the fact that the disease is caused by a virus not amenable to any vaccine worries people. Studies on the protean, constantly evolving virus are ongoing, and in this month's cover story Siliconeer offers its readers the information provided by the Centers for Disease Control on the nature and symptoms of the illness.

The Centers for Disease Control in Atlanta informs us that the proper name for the virus is novel H1N1. This new virus was first detected in people in the United States in April 2009. This virus is spreading from person-to-person worldwide, probably in much the same way that regular seasonal influenza viruses spread.

This virus was originally referred to as "swine flu" because laboratory testing showed that many of the genes in this new virus were very similar to influenza viruses that normally occur in pigs (swine) in North America. But further study has shown that this new virus is very different from what normally circulates in North American pigs. It has two genes from flu viruses that normally circulate in pigs in Europe and Asia and bird (avian) genes and human genes. Scientists call this a "quadruple reassortant" virus.

The disease has caused considerable panic in India, and for good reason. With news of fatalities and infection continuing to come in, Indian Americans are worried about the old country. This is also a good moment to step back and reflect on the public health infrastructure in India which is, in a word, woeful. Our India correspondent Siddharth Srivastava outlines the broader challenges in public health in India in a separate article.

It is impossible not to note a certain paradox in the frequent loud protestations of proponents of Hindi. Look a little deeper, and it turns out that their passion for making Hindi the compulsory rashtra bhasha or national language of India stands in stark contrast with the neglect Hindi-speakers themselves, not to mention their progeny, tend to demonstrate for the language for which the profess so much affection. Some simple questions tend to draw disturbing answers: What is the state of Hindi publishing? How is it that languages like Bengali and Malayalam, spoken by a fraction of the number of Hindi speakers in India, boast of a publishing industry far more robust and thriving?

The story of Baba Kamil Bulke is instructive. A Belgian whose mother tongue was Flemish, he came to India when it was still ruled by the British, and was appalled to find that educated, elite Hindi speakers were quite besotted to English, the language of their colonial masters. Matters came to a head when he expressed his desire to write his doctoral dissertation in Hindi at Allahabad University. His logic was simple enough: Since it was a dissertation on Hindi literature, Hindi was the natural choice, right? Yet such were the contorted socio-cultural mores of a colonized country that he had to fight for it — and so it came to pass that the first ever doctoral dissertation in Hindi was written by a Caucasian whose first language was Flemish. Poet and folklorist Ved Prakash Vatuk offers a profile of this remarkable man in this month's issue.

India celebrated 62 years of independence with traditional pomp and fervor, but in a village tucked in the hinterland of Uttar Pradesh, the reality is much less festive.

Jajupur is a village in Hardoi District of Uttar Pradesh. Here, over 30 years after being alotted land, dalit landless families still have not been able to cultivate their fields.

The reason is depressingly common. It turns out that no matter how progressive the laws in the statute books are, reality is still 50 years behind. A politically influential feudal family of the neighbouring village Majhgaon is refusing to give up its control on these lands. So what if the law doesn't back them? Even a compromise being worked out now, which the dalits appear prepared to accept, gives the usurpers unfair advantage. Our India editorial consultant Sandeep Pandey writes in detail about it in this month's issue.