RECIPE:
Savory Snack: Broccoli Masala


From the kitchen of Sudha Gupta comes this delicious savory snack, with a fragrance of desi flavors giving it a a delectable, spicy kick.
---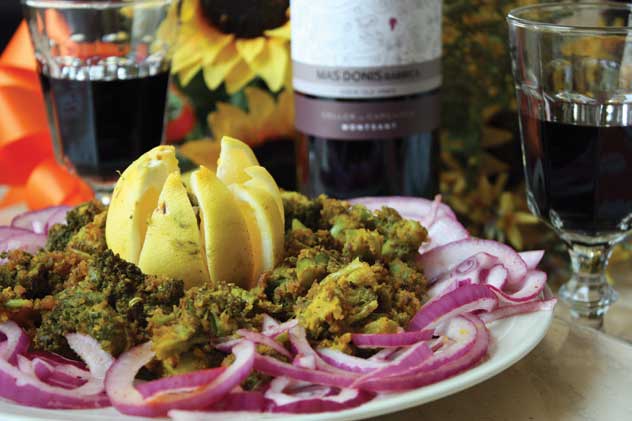 (Above): Broccoli Masala [SILICONEER photo]

---
Ingredients

2 cup broccoli (cut into small pieces)

1 tbsp oil

A pinch of asafetida

1 tsp saunf

1 tsp caraway (ajwain)

1 tsp salt

½ tsp black salt

2 tsp sugar

1 tsp turmeric powder

2 green chili chopped

1 tsp grated ginger

½ tsp black pepper

1 tsp coriander powder

1 tsp garam masala

2 tbsp gram flour (Besan)

4 tbsp lemon juice

For garnishing:

1 lemon

1 medium size onion

Method:

Heat the oil in a pan, put asafetida, green chili, ginger, saunf and ajwain till light brown color, add broccoli, salt and turmeric powder and stir fry until it is half cooked. Add gram flour, coriander powder, black pepper, garam masala and black salt stir for 3-4 minutes. Add sugar and 2 tbsp lemon juice and stir. Switch off the gas and put in broccoli on a plain dish.

Cut onion into rings. Add lemon juice and arrange broccoli and lemon wedges in the shape of a flower.