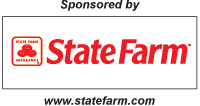 AUTO REVIEW:
Pretty, Fun Package: 2010 Kia Soul +


The Kia Soul + has great gas mileage, good price and plenty of room for the family, and it's pretty, too, writes Sally Miller Wyatt.
---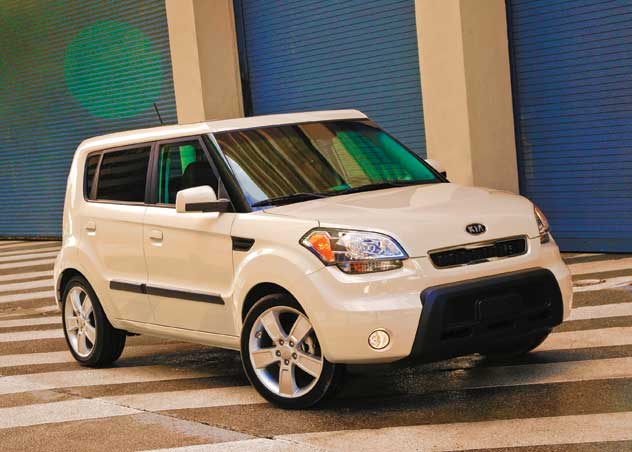 (Above): Exterior view of the 2010 Kia Soul +.

---
Fun things come in little, boxy packages. That's certainly the case with the 2010 Kia Soul +. This smallish, square-shaped car may have been designed for youthful buyers, but surprise! It's also appealing to those with empty nests or families with small children. What's not to love? The Kia Soul's boxy shape offers lots of interior room, the car itself gets respectable gas mileage and the base sticker price is something everyone of every economic level can appreciate.

The Soul comes in four models, and its base price starts at $13,300, with a top price of $16,950. The Soul +, the model we had for our test drive, had a base price of $15,900.

The list of standard equipment is impressive and includes air conditioning; a six-speaker sound system with CD player and AM/FM/MP3 audio; Sirius satellite radio; cruise control; bluetooth hands-free connectivity; power windows, door locks and outside mirrors; remote keyless entry; tinted glass; and USB and auxiliary input jacks.

---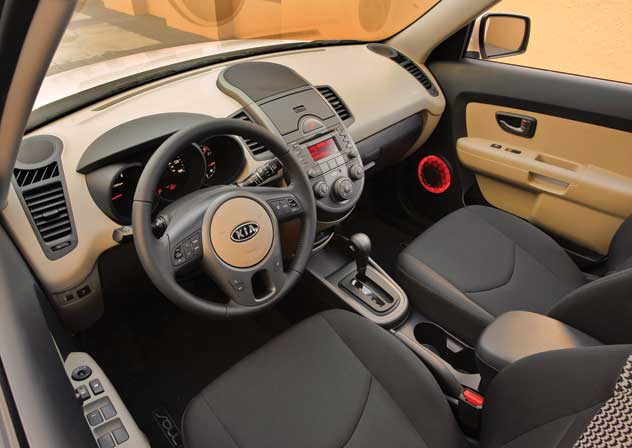 (Above): Interior view of the 2010 Kia Soul +.

---
The Soul's standard safety features include anti-lock brakes and Electronic Stability Control. That's a nice, proactive touch, Kia. They've made this cutting-edge safety feature standard years before the government mandates it in all models. Other safety features include dual front air bags, front seat mounted side air bags and a full length side curtain air bag.

On the inside, you'll find that the car's square shape means an interior that can easily fit four, although five can also fit in here. The rear bench seat is wide, has great leg room, and folds in a 60/40 split. Visibility for your rear seat passengers is great, which children in car seats will appreciate.

Cloth-covered seats are embellished with the Soul logo and the material seemed as if it could easily stand up to all that a family could dish out.

The rear cargo area is on the small side, but still large enough to accommodate a week's worth of groceries.

Behind the wheel, you'll find an instrument panel that is all black and stylishly appointed. The audio system has door speakers that glow and pulse along with the music, if you've turned on the "mood lighting." It was a cool flashback to disco days.

Visibility for the driver in all directions is excellent, again thanks to the Soul's square-shaped windows.

---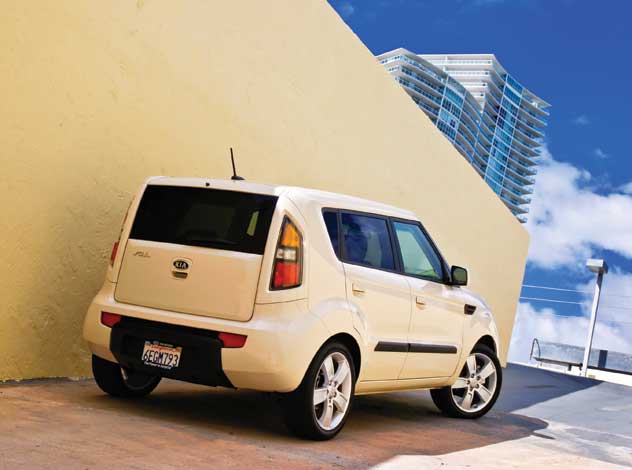 (Above): Exterior view of the 2010 Kia Soul +.

---
On the road, the Soul is a spry little ride that has plenty of pick up and go upon acceleration. It handles well and has, as to be expected, a tight turning radius. Wind and road noise were barely discernible, either at freeway speed or on city streets.

Local Kia dealers say they can hardly keep these Souls on the lot as soon as a new shipment arrives, and I can see why. The Soul is a pretty package – great gas mileage, good price and plenty of room for you and the family – in a good-looking box.

Today's Test Drive: 2010 Kia Soul +

Base Price: $15,900
Price as tested: $17,890
Engine: 2.0 liter, 16-valve, DOHC, 4 cylinder
Transmission: Four-speed automatic
Horsepower: 142 hp
Mileage: 24/city, 30/hwy