SUBCONTINENT
Education for All: India's New Bill


India's prowess in high- over the last decade masks a terrible educational deficiency—one out of three Indians is illiterate. Now a new government bill will make education free and compulsory, writes Priyanka Bhardwaj.
---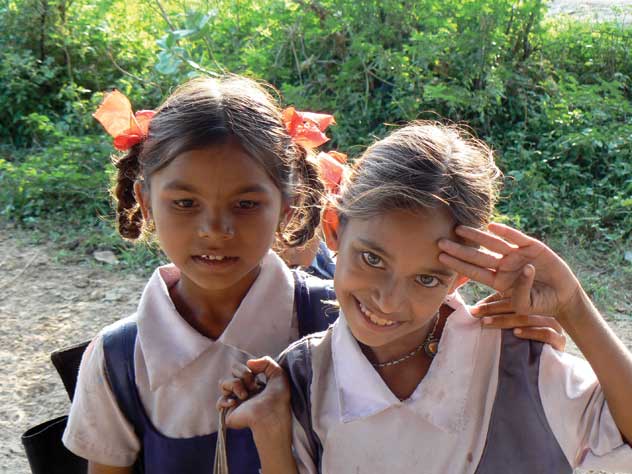 (Above): Children at an Indian village. The Indian Parliament recently passed legislation to guarantee free and compulsory education for children aged between six and 14.
---
The technological prowess that has manifested itself in India's high-tech industries and outsourcing capabilities as well as science and medicine over the last decade masks a terrible educational deficiency.

The fact is that a third of India's billion-strong population is illiterate and 70 million children are denied schooling of any kind.

In an attempt to begin to redress what is obviously a monumental problem, the Indian Parliament recently passed legislation that seeks to provide constitutional guarantees for free and compulsory education for children aged between six and 14.

Termed a "national enterprise that would help shape up India's future," the government has obligated itself to facilitate this right to every Indian child, a goal first articulated by Mahatma Gandhi in 1937 — 72 years ago.

The Western image of Indian mothers is of women fiercely driving their children to study countless hours without rest for exams.

Today almost 60,000 Indian physicians are practicing in the United States, United Kingdom, Canada, and Australia — a workforce equal to 10 percent of the physicians in India and the largest émigré physician workforce in the world.

Yet, despite such impressive statistics, China, Vietnam and Cuba provide free and compulsory elementary education to all children, while India has lagged woefully behind.

Education in India consumes a mere 3 percent of gross domestic product. For every 100 elementary students, only 12 graduate as compared to 50-70 in Europe and 27 globally. India aims to increase its average to a paltry 15 by 2012 and to 35 by 2020.

"While at the top end India's business schools, Indian Institutes of Technology, Indian Institutes of Management and universities produce globally competitive graduates, primary and secondary schools, particularly in rural areas, struggle to find staff, " according to a 2006 briefing paper by Marie Lal for Chatham House. In fact, teacher strength in rural areas often runs no more than 70 percent.

India ranks 102 out of 129 countries, below Kenya and Nicaragua, in the UNESCO's 2009 Education for All Development Index. Official child labor figures show 12 million youngsters continue to be exploited.

The federal minister for Human Resource Development Kapil Sibal has, however, emphasized that the new Right to Education bill is a "harbinger of a new era."

But that isn't the first time the government has said it, and it probably won't be the last.

A long series of educational reforms has been passed since 1987, seeking to restructure and reorganize teacher training, provide cooked meals for children and, in 2000, "the movement to educate all" to achieve universal primary education and, in 2001, the Fundamental Right program "involving the provision of free and compulsory education, declared to be a basic right for children aged between 6 and 14 years." Education has been a part of the directive principles of the Indian Constitution.

Indeed, the task is difficult given India's 1.2 billion population. The dynamics of rural India, where the majority of India's population resides, is difficult to understand and penetrate, given the extreme poverty.

In the rural belts school drop out rate is as high as 50 percent, with millions of first grade entrants never completing even primary school.

The biggest challenge is to push the guardians of this segment into a habit of sending their wards to schools and provide incentives for them to continue learning.

Rural children, especially girls, are unable to attend schools simply due to the long distances. Despite child labor laws, parents prefer to send children for employment as manual labor in order to feed large families back home.

The children are made to work in extremely inhospitable conditions and long hours in small factories (making beedis, glass, crackers, in brick kilns, making handicraft etc.) and dhabas (wayside eateries) as rag pickers, domestic help and even beg in richer urban pockets.

Socio-religious factors are also major impediments. Caste and religious barriers create discrimination that impede dispersal of education.

Mental attitudes relating to sharing educational infrastructure such as libraries, classrooms, toilets, playgrounds are yet to be surmounted.

Then there are the perennial questions about poorly qualified teachers, very high student-teacher ratios, inadequate teaching methods and material.

Teacher absenteeism is chronic, with a 2004 World Bank study showing 25 percent of educators are absent from class at any time.

Inevitably even students completing six years of primary schooling in village government schools lack rudimentary reading and writing skills.

Meanwhile in the urban educational milieu there is an obsession with premature and forced teaching practices.

Middle and upper class children in private schools face extreme pressures to qualify for the highly competitive and vaunted IITs and IIMs, given the limited seats and hordes of seekers.

There are also specific criticisms of the RTE that will need some ironing out

---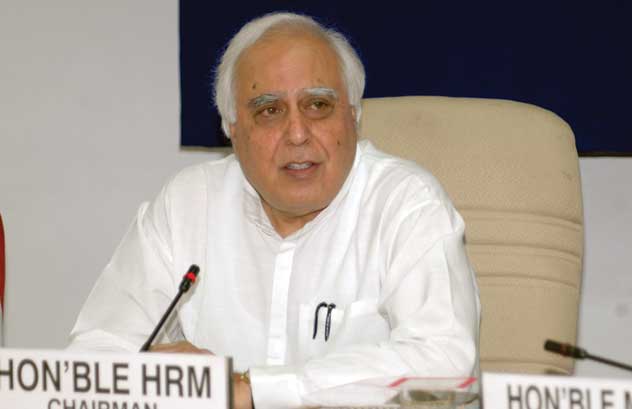 (Above): Union Minister of Human Resource Development Kapil Sibal briefing the media after the 11th Meeting of the National Literacy Mission Authority in New Delhi Aug. 21.
---
Education is listed as a concurrent subject allowing both the centre and the states to regulate it, there are major issues related to co-ordination.

Member of Parliament Asaduddin Owaisi says, "This bill needs to be redrafted as it fails to incorporate the financial implications."

According to some estimates, the financial burden could be around Rs.650 billion both for the centre and states.

Experts have drawn attention that reservation of 25 percent seats for weaker sections in private schools should not burden the rest financially.

An aspect of this is the expected trauma of rich and the poor sharing the same space. There will be some socio-economic coping to integrate the shared educational set up.

The use of media such as television for learning in rural areas along with emphasis on oral learning and formal literacy has been ignored by the RTE Act. Satellite delivered teaching can be successfully employed.

Indeed, there is a long way to go and India's implementation record is abysmal.

If India is to sustain its growth story then its educational apparatus needs a complete overhaul.

Nonetheless, the RTE bill, Sibal insists, will be a precursor to change and is in line with UN Millennium Development Goals that includes universal education as a target to be accomplished by 2015.

It will include among its beneficiaries children with disabilities, with special schools for the purpose. It seeks to crack down on schools accused of manipulating discretionary powers to charge huge capitation fees from parents for admissions of their wards.

Quality teachers approved by the academic committee will be appointed.

Minority institutions will be allowed to retain 50 percent seats for children of their own communities. Private schools will be required to admit poor children for a quarter of their seats.

The mother tongue may be the preferred medium of instruction while independent state efforts will not be interfered with.

The bill also categorizes disadvantaged group as scheduled castes/scheduled tribes/socially and educationally backward class and those with lower incomes.

While there is a long way to go, there is some reason for hope.

According to the Finance Ministry's annual economic survey the 440 million Indians under the age of 18 can be developed into a valuable pool of cognitive talent if harnessed the right way.

Effective Education for Employment, a global research firm, has said that, education is emerging as a vast and expanding market in India.

Is a word, the task remains challenging, but success can bring rich dividends. It remains to be seen if the government can at last prove the cynics and skeptics wrong.