TRIBUTE
Father Nahin, Baba Kaho: Tribute to Kamil Bulke


It's a strange and sad commentary on the state of Hindi that the first person to demand the right to write a doctoral thesis on Hindi literature in the Hindi language itself was a Jesuit of Belgian Flemish descent. Ved Prakash Vatuk outlines the remarkable life of Baba Kamil Bulke.
---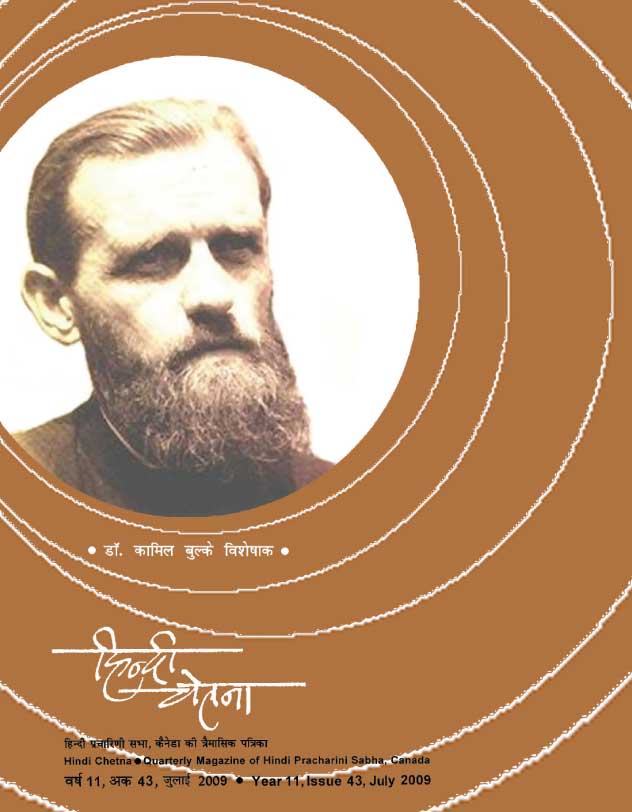 (Above): The cover of Hindi Chetna magazine'S July 2009 issue on Baba Kamil Bulke. The issue can be viewed on the Web at http://www.vibhom.com/pdf/July_Hindi_Chetna_Online_2009.pdf (Courtesy: Sudha Om Dhingra)
---
January 10, 1975. Thousands of Hindi scholars, poets, writers and readers have gathered in Nagpur, a city in Maharashatra, for the first Vishva Hindi Sammelan. The fact that this Sammelan was organized by a Maharashtrian stalwart journalist — Anant Gopal Shevre — says something about the dedication of Hindiwalas toward their language. This was the first time that Hindi scholars from all over the world came together. And so did all the people in power: then-Prime Minister Indira Gandhi and many of her ministers — like Narsinmha Rao and Karan Singh — the then Mauritius Prime Minister Sir Ram Gulam and many other representatives of other governments where Indians had settled in larger numbers for more than a century — Trinidad, Guyana, Fiji, etc. This was also the first time when Indian Hindiwalas had a chance to see scores of American and European white Hindi scholars. They were so thrilled to hear some Hindi phrases coming out of the mouths of gore log! They were overcome with devotion. As if gods from heaven had descended to rescue Hindi and give it its proper place in Indian society and government.

Among these white gods of Hindi was one tall handsome 66-year-old Jesuit priest dressed in white. He could be seen from far away. Some people ran after him. Since they were not used to talking with a white man in Hindi, one of them shouted something in Indian English addressing him "Father Bulke." He turned around and told him in Hindi "Father nahin, baba kaho." (Don't call me father, call me baba).

People still kept talking to him in English until he firmly admonished them: "Aap Hindi mein kyon nahin bolte, kya main Hindi nahin janta ya bol nahin sakta?" (Why don't you speak in Hindi, do you think I don't know Hindi or can't speak in Hindi?")

When this sammelan tried to honor Baba Bulke for his great service to Hindi as a foreigner, he deeply resented it. "I am as Indian as you are.," he retorted.

---
(Above): At Kamil Bulke's house in Ranchi (l-r) Kamil Bulke, "Nayi Dhara" editor Dr. Dineshwar Prasad, Late Shiv Chandra Sharma and Shamser Bahadur Singh.
---
Who was this saintly man, who was so devoted to Hindi and to whom English was not such a godly language as to worship it?

Kamil (or Camille) Bulke was born on Sept. 1, 1909, in Ramskapelle, a small village in Knokke-Heist district in the West Flanders region of Belgium. He was trained as a civil engineer and had a B.Sc. in civil engineering from Louvain University. But his heart was not in it. He was a spiritual person. He became a Jesuit in 1930. He went to Valkenburg in the Netherlands to receive philosophical training. After two years' training he decided in 1934 to go to India as a missionary. He arrived in India in 1935. He taught mathematics at Gumla in Jharkhand for sometime.

As soon as Bulke arrived in India, he was surprised and shocked to find that elites loved to converse in English as a mark of pride. He wrote, "When I arrived in India in 1935, I was surprised and pained when I realized that many educated people were unaware of their cultural traditions and considered it a matter of pride to speak in English. I resolved that my duty would be to master the language of the people." Kamil Bulke's mother tongue was Flemish, and being a citizen of Belguim he had to study French. During his theological training he studied Latin and Greek as well, and became expert in German. He did know English, but he was not a slave to it. For Indians at that time it might have been a matter of pride not only to be good servant of the British, but to be devotees of their language, too. (The awe for English is still great despite all the lip service made to honor their mother tongue.) But to this 26-year-old citizen of Belgium this mental slavery was despicable. After all, in his own country he had taken part in a movement which agitated for his mother tongue Flemish to have a proper place in his country. That is why as soon as he arrived in India he made his mission to master Hindi.

His first Hindi teacher was Sanskrit scholar Bhadridatt of Sitagarh, who obtained his M.A. in Sanskrit from Benaras Hindu University, where he stood first in his class. He also gave him an elementary knowledge of Sanskrit. At the same time he took his theological training in Kurseong in 1939-42. The title of his thesis which he wrote to fulfill his requirement for M.A. in theology was: "Theism of Nyaya Vaishashik." He was ordained as a priest in 1941. Bulke obtained his BA in Sanskrit from Calcutta University. He did his M.A. in Hindi from Allahabad University. He was awarded the degree of D.Phil in Hindi from the same university in 1949.

But his love for Hindi was not limited to just getting a doctorate in Hindi. He was fighting also for the proper place that Hindi should be given in the academic world — to bring linguistic slavery to an end. For this he had to take a stand. Before he enrolled to do research for a D. Phil degree, people wrote their theses in English even when the subject of research was Hindi literature. However, this Jesuit priest declared, "English is neither my mother tongue nor is the subject of my research. Therefore I should be allowed to submit my thesis either in my mother tongue or in Hindi, which is the subject of my research." He was adamant about his demand until the university most famous for Hindi studies agreed to it. What an irony that the first doctoral thesis in Hindi should be written in Hindi (in Devanagari script) by a so-called foreigner, a white Christian. Thus Indians were liberated from their linguistic slavery by this great devotee of Hindi. Even today, I think besides India, nowhere else is a thesis about Hindi literature written in Hindi.

But the greatness of Kamil Bulke does not lie in this act alone. The greatness lies in the subject that this Jesuit priest chose for his thesis. It was the devotional literature of Hindi that attracted him the most and in it he specially loved Tulsidas and his Ram Charitmanas. The more he read the Manas, the more he was attracted to it. The righteous goodness, lofty ideals and values of Ramcharitmanas characters and its poetic excellence fascinated him to such an extent that it almost became an object of worship for him. He found a striking resemblance between the ethical aspect of righteous conduct and value of life as portrayed by Tulsidas and those propounded by Jesus Christ in his discourses. He chose the subject of his research: Ramkatha: Utpatti Aur Vikas (Rama's story: the origin and development.) He had to study hundreds of versions of Rama's story to write his treatise. The depth of his investigation and scholarship is still unsurpassed. As soon as the book was published Kamil Bulke was called the "most famous Christian Hindi scholar."

---
(Above, clockwise from top): Maria Bulke, mother of Kamil Bulke; Adolf Bulke, father of Kamil Bulke; the church in the ancestral village in Flemish Belgium where Kamil Bulke was born; and Baba Kami Bulke at home in Ranchi..\
---
Even though he was appointed the head of Hindi and Sanskrit Department at Xavier's College in Ranchi, Kamil Bulke remained devoted to research. He selected his favorite passages from the Ramcharitmanas and published a book on them — Manas Kaumudi. He wrote a book comparing the New Testament and Tulsi's Vinaya Patrika – Vinaya Patrika aur Naya Vidhan- Ek Tulnatmak Adhyayan. He also participated in hundreds of conferences on Ramayana. He translated the New Testament — Naya Vidhan — into modern Hindi.. He also wrote a biography of Jesus based on the four gospels under the title Muktidata.

Kamil Bulke also published a Technical English-Hindi Glossary of General Culture in 1955 and in 1977 his most famous Angrezi-Hindi Shabdkosh was published. Since then it has been printed in several editions.

He was appointed to the Central Hindi Committee by the Indian government. He was one of the founder members of Bihar Rashtrabhasha Parishad. He remained active in that organization until his death. Kamil Bulke had a keen interest in new trends in Indian writing. Besides poetry he read a novel every week as long as he lived. He was a very inspirational figure to his students who held him in great esteem. He truly lived by the ethics of love as taught by Jesus — indeed a rare thing. He was respected by the followers of all religions. Indeed he was an ajatshatru (a man without an enemy.)

Kamil Bulke became an Indian citizen in 1951 and from then on he was very proud to call himself an Indian or a Bihari. He was honored by the Indian government with a Padma Bhushan for his "unique contribution to Hindi studies."

He died on August 17, 1982, in Delhi while still working on a Hindi translation of the complete Bible.

Special thanks to Sudha Om Dhingra, an editor with Hindi Chetna magazine, for providing photographs.