HINDI FILM REVIEW:
Slick Thriller: Kaminey


Rating: **** (Superior)
Kaminey

Story, Dialogues, Music and Direction: Vishal Bhardwaj
Starring: Priyanka Chopra, Shahid Kapoor, Amole Gupte, Deb Mukherjee and Harish Khanna.

---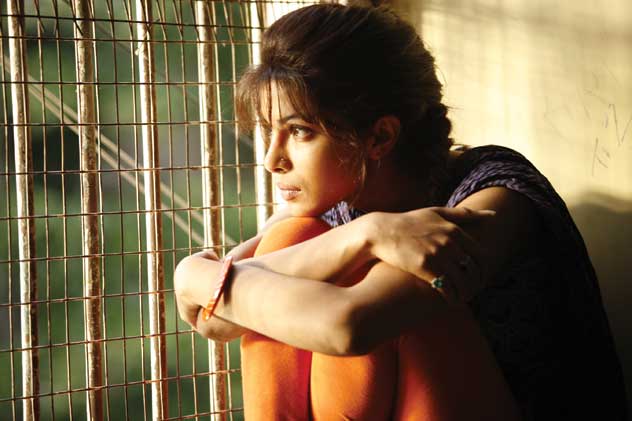 (Above): Priyanka Chopra in "Kaminey."

---
These pages have been pretty brutal to the stuff that's been coming out of Bollywood lately — and trust me, it's not been fun for the reviewer either.

So when along comes a film that breaks out of Bollywood clichés (not entirely, but more on that in a moment) it's certainly like a breath of fresh air. Granted, prudes might want to take the reviewer to task for using words like that to describe a film which positively wallows in blood, gore and criminality.

Kaminey's soul is in dark noirish films—think Quentin Tarantino. Crime, double-crossing, double-double-crossing abound in a positively Shakespearean tangled web of deceit that entangles assorted gangs, thugs from as far as Angola, a jingoistic Maharashtrian political goon/ crook and top brass of Mumbai's best and brightest (that doesn't leave anybody, does it?) in a hopelessly complicated spaghetti of connections that would take a supercomputer to unravel.

---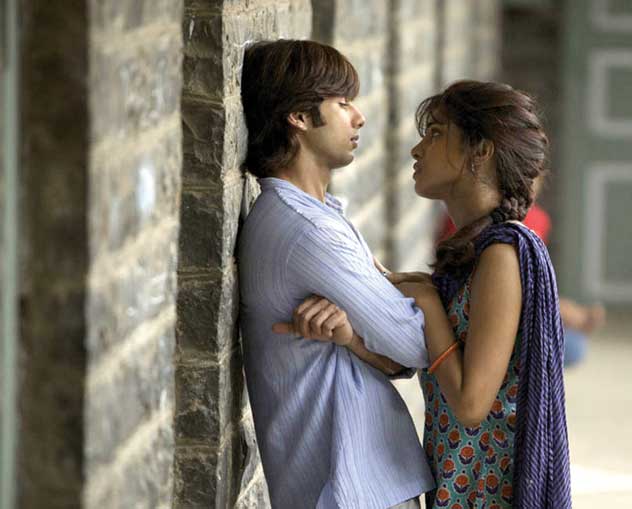 (Above): Shahid Kapoor and Priyanka Chopra in "Kaminey."

---
But you know the funny thing about it all? The film works. Of course, there's some Bollywood license taken (for the uninitiated, Bollywood license is the sort of liberties taken with logic that makes your standard poetic license seem like the soul of moderation).

The one major Bollywood storytelling device that the film can't avoid—in fact it hinges on it—is our good old Bollywood friend identical twins (Duplicate is a more recent example, old-timers may remember Seeta Aur Geeta).

But one can forgive Vishal Bharadwaj because of the sheer technical polish of the film. Beautiful cinematography, whiplash editing, and some smart, occasionally witty but occasionally lewd dialogue sets a crackerjack pace that doesn't let the viewer pause (which in a Bollywood film, is a useful safety valve—few Bollywood storylines can bear much logical scrutiny).

Charlie and Guddu (Shahid Kapoor in a knockout performance) are identical twins, but they are as different as chalk and cheese. The two have parted ways after a traumatic incident in their childhood.

---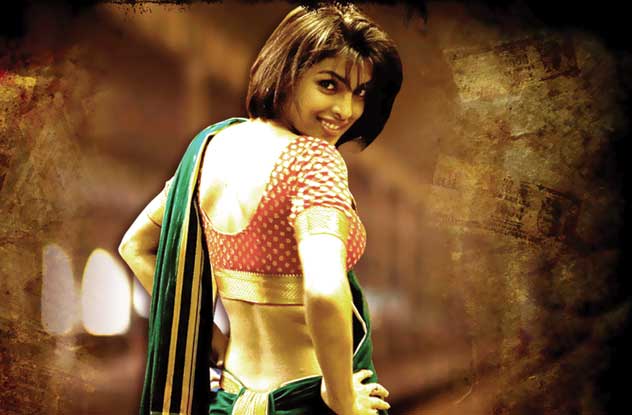 (Above): Priyanka Chopra in "Kaminey."

---
Guddu, who stammers, works for an NGO and is a bit of a dork. He is in love with Sweety (Priyanka Chopra, in a remarkable, utterly convincing performance). Charlie is a small-time crook who works with three Bengali thugs (yeah, Bengali!) — Mujeeb, Shumon and Mikhail (It's unclear whether the writer ought to be commended for that spot of secular spirit among crooks).

The movie starts with Charlie in — as the elder Bush had memorably put it — deep doo-doo. You see, Charlie helps fix races — but the jockey has double-crossed him. So he gets hold of the jockey and beat the bejeezus out of him.

As luck would have it, he stumbles into another assassination and lays his hand on a guitar packed with narcotics.

Meanwhile, Guddu has his own problems. It turns out Sweety is in the family way, but marriage is a dicey proposition because she is the sister of an underworld don/ chauvinist Maharashtrian politician.

In one way or another, both get caught up along with the Maharashtrian goon, another gangster, Tashi, and Mumbai cops in a cat-and-mouse game of who gets hold of the guitar and its stash of drugs.

Throw in some superb car-chase scenes and some beautifully shot action sequences and you get the idea.

---
(Above): Shahid Kapoor and Priyanka Chopra in "Kaminey."

---
The dialogue is tapori, a bit smart-alecky (think Reservoir Dogs— "It's not the path that we choose that screws us, it's the path that we leave behind"), and the overall feel of the film is definitely dark, showing Mumbai as a total moral wasteland (heck, that's not as far from the truth as we would like). But in all that darkness is the touching, if unconventional love of Sweety and Guddu, and Priyanka is absolutely riveting as a little spitfire of a woman.

Sure, the violence is over the top, and the story has a few loose ends, but overall it's smart, intelligent, stylish and fun to watch. If one worry was whether your average Bollywood buff would take to this unconventional fare, those doubts have been put to rest with soaring box office returns. Good for them, and good for Bollywood.