COVER STORY
Hungry for Coal: India's Soaring Imports

Coal accounts for more than 50% of India's primary energy basket, consumed by power and steel companies. Around 70% of India's electricity is generated from coal. As the Indian economy continues to grow at a fast clip, domestic production lags demand, and imports are surging in India's relentless pursuit of coal, writes Siddharth Srivastava.
---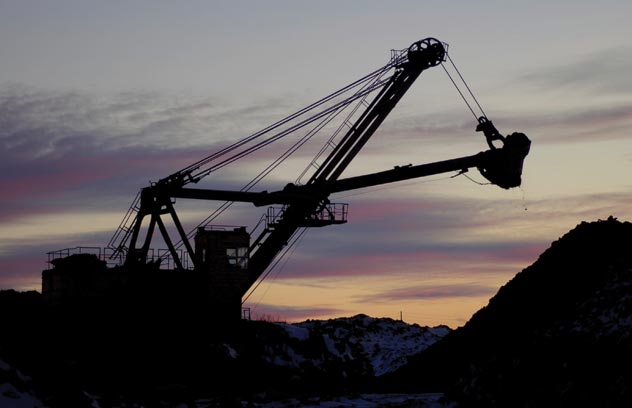 ---
India's relentless pursuit of coal continues, even as domestic production lags demand.

India's federal Coal Minister Sriprakash Jaiswal recently said that coal imports are likely to rise 21 percent in 2010/11.

Coal accounts for more than 50 percent of India's primary energy basket, consumed by power and steel companies. Around 70 percent of India's electricity is generated from over 80 coal-fired thermal plants.

Coal demand from India and China is driving global prices up.

Rising imports is due to local output not keeping pace with an increase in demand, thanks to a growing Indian economy, Jaiswal said, adding that coal imports in 2010/11 is being estimated at nearly 85 million metric tons up from 70 million metric tons in the current fiscal year.

This is even as India's coal production in 2010/11 is likely to reach nearly 572 million metric tons, up from an estimated 533 million metric tons in the current fiscal year.

"Though local production has increased by about 8 percent, yet energy requirement has risen by 15 percent," he said. "Naxalism that has severely impacted India's coal belt states such as Jharkhand, Bihar, Orissa, and slow environmental clearances have hampered local production."

New Delhi has set a target to add over 78,000 megawatts of capacity by 2012, a large portion of which will be coal-based.

---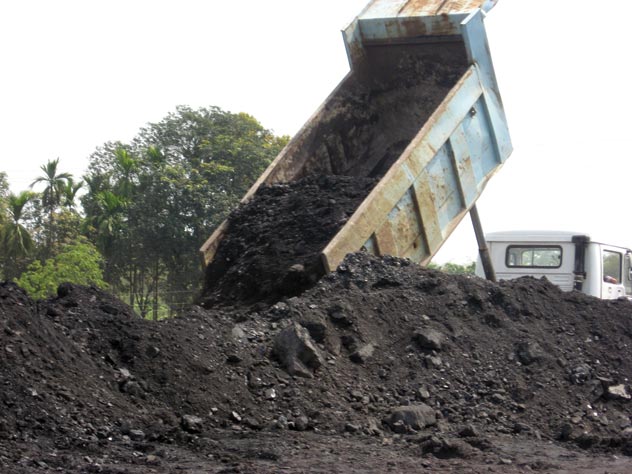 (Above): A coal mine in Assam, India.
---
Major coal consumers in the country include state power generator National Thermal Power Corp, private entities Reliance Infrastructure, Jindal Steel & Power, Adani Power, Torrent Power and Lanco Infratech.

Coal is also needed by the Maharashtra State Power Generation Ltd and the Karnataka Power Corp.

Indeed, there is every indication that India's coal demand is going to be relentless. Crisil Ltd, a unit of Standard & Poor's, has predicted Indian coal demand at 1.4 billion tons by 2020, exceeding domestic supply of 1.1 billion tons.

It is estimated that India, a rising Asian economy, could soon overtake Europe as the largest buyer of South African coal, going by the trends in 2009 and this year.

According to Mjunction Services Ltd., a Web-based trader backed by steel producers, India's coal imports will rise to 110 million metric tons in 2012.

South Korea-based Doosan Heavy Industries & Construction Co recently said that India may add 160 GW of coal-powered plants over the next 10 years as economic growth spurs demand.

Doosan recently won an over $1 billion contract from GMR Energy to build a coal-fired power plant in Chhatisgarh.

India's overseas coal efforts are being backed at the highest levels.

Assisted by the power and coal ministries, the Prime Minister's Office is looking to streamline acquisition methods of overseas mineral assets.

---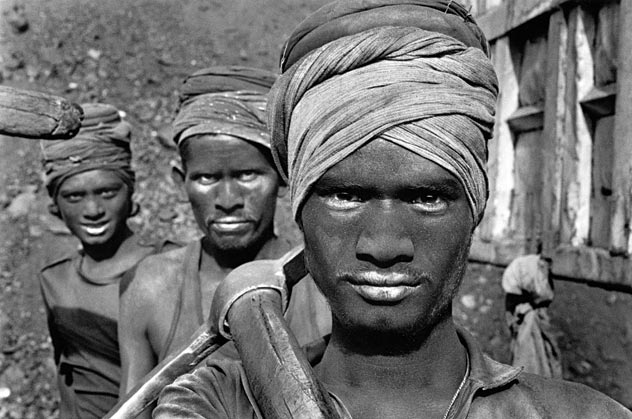 (Above): Workers in a coal mine in Dhanbad, Bihar. [SEBASTIAN DELGADO photo]
---
A high-level meeting was convened recently under the aegis of the PMO attended by heads of Coal India Limited, the National Mineral Development Corporation, Rashtriya Ispat Nigam Limited and NTPC to evolve a consensus on winning mineral assets in Africa, Southeast Asia and Latin America.

Proposals were studied to allow joint ventures with foreign partners to bid for coal blocks to push up supplies. Prospects of a new open bidding regime were debated under which the government is to evaluate the quantity of coal in a mine, set a minimum price and then offer it to the highest buyer as happens in the oil and gas sector.

The process of allotting blocks will be done away with. There are nearly 80 unexplored coal blocks to be given away.

Companies like BHP Billiton, Rio Tinto, Vale, Monnet Ispat, Gujarat NRE, the Tata Group and the Jindals are expected to benefit.

Meanwhile, to push domestic production, in budget submissions last month, New Delhi ratified a Coal Ministry move to auction coal blocks for captive use to ensure transparency and speed the allotment process.

The government also proposed setting up a coal regulator to mainly tackle issues such as coal pricing.

Both the proposals are now awaiting parliament clearance.

In a reaction, Coal India Limited chairman Partha S. Bhattacharya said, "Setting up of a regulator for the coal sector is necessary to provide a level playing field. Auctioning of coal blocks for captive use will ensure transparency and encourage serious players."

Given the domestic lag, companies are moving to tie-up supply sources abroad.

---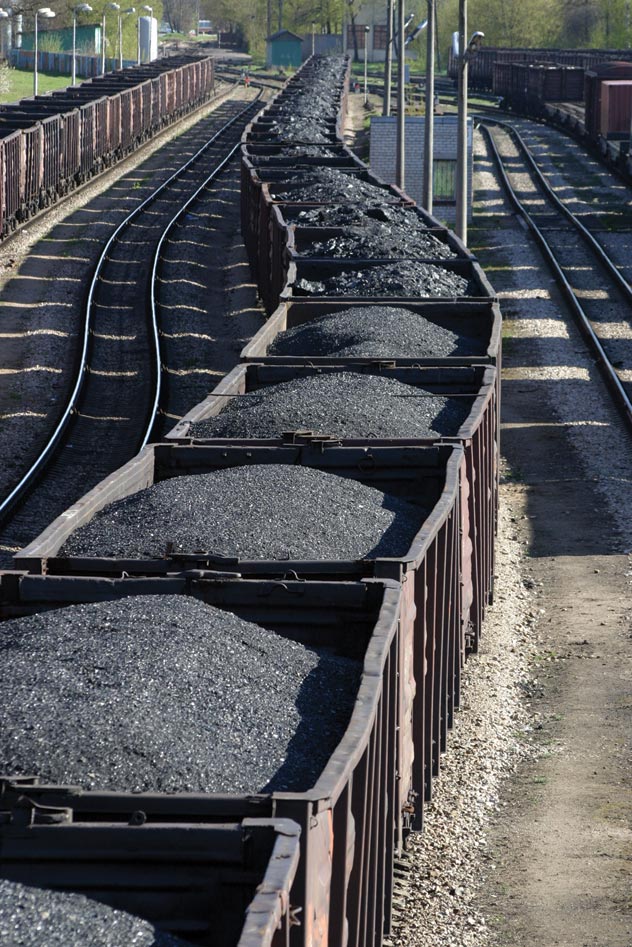 ---
Firms are looking at Australia, Indonesia and South Africa as major suppliers of coal. Indonesian coal is an important source for Indian steel firms.

According to recent reports, Europe is close to shipping surplus coal for the first time from Netherlands stockpiles to India, given the surging demand in India.

Meanwhile Coal India is set to issue tenders for importing about 10 million tons of coal in 2010-11. Bhattacharyya said, "Our main objective is to make imported coal available in the country at a cheaper price."

Coal India recently announced that it has given a go-ahead to 10 proposals for a strategic partnership with international mining companies in Australia, the U.S. and Indonesia, without naming the firms involved in the tie-ups.

Recent reports suggest that Indian conglomerate Essar Group is in talks to buy Trinity Coal from U.S. private equity firm Denham Capital for $550-$600 million.

India's largest private sector power utility Tata Power Co. Ltd is looking to increase coal mining capacity in Indonesia by a fourth, its executive director S. Ramakrishnan recently said. Capacity will be increased to 75 million metric tons a year from the current 60 million metric tons.

NTPC has set a target to import 12.5 million metric tons of coal in 2010-11 against a total requirement of 150 million metric tons. The firm's own capacity is 86 percent coal-based, operated via 15 coal-based power stations.