EDITORIAL: India's Hunger for Coal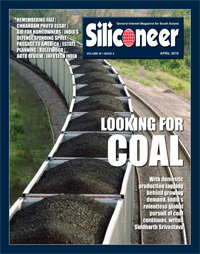 India's economic growth has caught the eye of many analysts in the world, but what has escaped the notice of many is the price tag that necessarily entails — a voracious appetite for energy. India is still a developing country, so it gets a substantial part of its energy from coal, and it needs a lot of it.

India's domestic coal resources are not inconsiderable, but production cannot keep up with the needs of an economy growing at a fast clip.

The answer? India is now casting a covetous eye outside its borders. It is trying to increase imports as it tries to firm up deals with foreign companies to enhance mining coal indigenously as well.

Our India correspondent Siddharth Srivastava explores the issue in our cover story this month.

Faiz Ahmed Faiz combined an exquisitely nuanced command of Urdu poetry with a heartfelt commiseration for the oppressed and the dispossessed, and so all his life, as the powers that be tried to suppress him, throwing him in jail, his stature among the broader masses kept soaring higher and higher.
This Pakistani poet was as beloved in the literary salons as he was to the ordinary folks on the street side café, and so it is no surprise that when an event was hosted recently in Milpitas, Calif., to pay homage to him, nearly 200 Indian and Pakistani aficionados attended.

The event also honored the recently deceased Pakistani singer Iqbal Bano, who immortalized one of Faiz's unforgettable poems of civil disobedience and defiance.

As a poet, Faiz began writing on the conventional themes of love and beauty, but soon these conventional themes got submerged in the larger social and political issues of the day. The traditional grief of love got fused with the travails of afflicted humanity, and Faiz used his poetry to champion the cause of humanism and social justice. Consequently, the familiar imagery of a love-poet acquired new meanings in the hands of Faiz. This turning away from romance to realism, is beautifully suggested in his poem (a nazm), "Mujh se pehli si mohabbat meri mahboob na maang."

In the matter of diction and style, Faiz may be called the inheritor of the tradition of Ghalib. Although he has written poems in a simple, conversational style, he has a marked preference for polished, Persianized diction, the diction of the elite rather than of the commoners. But because of the universality of his thought and sympathetic vision, and because of his perfect handling of the ghazal, his poetry is read and admired across the class divide.

At a time of continuing dissention and bitter rivalries all over the world, the event is particularly heartening. All his life, Faiz celebrated and championed an inclusive humanism, so he would be pleased that in one corner of the world in California, his message resonated. Our correspondent Ras Hafiz Siddiqui was at the event and has filed a report for this month's issue.

Ah the classical charms of cricket! One is reminded of staunch traditionalists like the dyed-in-the-wool English writer Neville Cardus, a passionate cricket aficionado who loved cricket just the way it had always been — quirky, gentle, graceful, sedate and gentlemanly.

It's a good thing Cardus is no longer around, because one shudders to think how he would have reacted to the travesty that the noble sport has become after falling prey to hucksters who will stop at nothing to make a quick buck.

Commercialism has hit what was once a gentleman's game with a vengeance, and its most gaudy manifestation is the current Indian Premier League. Gone are the men in spotless white playing in a sea of soothing green —You have, instead, scantily clad cheerleaders, cricketers sporting garish costumes and the players, field and even umpires plastered with advertisements.

IPL commissioner Lalit Modi has the dubious distinction of being a latter day P.T. Barnum of the highly regarded sport, and while purists may lament the way the game has been sacrifice to crass commercialism, he appears least bothered.

Star cricketers are pretty happy too, they are now drawing astronomical salaries that are more than football players of the English Premier League.

However, for those who love cricket, it's a terrible sight to behold. One faint glimmer of hope is the recent stand of India's sports minister, who has sharply criticized the Indian cricket board for turning a much beloved sport into a circus. We carry a detailed story in this month's issue.