HINDI FILM REVIEW:
A Fine Comedy: Atithi Tum Kab Jaoge?


Rating: ***1/2 (Good)
Atithi Tum Kab Jaoge?

Directed by: Ashwani Dhir
Music: Pritam Chakraborty
Starring: Ajay Devgn, Konkona Sen Sharma, Paresh Rawal, Satish Kaushik, Akhilendra Mishra and Viju Khote.

---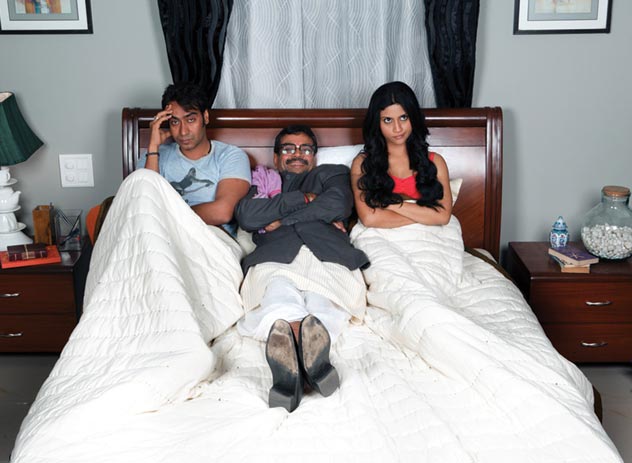 (Above): Ajay Devgn, Paresh Rawal and Konkona Sen Sharma in "Atithi Tum Kab Jaoge?"

---
The title, of course, gives away the plot. It's Hindi for "Guest, when will you leave?" That's exactly how Puneet (Ajay Devgn) and Munmun (Konkona Sen Sharma) feel when Lambodar (Paresh Rawal), a bumptious busybody of a senior citizen, lands up in their apartment, claiming to be their uncle.

Hindi comedies are no laughing matter. The typical Bollywood product can be execrable — because comedy is tough, and the temptation to substitute lewd allusions and slapstick for the more cerebrally challenging witty sequence or dialogue is too seductive to resist.

This film is like a breath of fresh air.

It only takes five minutes and you know you have in front of you a superb combination of nimble wit, believable situations, and a wonderful sense of comic timing and you are giggling, smiling or guffawing in no time at all.

Lord knows Bollywood has a long way to go in terms of ensuring a basic filmmaking quality in most of its films, and it's no wonder most films sink like a lead balloon, but something exciting is also happening.

---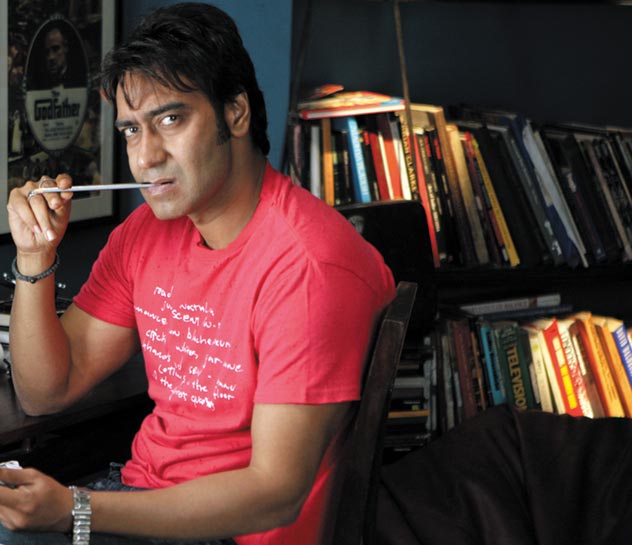 (Above): Ajay Devgn in "Atithi Tum Kab Jaoge?"

---
Think Bheja Fry and or Khosla Pe Ghosla. You are beginning to come across films where comedy has become intelligent, real, witty, and urbane, with a new breed of filmmakers jettisoning the stylized, overwrought and crude humor of yesteryear.

The first few moments in the film reveal one hilarious situation after another.

Puneet makes a wonderfully funny pitch for a script to a Bollywood masala filmmaker that leaves no Bollywood cliché alone, while his wife Munmun has to deal with an impossible client who keeps changing her mind based on vastu shastra, then hubby and wife argue over the phone in a way that is so realistic yet funny that it will draw many a wry smile.

That's just the hors d'oeuvres. The real fun begins when Lambodar, a rustic, small-town elderly man, shows up at the apartment of Puneet.

---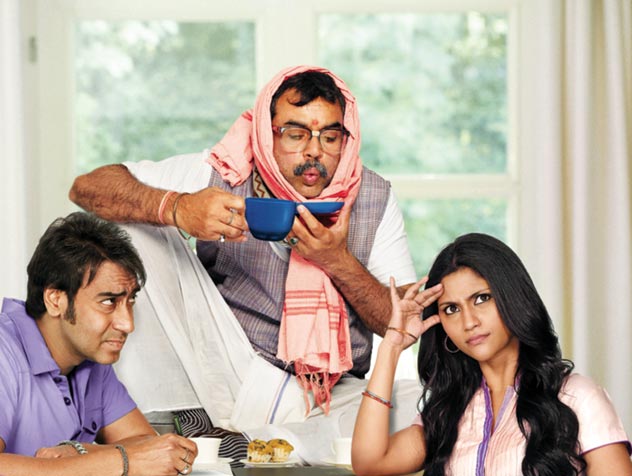 (Above): Ajay Devgn, Paresh Rawal and Konkona Sen Sharma in "Atithi Tum Kab Jaoge?"

---
Puneet 's is a typical urban nuclear family of hubby, wife and kid Ayush. Their values are also yuppie – they like life to be neat, well organized and free of unexpected encumbrances. Lambodar, on the other hand, represents old-world, rural India — warm and affectionate, but also nosy, loud, given to imposing and a bit of a boor.

His habit of belching and passing wind, blithely demanding service without giving a toss that it can be an imposition on a working woman, a penchant for being a nuisance socially, and the hapless plight of the urban couple who are desperate to get rid of him but are too embarrassed to ask him to leave, present a gold mine of comic possibilities which the screenplay writer uses with great wit and finesse.

However, Lambodar is not a totally negative character. His deep roots in Indian culture, his affectionate nature and his devout Hindu values do present a side of him that is appealing.

---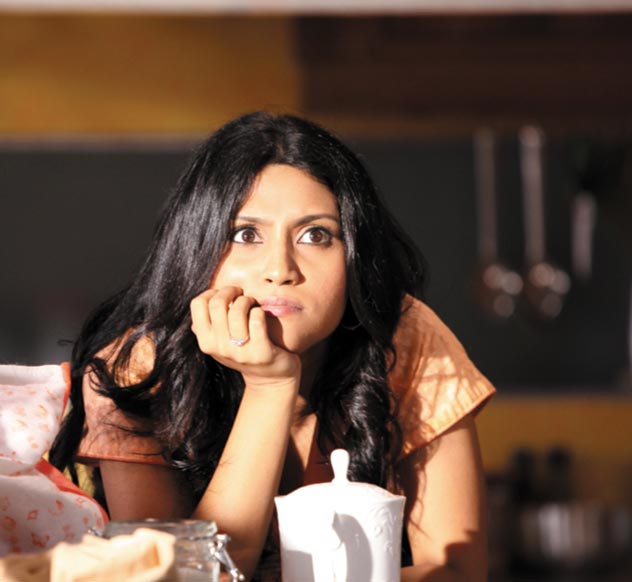 (Above): Konkona Sen Sharma in "Atithi Tum Kab Jaoge?"

---
The dour Devgn is wonderful as the hapless Puneet and Konkona as the harried professional wife keeps him excellent company, but unsurprisingly, this is Paresh Rawal's show all the way. He is simply a hoot as the ebullient, boorish rustic elderly busybody.

The production values are so realistic that you get the feel of walking into the lives of an urban Mumbai couple, visiting their home and workplaces, and the laughs keep coming with the humor witty, intelligent and clean.

---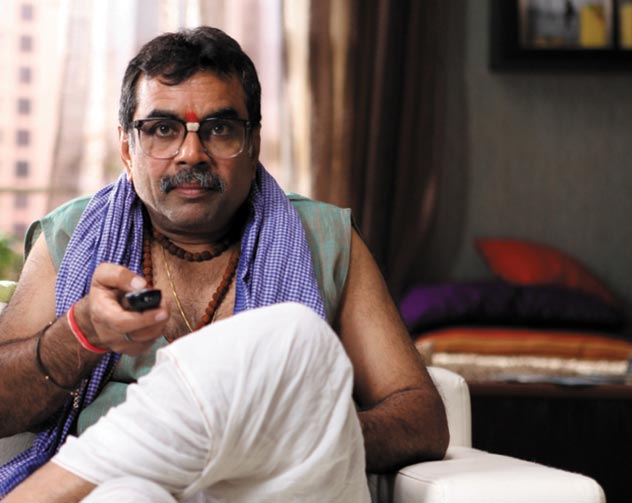 (Above): Paresh Rawal in "Atithi Tum Kab Jaoge?"

---
Of course, the film is not without its flaws. In this day of ubiquitous cell phones in India—even in villages, let alone small towns—it's hard to believe that Puneet would need more than a few minutes and a couple of phone calls to figure out whether Lambodar is who he says he is. For a comic film, the film will surprise many as it takes a serious and sentimental turn at the end. I'm not sure that works particularly well.

Having said that, good, high quality comedy is very difficult to do, and this film succeeds in that. It's a an excellent effort, and one that's particularly rare in Bollywood. Go see it.