RECIPE:
Veggie Snack: Hariyali Paneer Tikka


From the kitchen of chef Sanjay Patel, here's a delicious vegetarian snack that has all the delightful flavors of skewered kebabs. Serve it as an appetizer or a snack with cocktails.
---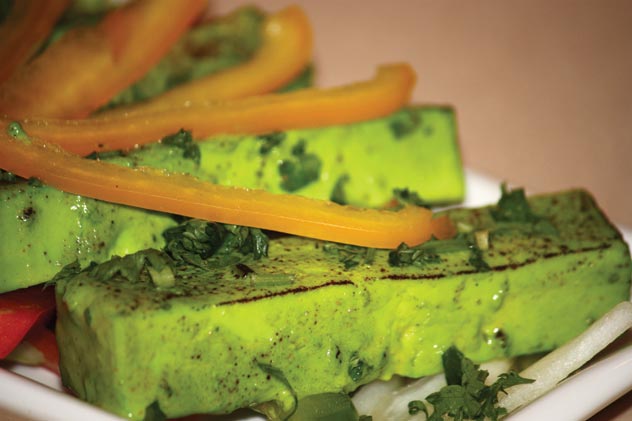 (Above): Hariyali Paneer Tikka. [SILICONEER photo]

---
Ingredients

1 lb paneer

1 cup plain yogurt

2 bunch cilantro

1 bunch mint

4 to 6 green chilies

30 gm garlic

1 onion for garnish

1 bell pepper

1 tsp ginger paste

1 tsp garam masala powder

1 tsp chat masala

Salt to taste

2 tbsp oil

Juice of two lemons

Method:

Put cilantro, mint leaves, green chilies, garlic, ginger paste and lemon juice in a mixer and grind it to a paste. Add yogurt, salt, garam masala powder, chat masala powder.

Cut paneer in big slices.

Marinate Paneer in this mixture for half an hour.

You can cook it in a tandoor, or put little oil in a pan and cook it on high flame or heat oven to maximum heat and cook for ten minutes.

Garnish with onion rings and bell pepper. Serve hot.