SUBCONTINENT
India's Climate Change Policy: Debate in Strategy


The exit of Shyam Saran underscores a growing dispute over India's climate change policy between Saran and Environment Minister Jairam Ramesh, writes Priyanka Bhardwaj.
---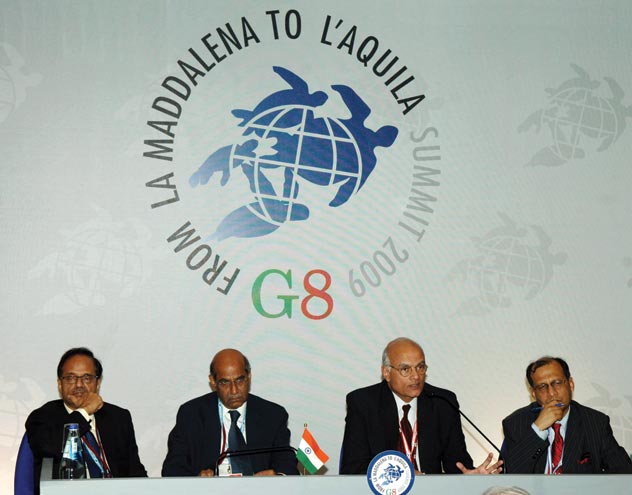 (Above): Indian foreign secretary Shiv Shankar Menon (2nd from r) interacting with the media, in L'Aquila, Italy July 8, 2009. Erstwhile special envoy Shyam Saran (2nd from l) has since quit over differences on climate change issues with Indian Environment Minister Jairam Ramesh. [PRESS INFORMATION BUREAU photo]
---
Differences have emerged on India adopting a "flexible" versus "traditional" approach in the global efforts to tackling climate change.

Matters came to a head recently when the prime minister's special envoy on climate change Shyam Saran, who has been leading India's negotiations at international forums, including Copenhagen, quit his post.

Saran has been opposed to Indian Environment Minister Jairam Ramesh espousing a line that questions India's climate change methodology till now.

The Indian media has been highlighting the disagreements (between Ramesh and Saran) that have emerged due to the minister's attempts to revisit India's basic principle of per capita emissions norm while defining the sharing of burden (between developed and developing nations) of reducing greenhouse gases.

Ramesh has appointed a commission of experts headed by Arvind Subramaniam, member of the Peterson Institute for International Economics, to redefine "equity" as perceived in ongoing climate change negotiations.

In his published works, Subramaniam has debunked India's per capita emissions and division of responsibilities approach to climate change so far, saying that the line is flawed as it is akin to asking for a "right to pollute" and treating the atmosphere as a "global sink."

Subramaniam, instead, argues that India and China should make much greater attempts to bring in carbon efficiency.

---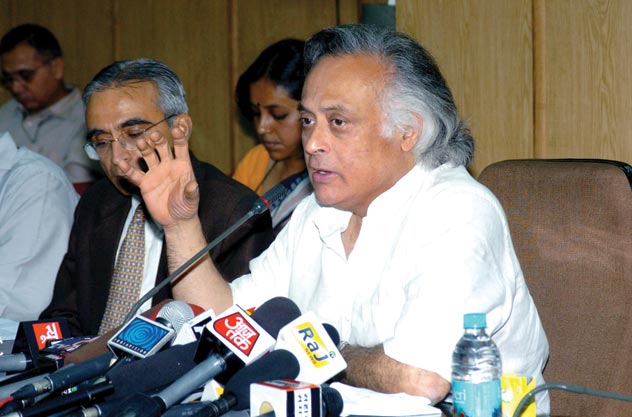 (Above): Indian Minister of State for Environment and Forests Jairam Ramesh talking to the media in New Delhi March 20. [PRESS INFORMATION BUREAU photo]
---
Saran, who has also in the past questioned Jairam's line of thinking, has been of the view that diluting the per capita principle compromises equity.

According to Saran's stand, it lets developed countries off the hook in terms of their past record of despoliation in making efforts now to cut emissions to converge to developing countries levels.

The emerging economies (China, India, Brazil, South Africa, Mexico) have in turn agreed to ensure that emissions do not rise to levels more than advanced nations.

Ramesh and Saran have also differed about the need for enforcing strict domestic legal statutes. Saran, instead, has spoken of a (fiscal) regime that facilitates clean energy.

"A per capita approach is essential but not a sustainable basis for negotiations. A 'per capita plus' approach will include a law giving incentives for emission cuts and renewable energy," Ramesh has said.

Indian Prime Minister Manmohan Singh in the past has generally backed Saran. Ramesh had to toe the line at the Copenhagen climate change meet in December and backtrack on his thinking.

In a letter to the prime minister late last year, Ramesh said that India's interests would be better served by siding with the rich nations. He also hit out at India's official negotiators (led by Saran), saying that they have turned "argumentative and polemical."

As matters stand, China and India's support for the Copenhagen Accord is highly conditional.

The two nations have written to the UN confirming they could be "listed" in the agreement, which they helped draft at the Copenhagen Summit last year. However, the listing is short of complete "association" with the accord.

The exit of Saran could, however, herald new thinking at the end of the year at Mexico, when countries will again look at binding emission pacts.

Yet, despite the differences in approach, there is near unanimity among Indian experts that climate change poses a threat to India's strategic security, water resources, pattern of rainfall, agriculture and poverty alleviation efforts.

"Emissions are already changing the character of monsoons in India. In this scenario promotion of sustainable forest management, role of forests as carbon sink and 20 to 25 percent reduction in emissions intensity in India by 2020 are significant," Ramesh recently said.

India is promoting renewable energy generation and set up a National Clean Energy Fund and imposed a coal tax to finance the National Solar Mission to produce 20,000 MW of solar energy by 2022.

---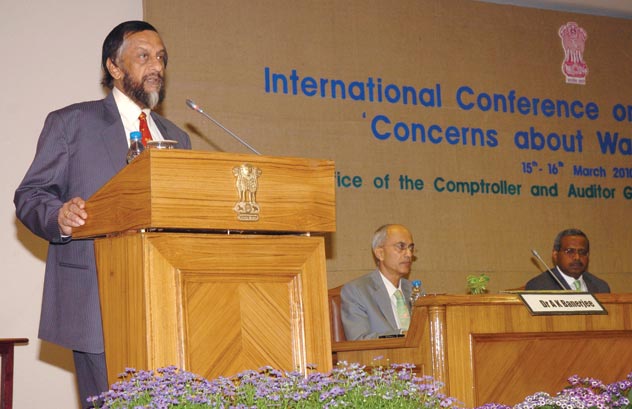 (Above): IPCC chairman Rajendra K. Pachauri speaking at a conference. [PRESS INFORMATION BUREAU photo]
---
Presently, India's per capita emission of greenhouse gases is 1/20th of the U.S. It is, however, the fourth largest polluter in the world, with the U.S. and China the top two.

However, some analysts are also cautioning that India should not be caught in possible hype and hysteria being generated by sections of climate pessimists, who may follow their own vested interests.

Of particular concern has been the report by the Nobel Peace Prize-winning United Nation's Inter-Governmental Panel on Climate Change that carried the false claim that Himalayan glaciers would melt away by 2035.

This made the head of the IPCC Rajendra Kumar Pachauri the center of global criticism. The faulty claims had supposedly enabled Delhi-based The Energy and Resources Institute, headed by Pachauri, garner grants worth several million pounds.

Pachauri, in turn, has refused to quit and argued that "the Himalaya glacier report remains a 'valuable contribution' despite the inaccuracies due to human error."

He has accused "global lobbies" in America and Australia in trying hard to tarnish his name and IPCC as they do not believe in global warming and "are likely to be hurt by the fight against climate change," promoting "voodoo" science or "vested interests."

However, with the latest turn of events it seems unlikely that the IPCC will be able to lobby for India for carbon concessions or dismiss its critics.

As a science administrator Pachauri did influence India's climate change policy approach. But that no longer seems the case.