BUSINESS:
Money Transfer Service: Wells Fargo Teams with HDFC


Adding to the slew of services already offered by two of the largest banks in U.S. and in India, a safe, secure and affordable way to send money to India was recently announced at a press conference at the ICC in Milpitas, Calif. A Siliconeer report.

---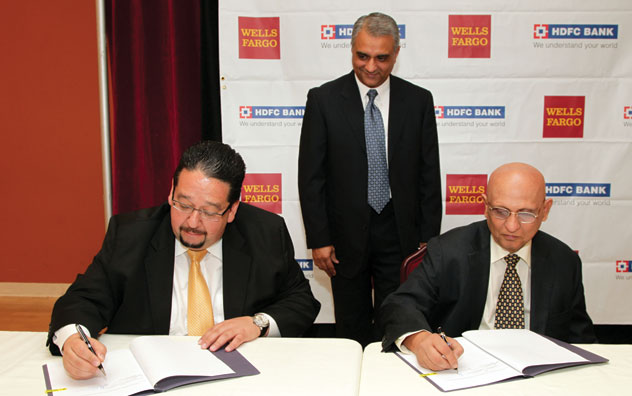 (Above): Wells Fargo and HDFC sign an agreement announcing their partnership. (L-r): Wells Fargo's executive vice president and head of global remittance services Daniel I. Ayala, Wells Fargo East Bay regional banking president Micky S. Randhawa, and HDFC Bank's executive director Harish Engineer. [PHOTO: Frank Jang]
---
Joining the bandwagon of money transfer services between U.S. and India in a big way, Wells Fargo has doubled its ExpressSend remittance network payout locations in India through an agreement with HDFC Bank. The announcement came with With the addition of HDFC Bank's more than 2,500 branches and over 8,900 ATMs, Wells Fargo customers' beneficiaries can now choose from a network in India of over 5,200 branches and more than 16,000 ATMs for remittances to India.

"India has one of the highest remittance volumes in the world according to the World Bank," said Daniel Ayala, executive vice president and head of Wells Fargo's Global Remittance Services. "This is evident from high customer demand as well. We are glad we can make payout locations even more convenient now by expanding our remittance payout network in India with HDFC Bank."

"While we're a major player in the Gulf-India remittance market, this alliance with Wells Fargo will help us expand in the U.S.-India sector, which has been growing exponentially. Given our reach and the web-based nature of the service, this will allow people to send money back home in one of the safest and fastest possible ways. HDFC Bank places great emphasis on use of technology to provide faster and better service and this remittance alliance is testament to the leadership position in technology the Bank is striving towards," said Harish Engineer, executive director, HDFC Bank.

Wells Fargo ExpressSend customers can send up to $5,000 per day to their beneficiary's HDFC Bank account using the account-based ExpressSend service for a $5 fee. The fee for account-based transfers to HDFC Bank will be waived through August 31.

Remittances to HDFC Bank are denominated in Indian Rupees. Once a customer has set up the ExpressSend agreement and the beneficiary account information is verified with HDFC Bank, the customer needs to conduct their first transaction at a bank location.

Subsequent account-based transactions can be conducted online through Wells Fargo.com, at a Wells Fargo banking location or through Wells Fargo Phone Bank.

Funds are sent to HDFC Bank quickly for credit during HDFC Bank's local processing hours Monday – Saturday, excluding India holidays.

Wells Fargo provides multiple channels for transferring money, including by Wells Fargo Phone Bank (800-556-0605), at one of Wells Fargo's banking locations and online at wellsfargo.com.

The Wells Fargo ExpressSend customer experience is consistent among all channels.