TRIBUTE:
A Legacy of Poetic Anguish: Mehdi Hassan (1927-2012)


Nobody could express the pain of love within the lines of poetry better than Mehdi Hassan. His own anguish has now ended, may his soul rest in peace. Ras H. Siddiqui pays tribute to the legendary singer.

---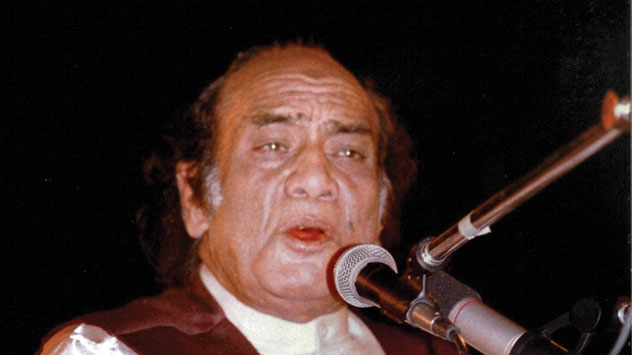 (Above): Ghazal Maestro Mehdi Hassan

---
Mehdi Hassan, one of the finest ghazal singers South Asia has ever produced passed away in Karachi, Pakistan, Jun. 13, at the age of 84. He had suffered a stroke over a decade ago and had been struggling with his health ever since. He last sang a duet with Lata Mangeshkar in Urdu poet Farhat Shahzad's "Tera Milna Bahot Accha Lage Hai" in the Sarhadain (Borders) album.

Mehdi Hassan Khan was born in India, in Luna in Jhunjhunu district, Rajasthan in 1927.

There were two singing visits by Mehdi Hassan to San Francisco during the closing decades of the last century, which this scribe was able to attend. The first was when he was still quite mobile and singing not only in Urdu and Punjabi but also in Dari (Persian spoken in Afghanistan). It came as a surprise that he had such a large following amongst the Afghan diaspora. The second time Mehdi Hassan performed here, he was physically helped on to the stage, so we knew that something was seriously wrong. He started off with a beautiful rendition of Farhat Shahzad's "Tanha Tanha Mat Socha Kar" (Don't think too much while alone).

For the connoisseurs of Urdu language, its written poetry is all inspiring. But for many of us, who do not have a good grasp of the nuances of its script, we have had to depend on the singers of India and Pakistan to keep us connected to our most cherished emotions. The ghazal is the ultimate expression of this emotion. Amongst others, the late Mehdi Hassan and Jagjit Singh have done wonders for us in understanding this form of art. And on the music side, many of us who do not understand the difference between a Raag and a Thumri, also have them to thank for making it all appear simple.

Young Mehdi was once working in a bicycle repair shop in Pakistan when his family migrated there after the 1947 partition of India. Belonging to a family of musicians from the Kalawant clan of which he was the 16th generation, he refused to give up singing and took radio by storm during the 1950's. Poet Faiz Ahmad Faiz's "Gulon Mein Rang Bharay" (The fill of colors in flowers) did additional wonders for Mehdi Hassan's singing career and for Faiz Sahib's mass appeal.

The fact that Mehdi Hassan had a huge fan following in India cannot be understated. From Lata Mangeshkar, Dilip Kumar and a host of others connected to Bollywood, many have acknowledged his passing. Many condolences have accompanied the news of his death including a statement from Prime Minister Manmohan Singh's office.

The poet Faiz has already been mentioned as has the work of Farhat Shahzad, both given a bigger following after Mehdi Hassan's singing of their work. But there was one poet in particular who stood out in Mehdi Sahib's work, Ahmed Faraz. From "Shola tha jal bujha hoon" to "Ab ke hum bichchre" to the masterpiece "Ranjish hi Sahi..," the words of Faraz were immortalized.

Others may have their own favorites by the 'king of ghazals,' but the master stood out with his rendition of this particular song. Nobody could express the pain of love within these lines of poetry written by Faraz and captured in the word "ranjish" (anguish) better than Mehdi Hassan. His own anguish has now ended, may his soul rest in peace.