SPORTS:
Cricket in Your Backyard: NCCA Wins Inter League Tournament


Cricket has a huge following in India, and in Indians who are here in the Bay Area. A strong example of this can be seen at the Inter-League games held locally though it needs more awareness to become a major sport in U.S. A Siliconeer report.

---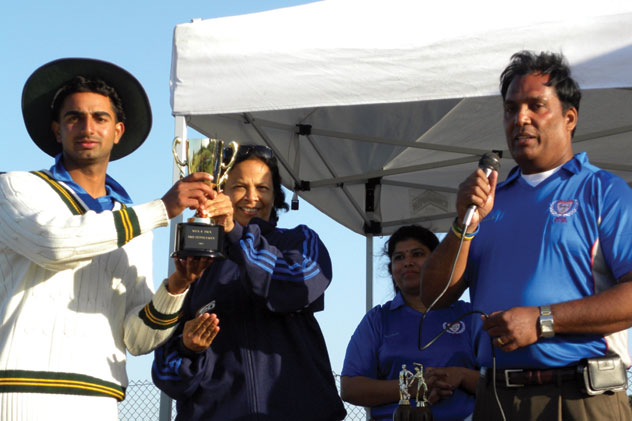 (Above): Shiva Vashist, captain of NCCA, receiving the trophy from Anu Natarajan. Also seen are Symala and Sunil Kumar Kumaran.
---
Established in 1892, Northern California Cricket Association (NCCA) is a 120 year-old cricketing league in the Bay Area with over 500 members. The league today has over 33 teams that participate in a 16 week-league format games every weekend. It also has a social league that comprises of 9 teams. Many of NCCA players have gone to represent U.S. Cricket team in various game formats.

The association recently won the 2012 Inter-League Tournament played between NCCA and BACA (Bay Area Cricket Alliance). The two match tournament was played May 27 and May 28 of the Memorial Day Weekend. The first match was played at Joseph George Middle School, San Jose, Calif., and the second match was played at the Seabreeze Park, Union City, Calif. The two match series was won by NCCA.

A colorful awards ceremony was held after the game. Syamala, wife of Sunil Kumar Kumaran, president NCCA, welcomed the Chief Guest Anu Natarajan, vice Mayor, Fremont. Sunny Sethi, co-owner of Matrix Insurance Agency and one of the key sponsors of NCCA was a special invitee to the awards ceremony. Sunil Kumaran, in his welcome address and president's note, congratulated NCCA players on their victory.

The players included Nauman Mustafa (who represented U.S. cricket team in the recently held World Cup Qualifiers in Dubai), Shiva Vashist, captain of NCCA, who was also the captain of Under-19 U.S. World Cup team held in New Zealand, Saami Siddiqui, the Under-19 U.S. World Cup Team wicket keeper, Pranay Suri, captain of the U.S. Under-19 Cricket Team. Saqib Saleem was another star player who represented U.S. in the Under-19 World Cup, however due to work commitments he could not play this tournament. Left arm fast bowler Imran Khan (Fiji National Cricketer) who has played many international tournaments was another star player who was part of this tournament.

---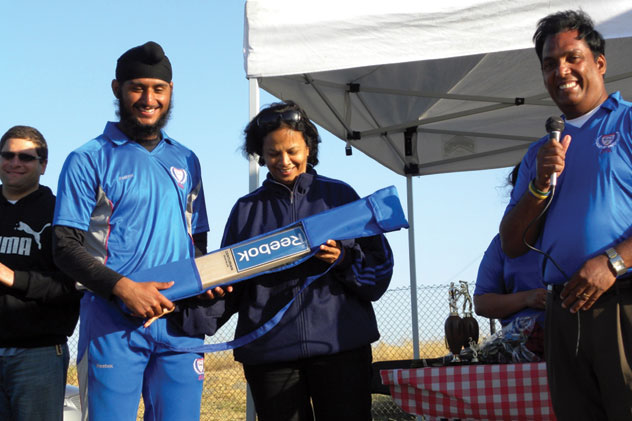 (Above): Prumjot Panesar receiving Reebok bat for 'Best batsman of the tournament.'
---
Sunil laid out the vision of NCCA including the launch of their new Youth Cricket Development Program, a Bay Area-wide program that will bring cricket to the youth in Bay Area at a very affordable manner. He also requested the women sports lovers to actively involve themselves in cricket as NCCA is committed to the development of women's cricket. He further invited cricket enthusiasts to get trained and certified by NCCA in Umpiring so as to utilize their weekend to take up Umpiring as a paid activity.

Speaking on the challenges that face the growth of cricket in the Bay Area, Sunil emphasized the need for bigger and better facilities as interest in cricket and the league was rapidly expanding. He invited businesses to sponsor NCCA with assured returns through its strong membership base of high net worth professionals. Sunil Kumar thanked other sponsors of NCCA including Sailesh Patel of Chaat Paradise, Mukesh Kumar of Mukesh Realtor, Raju Patel of East West Sports, Mukul of Cricket Strike Zone, Sarabjith Chada of Subway and Varinder Singh of The FastBiz Inc. He spoke highly about NCCA's apparel partner for the tournament, Reebok for providing high quality Reebok PlayDry sports clothing that made the players comfortable. Reebok gave away two world-class bats to players who made the most runs. A special thanks was extended to Jerry Miller, sports photo and videographer whose stunning photos of the sports action were life like.

Anu Natarajan, vice Mayor of Fremont, shared her close connections with cricket including her days of actively playing with Shanta Rangaswamy and Sudha Shah who were prominent women cricketing icons from India.

She also spoke about few potential infrastructures that may be made available to the cricketing community in the future. She gave away the awards to all the participants of the tournament. Special Awards were given to recognize the contribution of individuals to the development of the game and to the best performers of the tournament.

Interested readers can get more information via email at president@ncalcricket.org or through NCCA's fan page at facebook.com/ncca4cricket.