TRAVEL
A Traveler's Corollary: People & Adventure Everywhere


Think Huck Finn and you immediately bring up the name Mark Twain. As famous as they are in the memories of readers, Twain's first published and most popular and best selling, book was 'The Innocents Abroad'; reputedly the first travel book to chronicle the human side of visiting foreign soil. As Twain said after the book's publication (liberally paraphrased) "I learned to see America from their point of view." Today, this can be a mixed bag, writes Al Auger.

---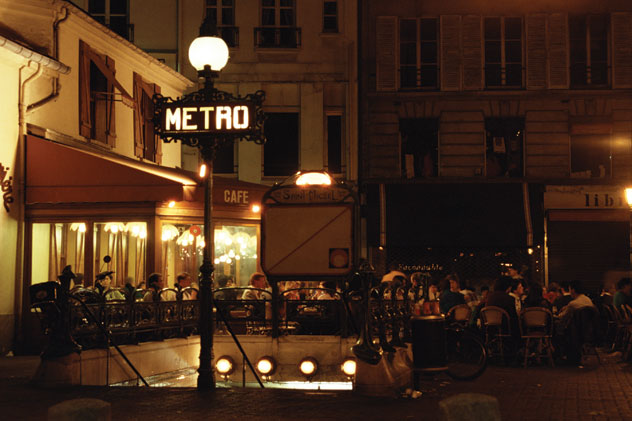 (Above): Night scene at a street cafe in Paris.

---
Having traversed Europe from Amsterdam to North Africa we found meeting new people the highest form of travel and seeing America through a different prism quite true. A lighter moment in this mode was on a solo trip to Paris and, one evening, sitting in a neighborhood bistro I was taking photos of night street scenes. A gentleman sitting next to me asked, "Ah, journaliste, oui?" As usual, our conversation began with his curiosity about America, rock and roll and why we seemed to work so hard. Somehow the talk slipped into his (and most of France's) love of Jerry Lewis.

To say the least this was a most entertaining evening and a perfect example of Twain's point of view. Two of the most essential elements of traveling to a foreign country are people and food (see Siliconeer, "Ugly American," Dec. 2007) and the other are the surprises that seem to happen for no known reason.

Consider one of our most not-to-be-forgotten experience at a campground at Lake d'Iseo out side of Milan. Lying on the beach enjoying a balmy Thursday evening of sparkling jewels of stars in a black velvet sky, our dreamy meditation was abruptly interrupted by an explosive display of fireworks from the direction of Lake Como. What, we thought, was all this about.

---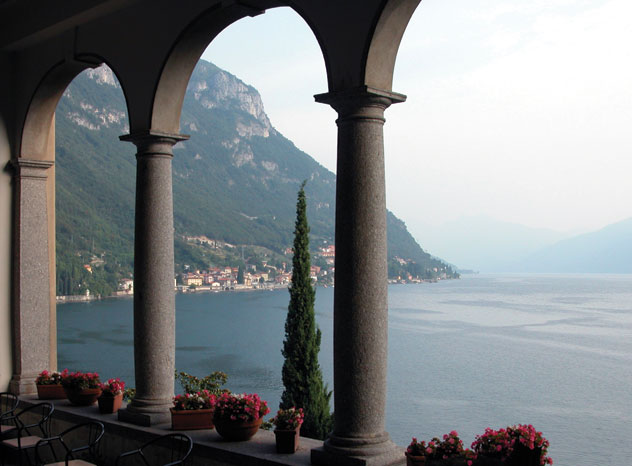 (Above): The majestic Lake Como, Italy.

---
The brilliant pyrotechnics continued for some time, the deep following silence was palpable. We went to see our newly found friends who owned the campsite to find out what the show was all about. At our query, Roberto said there was no reason for the display. "The big hotels at Lake Como simply do it on a whim." I asked Roberto if he meant the hotels, expensive as they are, would go to the cost of hiring expert pyrotechnics to put on such an obviously costly show. "No," he answered, "they have a large inventory of fireworks always on hand and ready to go."

As we returned to our van's campsite it was only natural to think back to the days of royal European excess and ending a party with fireworks. "I wonder," my wife asked, "if the guests know what sits in the basements below them?"

On our way from Hitler's infamous mountain-top aerie to Munich we stopped at a campsite outside the small village of Winkel hemmed in by buildings most built back in the 18th and 19th centuries. The pervading silence was broken by the distant sound of a brass band. A few minutes later we spied the band marching down the main street followed by what seemed to be the adult population of Winkel.

---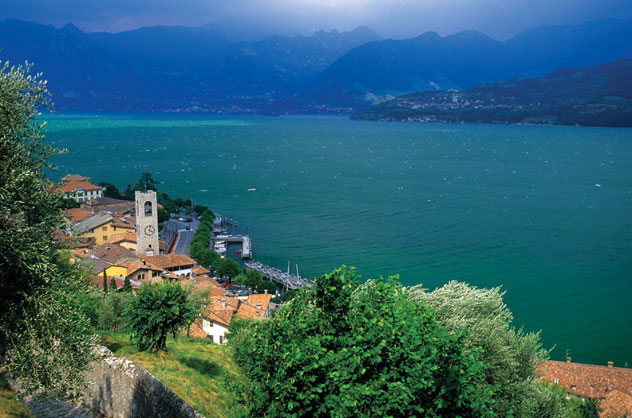 (Above): Lake d'Iseo, Italy.

---
What was this surreal scene from "The Pied Piper of Hamelin" all about? Deciding to cave into our curiosity, we fell in behind the citizens and found ourselves ending at a park in the center square. The band stopped, the citizens sat on the lawn with their packages of sausages, beer and other beverages. A speaker strode to the stand and proceeded to celebrate two of their most popular and charitable citizens.

As he spoke, volunteers wandered through the crowd seeking donations for some local charity. When we dropped some coins in the box, the people broke out in cries of "Amerikaners" and applause. After the program we were surrounded by many of them asking the usual questions of where were we from.

When we said San Francisco, it was as if we were old friends. We were a bit loose with the description of our home base, but how many Europeans have heard of Point Richmond across the bay. Everyone, almost without exception, loved to hear about what seemed to be the best-known and most popular U.S. city by Europeans.

---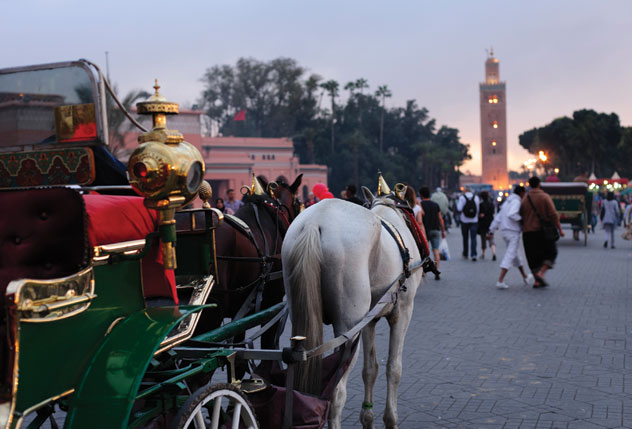 (Above): Horse carriage, Koutoubia Mosque, Marrakesh, Morroco.

---
The most idyllic spot we found on our travels has to be the ethereal and peaceful destination - with a touch of danger - seductively called Source Blue de Meske (source of the Blue Meske river). This was a large, diaphanous blue lake fed by an underground source. So clear you could see the bottom in detail at 20 feet. The walls were lined with indigenous rocks of many sizes and hues. The whole campsite was surrounded by palm trees and colorful hills. The Source Blue de Meske was a Paradise far removed from the real world.

The neighborhood of campers included a miscellaneous group from all corners of Europe, North Africa and the Mid-East. One of the entrepreneurial Germans trailered a grill where they would fire up some of the most delicious meals of wurst, sauerkraut, schnitzel and more. This was not only an extra treat for the campers but a way to pay the enterprising Bavarian's travel costs.

Paradise was not completely a mind-muting experience. One day my wife was sitting on a rock outcrop taking in the beautiful valley. Out of the palm trees behind her a woman suddenly appeared. Obviously a woman from the nearby village, she went up to my wife and, with angry words not needing translation from her French, she warned my wife to stay away from the village at the peril of her life.

---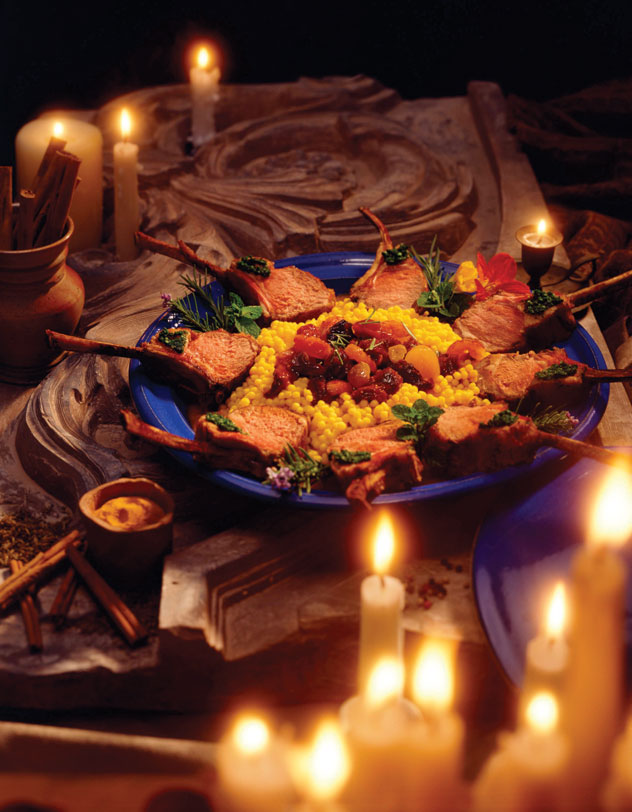 (Above): Cous Cous and Lamb dish.

---
Later, a camp manager explained that a woman camper, some weeks earlier, had wandered into the village looking for souvenirs. Unfortunately, her presence became a point of interest with the men and something not wanted by the women. The camper was soon chased out of the obscure village by a large number of angry women. The camper was unaware of Muslim traditional thinking that a lone white woman is a prostitute looking for business.

Another short note on the anti-American attitude that is thought to pervade France. Having "lunched" the Blue Whale's engine at the toll-gate of the pay-road it took just a few moments for the toll-keeper to call for a tow. Fortunately, there was a well-equipped independent VW service station in the town.

Albert, the mechanic, told us he would have an engine dispatched from Paris and would have the van running and ready to travel in 3-4 days. Albert then called a friend who owned an auberge nearby and arranged for lodgings during our stay. What a wonderful French find! A surprisingly affordable room decorated in colorful country inn style.

---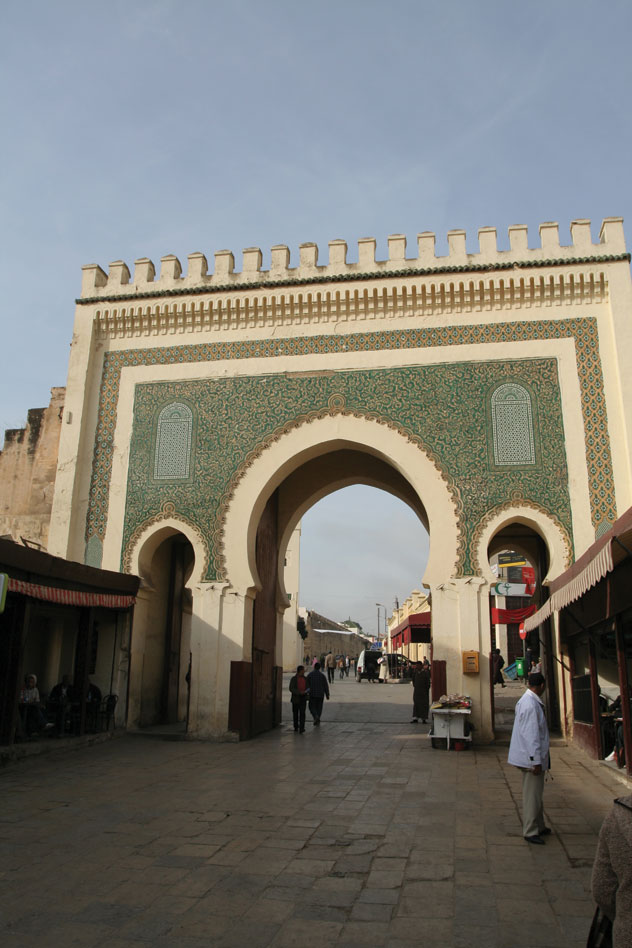 (Above): Doorway in Fez, Morroco.

---
The family-owned auberge was managed by the wife, Michelle, while the husband, Geno, turned out to be a formidable chef. We spent the next few days hiking the lovely open fields and woods and enjoying the multi-starred (my assessment) meals of Geno, fortified by fine French vin de pay. Sometime, even adversity will have it's positive side.

Checking on the progress of the Blue Whale, we were told there was a transportation glitch and it would take at least two or three days more to complete the job.

Albert then surprised us by offering to discount the price by a third. More affirmation of the Franco-American relationship (see Siliconeer, May 2006, The Other Side of Paris) we were consistently engaging.

If there is any question of the drug scene in countries such as Morocco, the following two incidents should shed some light on the subject.

When we first entered Morocco at Fez, we were fortunate to meet a young an ebullient Danielle. Hailing from Marseille, she was in her third month living in Fez with another young lady and lifetime friend. Danielle immediately took us under her wing and became our mentor, teaching us the different customs and lifestyles of North Africa.

---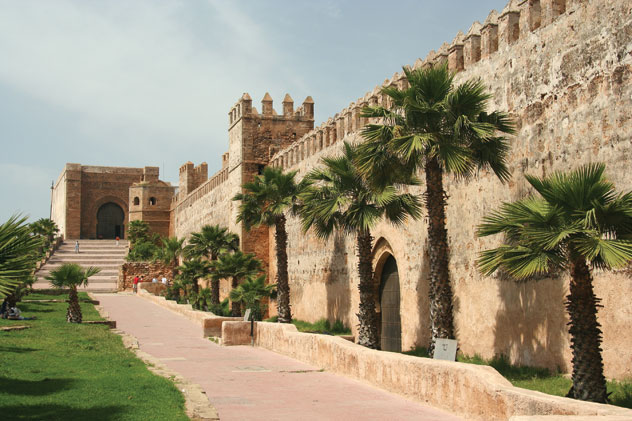 (Above): The wall, Rabat, Morocco.

---
Early on she guided us to the Medina, or old city, and a tasty lunch of cous-cous and lamb in a native restaurant. While we chatted, Danielle suddenly sat up and said, pointing to the owner at the register, "watch this." At that moment a tall, muscular policeman came through the doorway and confronted the owner. He quickly reached out and snatched the long, clay pipe from his hand. He snapped the pipe in two, threw on the ground and walked out.

The owner waited a moment, stood up and walked out returning in a few moments with a new pipe. He reached into a drawer and brought out a pinch of an oily, black substance we immediately recognized as hashish. Lighting up, he leaned back and began puffing away.

"You just witnessed," Danielle explained with a small smile, "a local example of a drug bust."

After 1500-mile circular trip to the edge of the Sahara desert, stops at Rabat and a number of small villages, Louise and I were parked in a campground on the outskirts of Marrakesh. One evening after dinner, were relaxing with some Schnapp's when there came a hesitant knock on the sliding side-door. We opened to find a young woman holding a large backpack. After the usual greetings, she asked if a young man with a Norwegian accent had come by looking for Marian. "No, but come in and tell us what's going on."

Her story was one we had heard many times as we cruised over Morocco and from Danielle. Our guest and her boyfriend Marshall, were heading to Tangiers to catch the ferry to Spain when someone offered him a great deal on a "brick" of Hash. "He couldn't turn it down and we decided to stay while we used up the dope." The story continued as they met some new friends at the campground and shared the wealth. In time the campground manager joined them, as well.

---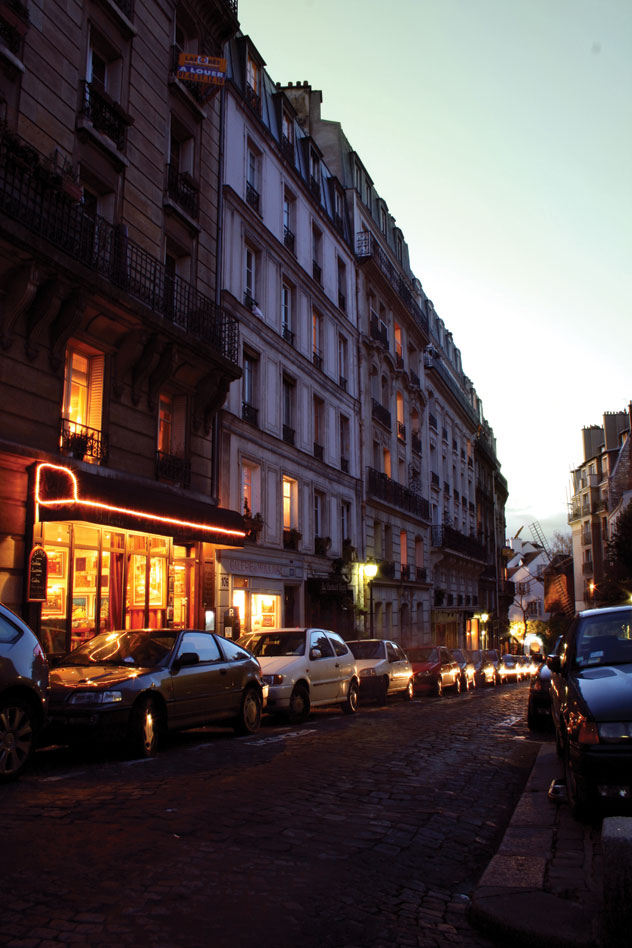 (Above): An alley in Paris.

---
Two days later, as Marian and Marshall were sitting around a fire smoking up, a phalanx local police stepped into the firelight and announced they were all under arrest. At court the judge asked how much money Marshall had, which turned out be sixty-nine dollars.

"30 days, Sixty-nine dollars fine and deportation," the judge pronounced.

As Marian left, she told us where she would be staying and hoped we would keep our eyes out for Marshall. Sure enough, the next afternoon Marshall appeared asking after Marian. He told us he had been released after 20 days for good behavior and the police were nearby waiting to take the two to the ferry. His description of the jail defied even the most horrific tales of fiction. It turned out the manager turned the youths in for a reward of half of the hash that was left.

So much to see, so many people to meet; every day an adventure, every day an experience not to be forgotten. So little time.