COVER STORY:
Slurred Remarks for a Spelling Bee Champ: Social Media's Dark Face


Lately, one piece of news that sustained my interest lot longer than most, was the reporting on the 2012 Scripps National Spelling Bee finalist. Curious to learn about the thoughts of people from other segments of American society on competitions of such nature and its winners, I flipped through the comments section on the pieces of this news scattered all over the internet. For some weird reason, of all the writings I came across on this event, one that got the maximum comments is the article by Ben Nuckols and Joseph White of Associated Press titled "Snigdha Nandipati wins National Spelling Bee" (Friday, June 1, 2012). These reporters have done a great job in giving an extensive coverage with all relevant details in a very nonpartisan, neutral and unbiased manner. I couldn't however comprehend, what happened to so many of the 1,134 readers who posted demeaning comments on this particular news piece on Yahoo News, writes Ann Lauren Sharma.

---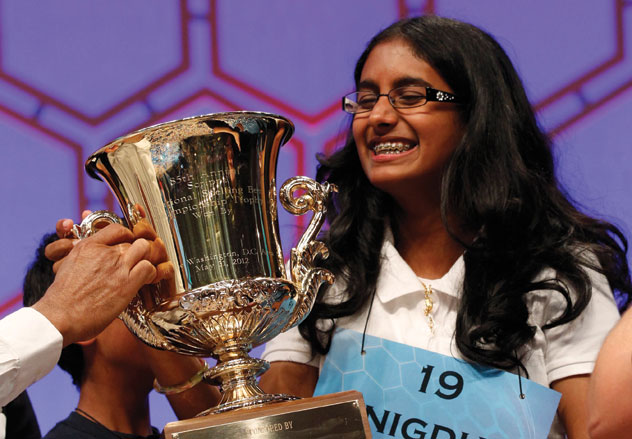 (Above): Snigdha Nandipati, 14, of San Diego, Calif., holds her trophy after winning the Scripps National Spelling Bee in Maryland, May 31. [PHOTO: Kevin Lamarque | Reuters]

---
In a country where literacy rate is anywhere from 85%-98%, I was expecting to see courtesy in the comments box for this 14-year-old girl winning the 1st prize of $30,000. But, to my greatest surprise, except for a few pleasantries, majority of the 1,134 comments on this particular news article were marred with hate, xenophobia, racial slurs, utter mockery, indecency and negativity of similar nature.

Any educated segment of the society can understand the hard work competitions of such intellectual rigors demand and hence would appreciate such achievements. But, I was disappointed to see such pathetic reactions from Yahoo readers, who I would consider educated enough to take interest in news pieces of this nature.

It's understood that many of the identities over chat sites can be faked and most comments may or may not be a true reflection of the thoughts of one individual or larger society, yet, 1,134 comments is a number statistically large enough not to be ignored so easily. Here I present some of the most "replied" comments, which actually left me thinking a lot too.

---

(Above): Snigdha Nandipati, 14, of San Diego, Calif. (r), is embraced by her brother Sujan Nandipati, 10, after she won the National Spelling Bee with the word "guetapens." [PHOTO: AP]

---
Some Jeff Stryker from Atlanta, Georgia says, "India ranks very low on the human development index (life expectancy, standard of living and literacy). Indians in India practice open defecation, drink cow urine…" There was so much more that Jeff's comment got hidden due to negative rating, however some Native Florida from Orlando supported him by saying, "How do all of you know he's wrong? It has a very strict caste system and the poverty, filth and smell is so bad in some areas that it will make you throw up, then cry. Hard to believe that with all of the "really smart" people from there that they can't make it better..." Some Chris guy rants, "Be a parrot, memorize spellings, no originality, no inventions, just slums and Swiss Bank accounts…" And then some lady by the name of Yum from some affluent suburbs of Atlanta says, "…I think in their country, water is precious and they do not waste it on such things as personal hygiene… they stink…" A few evil ones made fun of Snigdha's name and her looks while others criticized the contest itself and its utility in general.

A good bit pondered on the reasons, "Why there are no Black or White kids winning these contests?"

Some pointed at the flaws in their culture while others blamed the government schools and a few nasty ones cried foul and "child abuse" for all the hard work these children had put in! Many speculated the winners not being "American" enough and only a few pitied themselves for their shortcomings. A handful got into altercations with each other over White- Black issues; someone named BPP66-69 from Cleveland, Ohio said, "Whites spent so much time making sure blacks would never do better than them in the classroom that they forgot about Asians and Indians." For more, please visit Yahoo.com and search for "Snigdha Nandipati Yahoo."

Regardless of true identities, there is some truth in these comments in general, yet they had no relation to a child winning a contest. I clicked a number of "thumbs down" and "reported abuse" on derogatory ones.

---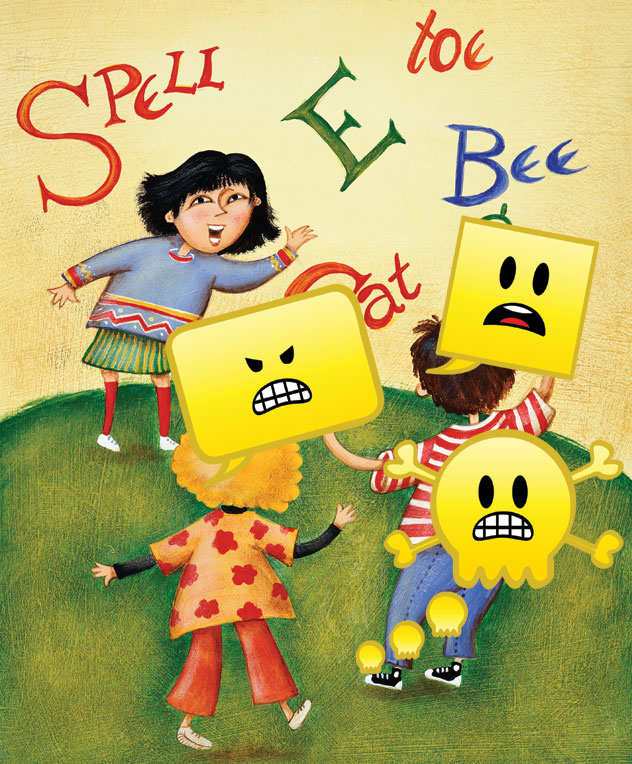 ---
Myself, a single mother of a 16-year-old son, born and raised in India in a Brahmin family, felt good to hear of the winner of the Spelling Bee to be of Indian American heritage. I felt deep respect for a 14-year-old girl who exercised her self-discipline and maintained her focus to achieve her mark. Equally proud I was to see the 2nd and 3rd place winners Stuti Mishra and Arvind Mahankali, also of Indian origin.

A victory much rejoiced in the Indian community, I could comprehend, where we take accomplishments of intellectual nature seriously. Our culture heavily emphasizes education. It's great that 2nd and 3rd place winners were Indian Americans too. We expect achievements of higher standards from our children. Indian parenting puts pressure on character building, hard work, intellectual accomplishments, education, respect and self-discipline, the result of which is evident in our children winning competitions that demand intellectual rigor for the past five years consecutively. Our children may appear nerdy and may not fit in the popular culture in government schools, yet they remain successful in their chosen life paths. With that said, a big congratulations to Snigdha, Stuti and Arvind. Well done!

Somewhere in our own little world of personal achievements, we are forgetting how we are perceived in the mainstream society. No matter how highly educated we may be, we are failing to educate the mainstream culture the truth about ourselves. While we have no control over the jealousy others may harbor towards us, we certainly have control over removing some qualms about us.

The root cause of intolerance lies in ignorance. The responsibility of educating others about our culture, history, values and us lies on us alone. Perhaps, it's about time to address our misgivings also that our critics have highlighted.

What do you think? Should we start with Yahoo?