BOLLYWOOD | Film Review
Flawed Execution: Teri Meri Kahaani


Story and Directed by: Kunal Kohli
Produced by: Kunal Kohli, Vicky Bahri and Sunil Lulla.
Screenplay by: Robin Bhatt
Starring: Shahid Kapoor, Priyanka Chopra and Prachi Desai.
Music by: Sajid-Wajid

Reviewed by: Joginder Tuteja
Rating: ** (Mediocre)

---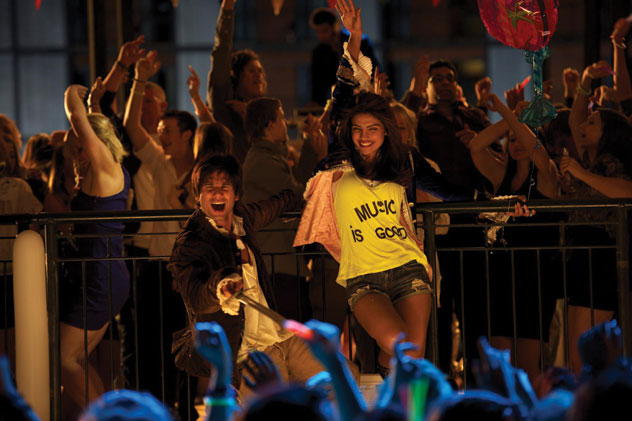 (Above): Shahid Kapoor and Priyanka Chopra in "Teri Meri Kahaani."

---
A good idea that came with a fair bit of apprehension and ultimately didn't quite translate into what would have been originally envisioned -- that's exactly how Teri Meri Kahaani could be summed up. A story that made you look forward to what would happen next and raises good expectations after a euphoric interval point, it just goes downhill in the second half while arriving at a culmination that just doesn't manage to emotionally connect.

One has to admit though that director Kunal Kohli wanted a different narrative for the film, something that hadn't been attempted in Bollywood at least. There is not even a second wasted in coming to the point, what with Shahid and Priyanka meeting each other in a train. In fact it takes 10-15 minutes to adapt to the kind of setting that Kunal creates because one would have expected the story to move from 1910 to 1960 and then 2012. However he starts with 1960, moves to 2012 and then goes back to 1910.

Though there doesn't seem to be any story requirement to pick this non-linear approach, perhaps the decision was taken since the makers felt 1910 episode was the meatiest. Surprisingly though, and contrary to popular belief, that isn't quite the case. In fact the best episode is the one set in the current times because at least one can connect to that. Social networking aiding relationships status and its ugly side leaving a bad taste in the mouth is shown effectively in the lives of Shahid Kapoor, his just-broken-up-with-girlfriend (Neha Sharma) and just-found new love (Priyanka Chopra).

---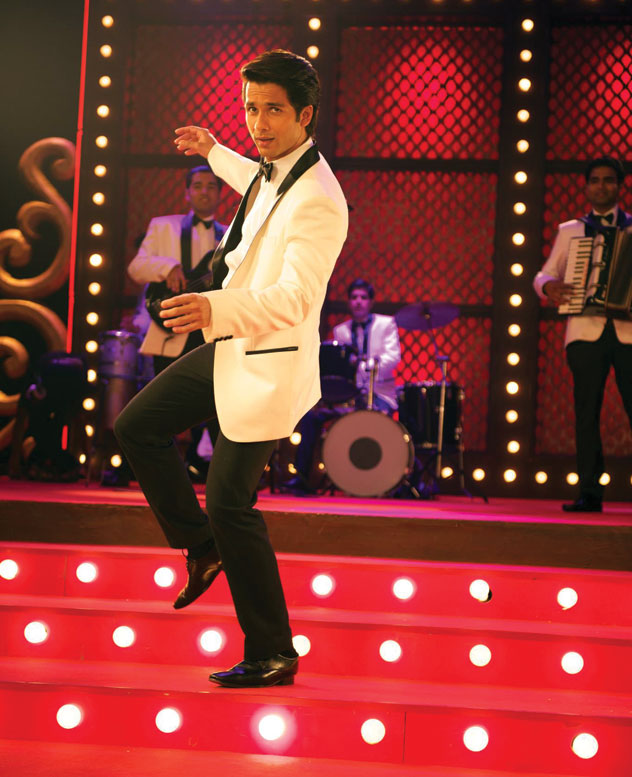 (Above): Shahid Kapoor in "Teri Meri Kahaani."

---
In fact this is one story which has its highs and lows when compared to the 60's story where the drifting apart of Shahid-Priyanka over a misunderstanding with Prachi Desai is just not convincing. Agreed that this is projected as an era where people were perhaps not as vocal about their emotions. However given the strong characters that each of them is playing, it is rather surprising to see a silent pause resulting in a high voltage dramatic moment.

This brings one to the 1910 episode, which is actually the weakest of the enterprise and is primarily responsible for Teri Meri Kahaani failing to keep the interest alive in its second half.

Sher-o-shaayari by Shahid is fine but after a while it all appears as overdone. Moreover, the entire "Vande Mataram" episode takes the film into a different zone altogether, somewhere you don't really want to go because it is a love story after all that you wanted to see. Also, the romantic moments do not work either with the song "Humse Pyaar Karle Tu" set in a barrack being totally misplaced.

In fact, songs are the best part of the film, and at all times enliven the proceedings and also compliment the narrative, especially when "Mukhtasar" and "That's What I Realy Wanna Do" arrive. Sajid-Wajid spin out tunes that perk up the film but sadly that's not the case with both the songs set in the 60's. Not only is the episode overdrawn, it also has a sudden twist in its climax (a la Priyanka's own Andaaz where Lara Dutta got into a similar situation) which hardly brings an emotional high.

In any case, the film is not well told as a highly emotional tale as you are neither euphoric nor have tears in your eyes.

---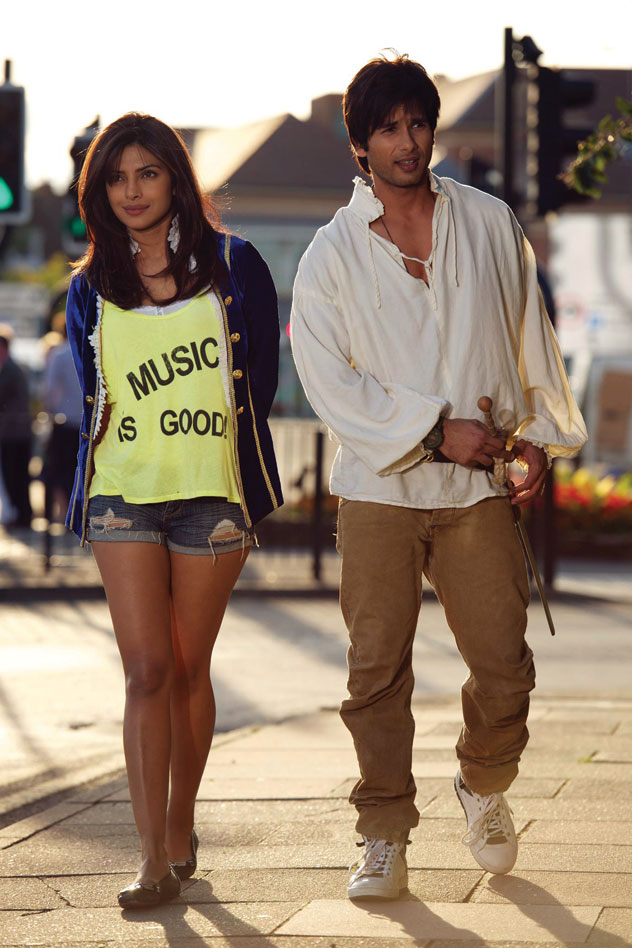 (Above): Priyanka Chopra and Shahid Kapoor in "Teri Meri Kahaani."

---
At best, one does manage to get a smile or two (there are quite a few in the first half) which is why you don't really turn away from Teri Meri Kahaani in its entirety. One can sense that Kunal wanted his two hours to be filled with light-hearted moments and though as a film it isn't packaged in the right format, in bits and pieces they do appeal, especially the Chaplin treatment in the 60's episode.

A designed-as-a-popcorn affair, it is the kind of film that actors usually term as a "holiday flick." In this aspect one can see that Shahid as well as Priyanka are having good fun. However from a performance perspective, they are good but that's about it, something that is least expected from them since they have been around for a decade each. Shahid is effortless in each of the three tales while Priyanka leaves the best impression in the 60's episode where she gets into a 'naaz-nakhre-waali-filmi-heroine.'

However, as stated, it is the sum total of affairs that doesn't make you go, wow! Now if only there were more heart-tugging moments and a sense of connect with the characters, one would have been far more euphoric about the end results. In case of Teri Meri Kahaani, the three couples do meet but you do end up wondering what was really the starting point of this 'soul mates' saga. Yes, the intent was right but the execution not quite perfect.

---
Joginder Tuteja is a Bollywood writer based in Mumbai, India.