EDITORIAL: Social Media Hullabaloo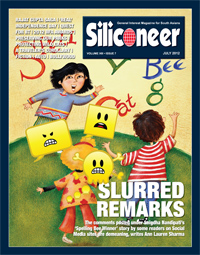 When Snigdha Nandipati won this year's Spelling Bee, this writer was expecting to see courtesy in the comments box in Social Media sites for this 14-year-old girl winning first prize. But, to her greatest surprise, except for a few pleasantries, majority of the comments were marred with hate, xenophobia, racial slurs, utter mockery, indecency and negativity of similar nature.

Any educated segment of the society can understand the hard work competitions of such intellectual rigors demand and hence would appreciate such achievements.

It's understood that many of the identities over chat sites can be faked and most comments may or may not be a true reflection of the thoughts of one individual or larger society, yet, 1,134 comments is a number statistically large enough not to be ignored so easily. In this cover story, Ann Lauren Sharma brings out some of the most 'replied' comments, that show the underlying racial profiling that a few people still practice.

Rajat Gupta had everything that any Indian American could dream of, a great job, position and a wonderful life, but he chose to give it away in a very dismal fashion.

Insider trading is a serious offense and people who are as deeply rooted in the finance industry know it, then why did Rajat Gupta pass on inside information to Raj Rajaratnam. Priyanka Bhardwaj writes about the saga and the guilty verdict that he now faces.

Fourth of July, as we all know, is the American Independence Day. But, in essence, the 'real' Independence Day for Indian Americans was the day when the Immigration Act of 1946 was passed on July 2, 1946. This day should be celebrated with equal enthusiasm as the Fourth of July by all Indian American, opines Inder Singh.

The recent changes in Joint Entrance Exams have unwittingly brought attention to the bigger failure of the government to set up quality schools for the poor across India. It is great to have the superstar IITians in our midst. India as a nation, will, however continue to clock below average scores if we keep producing only some who manage to get the one-hundred percent and many more that languish below zero levels, writes Siddharth Srivastava.

The 13th. IIFA Awards was held in Singapore. This year saw Zindagi Na Milegi Dobara bag the top awards. Siliconeer brings you the latest from Singapore, in this print and online photo essay.

Think Huck Finn and you immediately bring up the name Mark Twain. As famous as they are in the memories of readers, Twain's first published book was The Innocents Abroad; reputedly the first travel book to chronicle the human side of visiting foreign soil. As Twain said after the book's publication (liberally paraphrased) "I learned to see America from their point of view." Today, this can be a mixed bag, writes our travel editor Al Auger.

Nobody could express the pain of love within the lines of poetry written by Faraz and captured in the word "ranjish" (anguish) better than Mehdi Hassan. His own anguish has now ended, may his soul rest in peace. Ras H. Siddiqui pays tribute to this legendary singer who passed away recently.